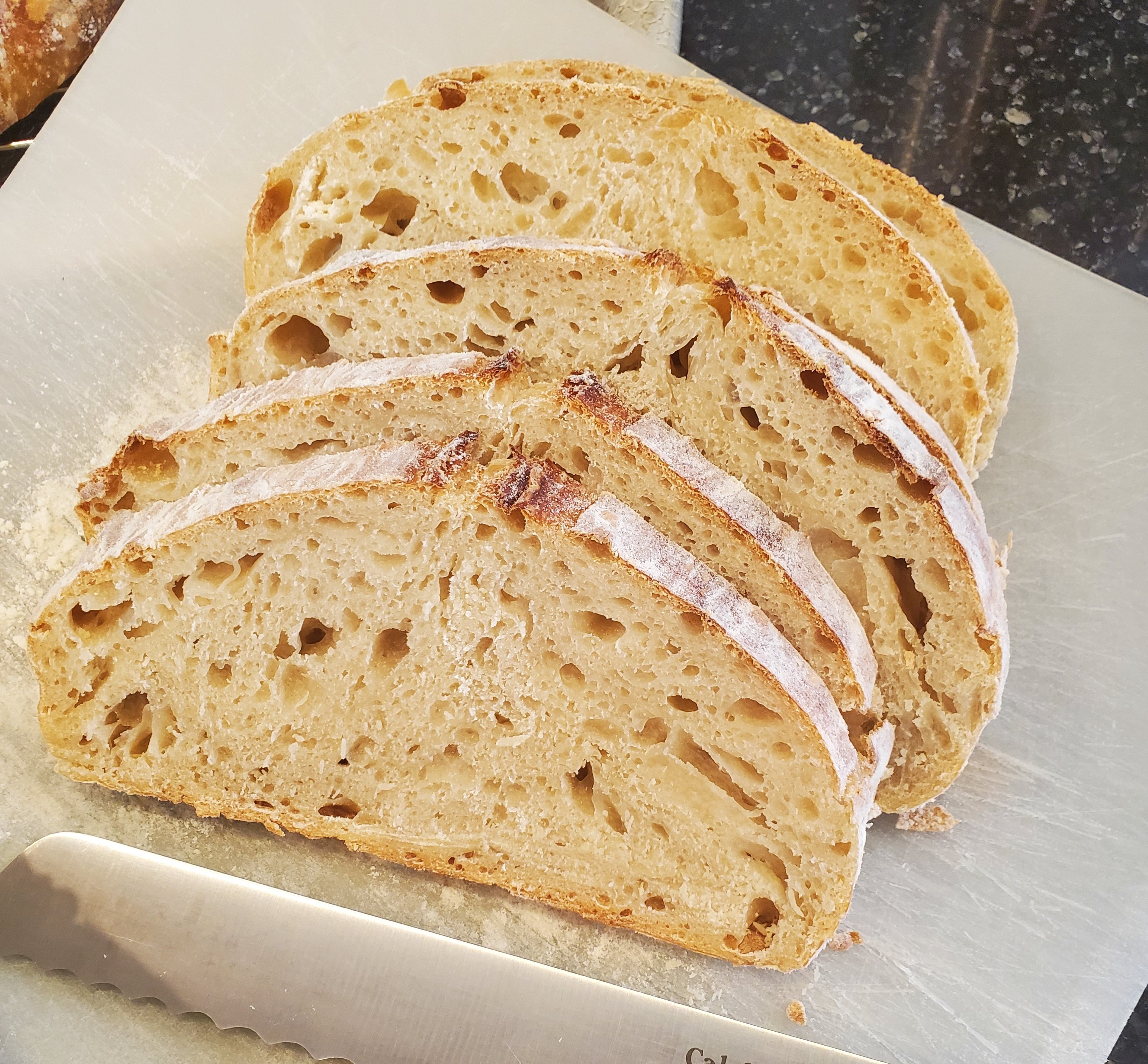 Ingredients:
- 3 cups all-purpose flour
- 1 tsp. fine sea salt
- 1 Tbsp. honey (you can also use white granulated sugar)
- ¾ cup starter (see video)
- 1 cup warm water
Directions:
In the bowl of your mixer add flour and salt, whisk together before adding the rest of the ingredients.
Then add honey, starter and 1 cup of warm water. Pro tip: I usually stir my starter before measuring it.
Stir all of your ingredients together with a spatula to create a dry, "shaggy" dough. Then let it rest for 10 minutes.
Once your dry dough has rested, fit your mixer with a dough attachment.
Knead your dough on setting 2 (for Kitchen Aid mixers) for 5 minutes.
The goal is for your dough to be moist and tacky to the touch, but not stick to your hand.
If your dough is to sticky/wet, add a few tablespoons of flour, if your dough is too dry, add a few tablespoons of water until you get the ideal consistency.
Transfer your dough into a large bowl greased with olive oil.
Cover your dough and let it rest in a warm spot for three hours.
After three hours of resting, you are going to turn and fold your dough. You will move circularly around the bowl pulling the dough from the outside into the middle (see video) I also like to grab a bowl of water to dip my hand in so that it doesn't stick to the dough.
Make sure to leave the dough seam side up, cover and let rest again for two more hours.
After the second rise, your dough should look bubbly.
Lay down a piece of parchment paper and cover it with flour.
Next, while your dough is still in the bowl, coat the top layer with flour.
Then you are going to scrape the sides of the dough away from the bowl with a spatula (adding flour along the sides as needed if it is sticky). Once all sides have been released, pick up the dough and begin to tuck the sides/bottom of the dough underneath itself in order to create tension.
Transfer the dough ball onto the floured parchment paper.
Re-cover your hands and dough ball with more flour.
Take a bench scraper to tuck the dough once again until it is taut and round to your liking. Be cautious not to tuck under your excess flour, or it could result in chunks within the loaf.
Once your dough is shaped, allow it to rest/rise for 40 minutes while the oven preheats.
During this time, you are going to preheat a Dutch oven in your larger oven for 40 minutes at 450 degrees.
**If you don't have a Dutch oven, you can be resourceful by spraying your dough with water and covering it with aluminum foil. The idea here is to mimic trapping steam around your loaf to keep it moist like the Dutch oven.**
Once your dough has rested for the third time and your oven/Dutch oven is preheated, you are going to slash your loaf. Slashing the loaf helps to guide those beautiful cracks in your crust when it rises in the oven.
For this step I recommend using a serrated knife, as far as the design in which you cut it? It is totally up to your artistic interpretation, just make sure your cuts are deep!
Then you are going to place your dough/parchment paper into the Dutch oven with the cover on and into the larger oven for 15 minutes.
After 15 minutes, take the cover off (or aluminum foil if you're using that method) and cook for another 15 minutes, or until your bread is a nice golden brown on top.
Once your bread is out of the oven, move it onto a wire rack to cool for 30 minutes to an hour before cutting into it.
I also highly recommend using this sourdough for my Ultimate Brie Grilled Cheese Recipe! Or as an addition to your Charcuterie Board!
If you make this recipe, make sure to tag me @hugheatswithyou on Instagram & make sure to Subscribe to my YouTube Channel!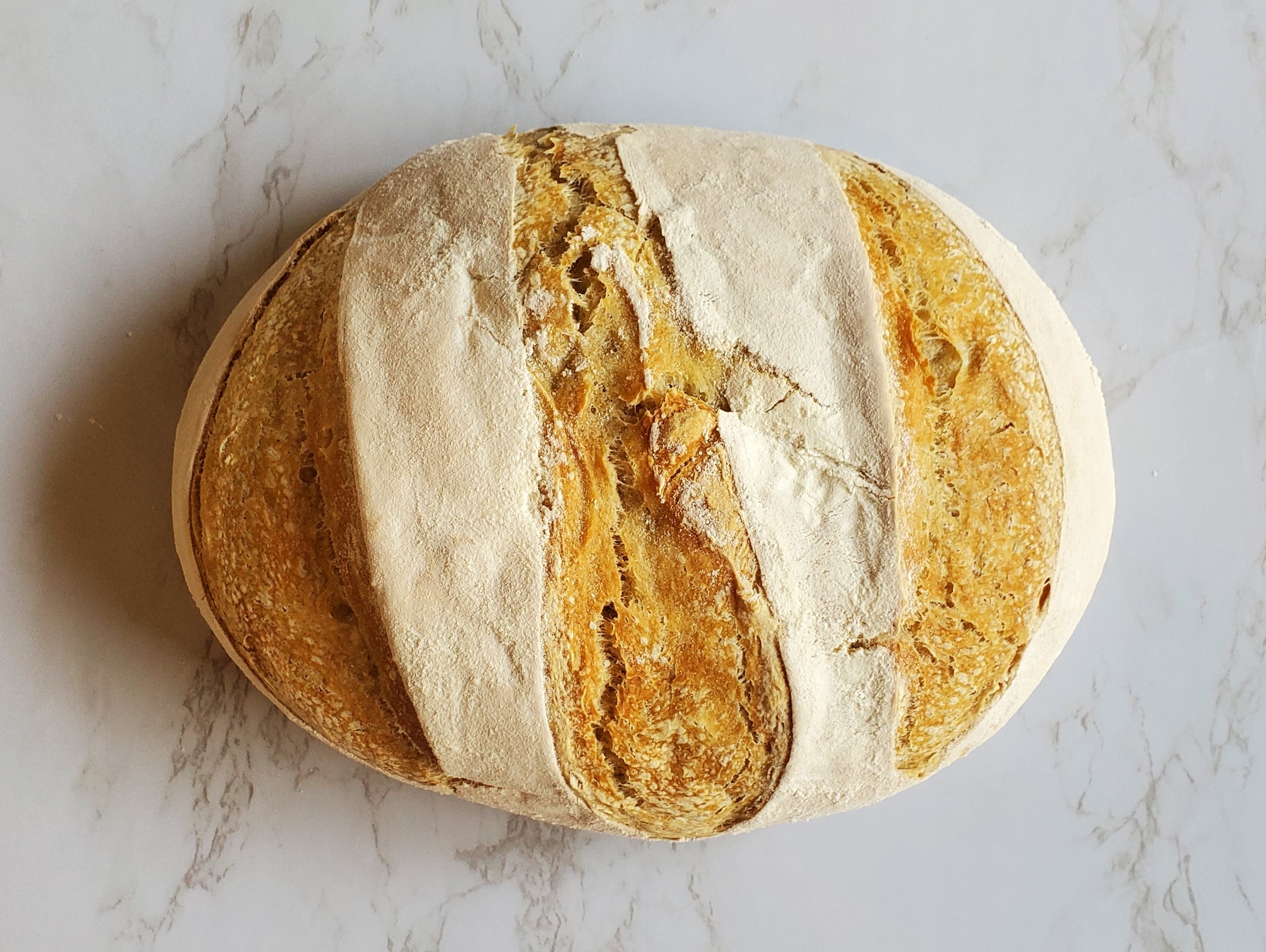 happy eating!
Lauren