I want to preface this post, while the spotlight is on Original Grill Master Brian, that my mom is the true masked hero behind the development of this recipe. You see, when I was growing up, my mom knew that I always wanted variety. I'm sure I annoyed her when I constantly tried to guess what spices she put into a recipe. She knew that I had, from a very young age, heightened taste buds (for a kid anyways). She was constantly looking for new recipes to keep dinner fresh, since I was always at rehearsal during high school, and couldn't help out much in the kitchen during the weeknights. She stumbled across the inspiration to this recipe and it quickly became a staple in our home.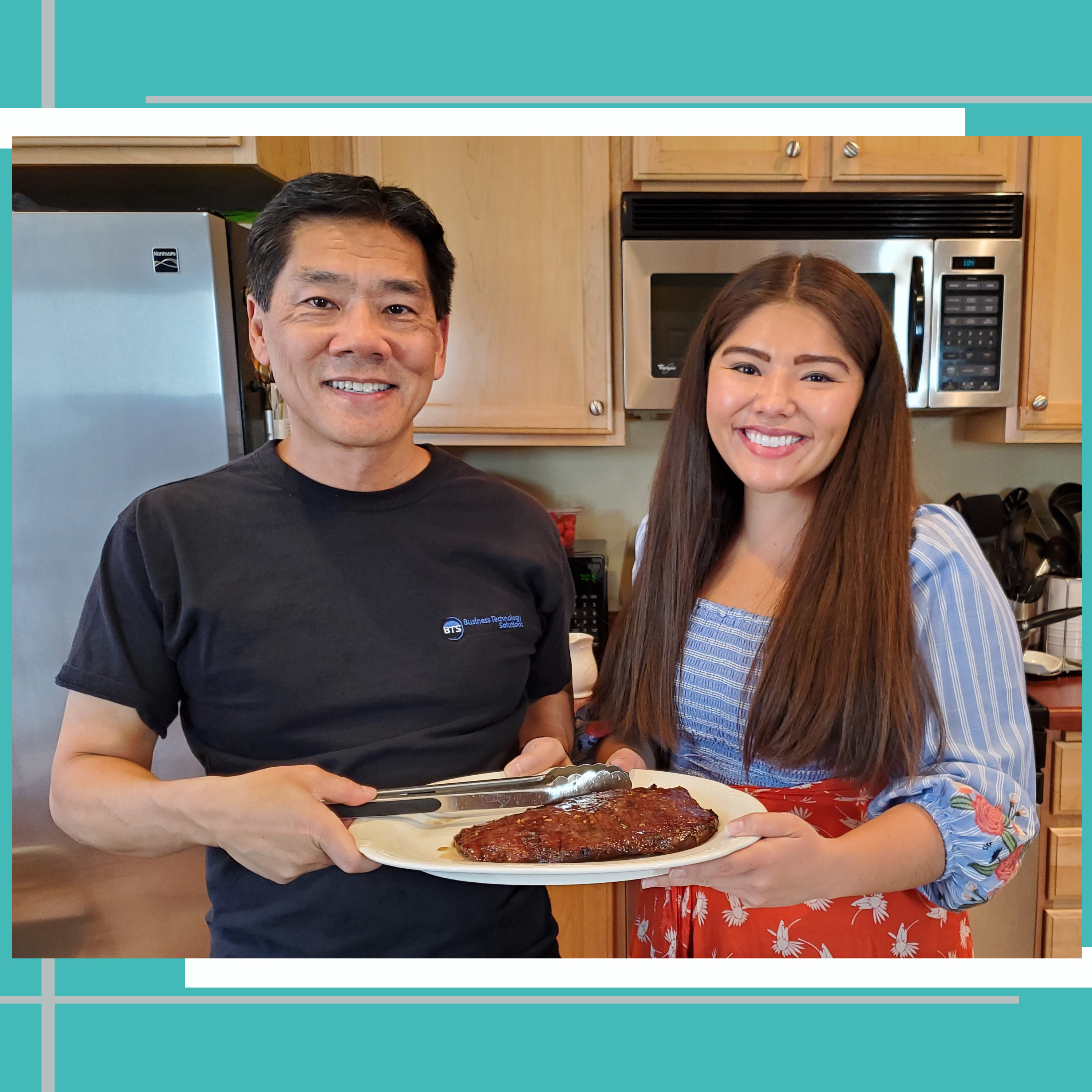 For those of you who haven't read my 'About' page (or don't know me personally), I am not Hawaiian, I am indeed, Asian.  Half Chinese in fact! Growing up in a half Chinese household influenced my taste buds immensely. I will pick Chow Fun over Spaghetti any day, hands down. That is not to say that I don't enjoy spaghetti. But if there's soy sauce and garlic in something, I'm probably going to gravitate towards that.
Finding a really great Asian recipe to make at home can be tricky. A lot of this has to do with the fact that for a very long time, many restaurants relied on MSG. Which is why it is often hard to recreate that take-out flavor. Now, let me be frank, Asian restaurants were not the only places doing this. It happened everywhere, and even still happens today in some beloved fast food chains. However, due to backlash from a majority of the populous, most food establishments have steered away from the use of MSG for some time now.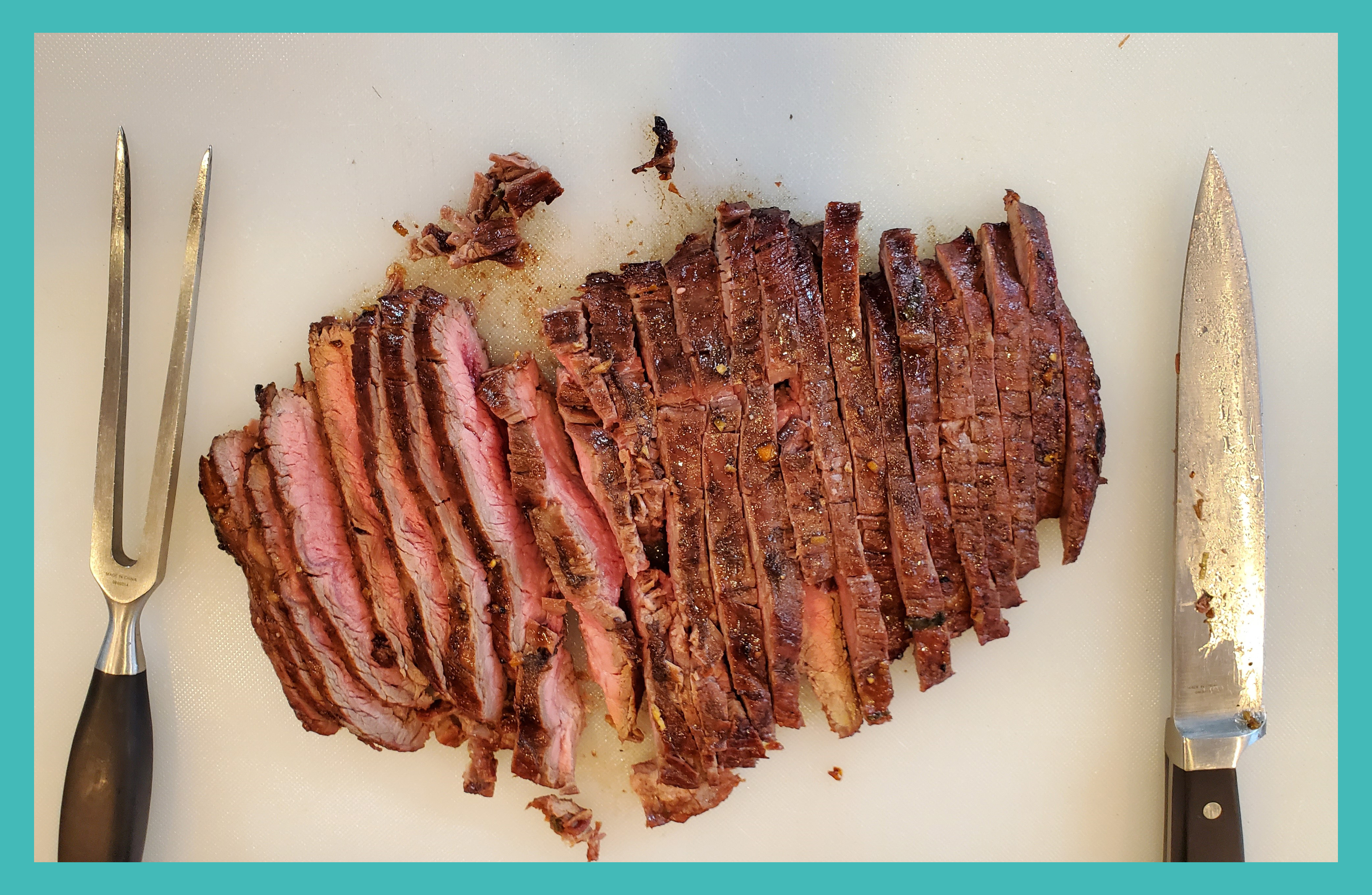 At the beginning of quarantine, I was really missing some of my favorite Asian restaurants and Dim Sum staples so I decided to recreate them at home. I find, that at the base of any great Asian recipe you need garlic or some allium (alliums include garlic, onions, scallions, shallots and chives) as well as ginger. Garlic and ginger are a must in Asian cooking.  My dad adds ginger and garlic to recipes you would never suspect and that alone can turn a drab dish into something fantastic. It adds "umami" which means depth of flavor, and has quickly become one of my favorite words. I had heard about the term umami for a long time, but I didn't really have a clue what it meant. I actually thought 'umami' and 'unagi' were synonymous for some time (unagi is eel, lol). But more on umami later (I could devote a whole post to it – and now I probably will)!
This Asian Flank Steak recipe has incredible umami, and when I say that it's easy to make, I mean it is SO EASY! I'm not gonna lie, I contemplated sharing this recipe because it alone could sell my future cookbook. But I think you all deserve it. Especially because there's not a lot of summertime left and it tastes crazy good on your grill. All you need is a little time to plan ahead, because this steak is best when you're able to tenderize your meat and marinate it for at least 5 hours, but preferably overnight.
Also, I believe any recipe is a guideline, if you think something would be super great in this marinade add it, jazz it up to your liking. Any great recipe that I ever made usually started from finding a recipe I liked but knowing I could make it better by adding something here or there. Usually what I'm adding is garlic or ginger!
You can follow the written recipe, under the 'Recipes' tab or below, but I implore you to watch the YouTube tutorial as well (and while you're there – hit the subscribe button)! I had to do some hardcore convincing to get my dad to participate in my tutorial filming escapades. And it is quite a cute daddy-daughter video, if I do say so myself. Also, when it comes to the actual grilling, dad's the master, I just eat it. We also forgot to mention in the video that you should let your meat sit out 20-30 minutes and let it get to room temperature before you grill it. That way your steak will cook more evenly. Also, we usually serve this steak with rice and broccoli or roasted brussel sprouts. Enjoy, and if you make it at home, don't forget to take a picture and tag me @hugheatswithyou on Instagram!
For the Inkbird Bluetooth Wireless Grill Thermometer my dad uses in the video click HERE!
As an Amazon Associate I earn from qualifying purchases.
Asian Flank Steak Marinade
Ingredients:
1 (1 ½ - 2 pound) Flank Steak
¼ cup Low Sodium Soy Sauce (I use Kikkoman)
¼ cup Balsamic Vinegar
¼ cup Avocado (or Olive) oil
3 Tablespoons Honey
4 Fresh Garlic Cloves, minced
2 Tablespoons Fresh Ginger, minced
3 Scallions, thinly sliced
Equipment:
Gallon sized plastic bag
Meat tenderizer 
Directions: 
 - In a bowl or liquid measuring cup, mix the soy sauce, balsamic vinegar and oil. Whisk in the honey, garlic, ginger and scallions.
- Place a gallon sized plastic bag inside a larger bowl to prevent spills. Tenderize your flank steak and add it to the bag. Pour the marinade over the steak, and seal the plastic bag. Once it is tightly sealed, flip the meat around to ensure it is covered completely.
- Place the steak in the fridge to marinate for at least 5 hours but preferably overnight and up to 24 hours.
- When ready to cook, remove the steak from the fridge and allow it to sit out at room temperature for 20 -30 minutes, to ensure even cooking. Then preheat your cooking surface (grill or stovetop grill pan). Remove the steak from the marinade, save the leftover liquid, and cook on each side until the internal temperature reaches 130-140 degrees Fahrenheit.
-While your steak cooks, bring the excess marinade to a boil and down to a simmer for 15-20 minutes. Use as a side sauce.
- Let the steak rest for 5 minutes, then slice it against the grain and serve with sides like jasmine rice and broccoli.
happy eating!
Lauren