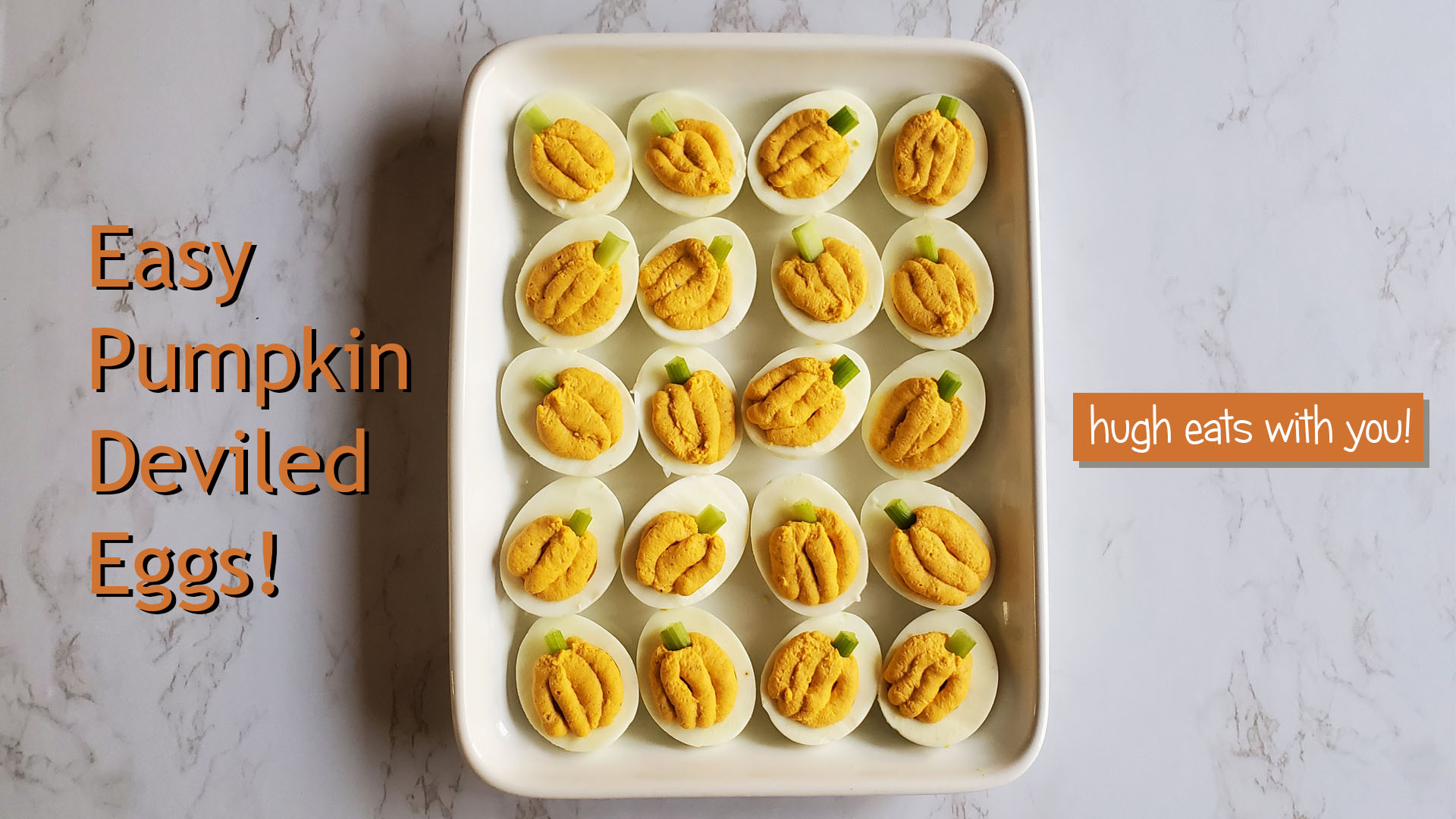 Halloween is looking a little different this year. Maybe you're choosing to trick-or-treat socially distantly or maybe you're avoiding the crowds and having #HalloweenAtHome this year. We're all trying to make it work! That's why I'm posting a recipe for Pumpkin Deviled Eggs today! Just because we're in a pandemic, doesn't mean we can't have some spooky holiday spirit!
 How to Easily Hard Boil Eggs
There are a lot of different methods out there for hard boiling eggs. But I would often find that my eggs would come out too hard, too runny, stuck to their shells or the yolks would be grey. Well I'm happy to tell you that I think I've cracked the code on hard boiling.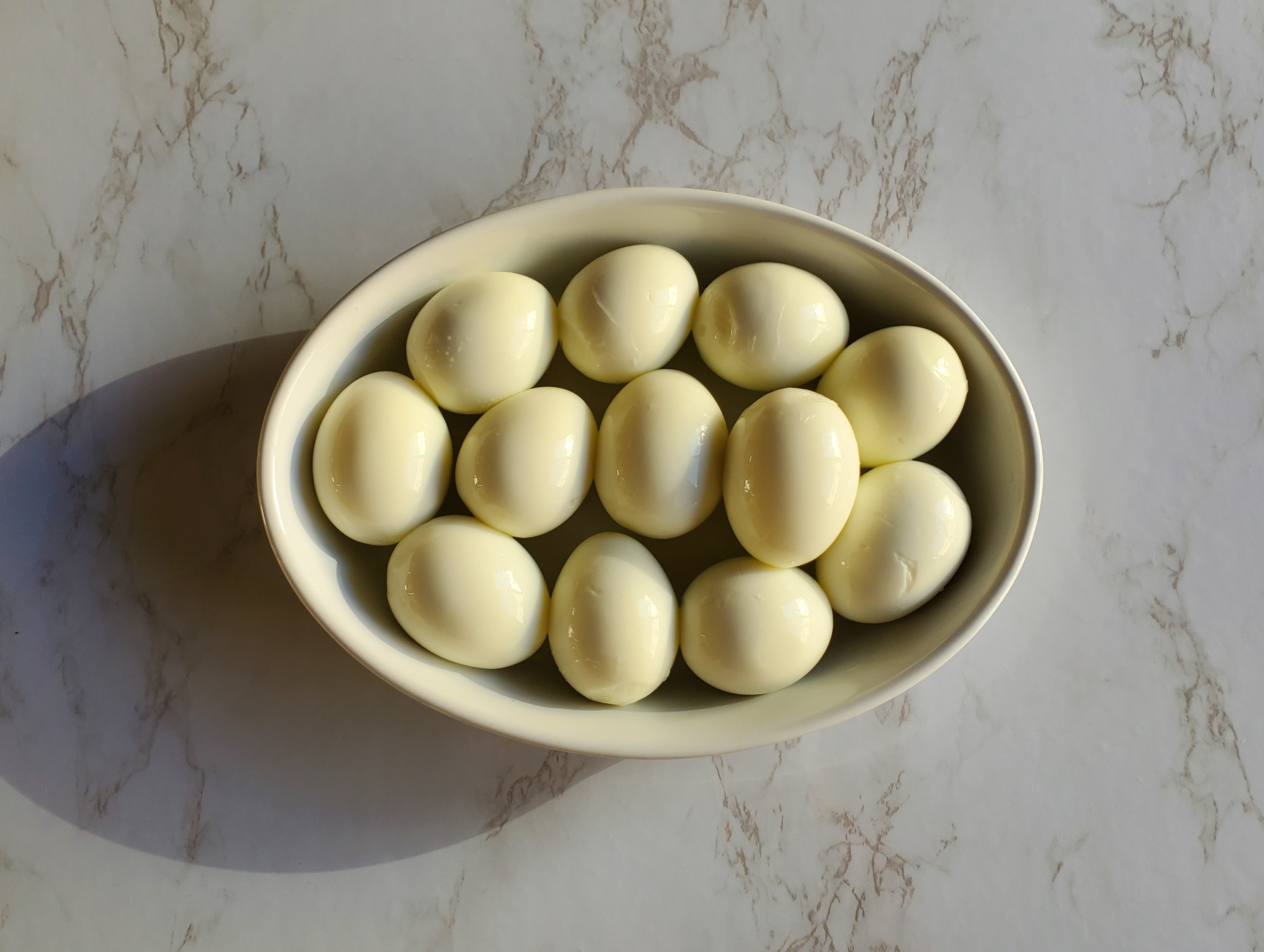 Use Older Eggs
For starters, to avoid the shells sticking to your eggs whites and being a pain in the arse to peel, you're going to want to have slightly older eggs. I couldn't tell you the exact science behind why this works, but trust me, it does and it's going to save you a boat load of time and headache.
Start With Cold Water
I have found that starting with your eggs in cold water and bringing them to a boil together creates a better final product. My egg yolks have turned out grey in the instances when I have added the eggs to already boiling water. The key is to start with cold water and shut off the burner once water starts boiling.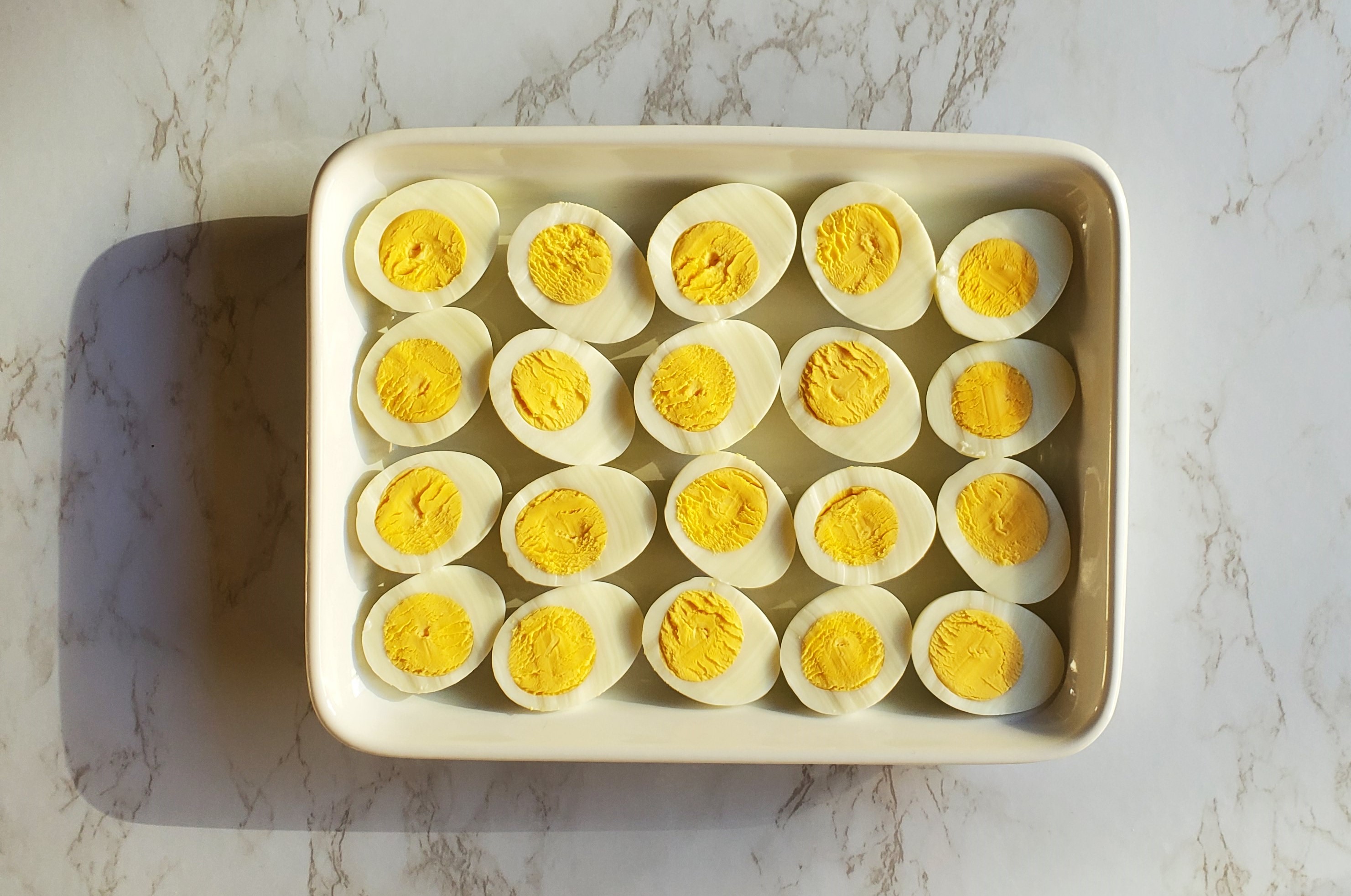 Keep The Eggs in Pot
The next essential step is to leave the eggs in the pot of hot water, covered, for 10-15 minutes. This ensures that your eggs are fully cooked and with not be runny.
Use an Ice Bath
Using an ice bath is SO important and I think it's the most commonly ignored step. By using an ice bath, you automatically stop the eggs from cooking any further. This is essential for avoiding those nasty hard boiled eggs that actually taste like chalk. In my opinion, this step also helps you avoid the unappealing grey ring around your yolk.
I hope these tips can help you make absolutely PERFECT hard boiled eggs every single time and I hope you have a very happy, very safe Halloween!
happy eating,
Lauren
Pumpkin Deviled Eggs
Ingredients:
- 1 dozen (12) eggs
- 2 teaspoons lemon juice
- 1 teaspoon smoked paprika
- 3 tablespoons mayo
- 1 tablespoon dijon mustard
- 5 tablespoons canned or pureed pumpkin
- salt & pepper to taste
- 1 stalk of celery, cut into tiny pieces
Directions:
What you'll need
Cuisinart Kitchen Central CFP-800
Buy
Steps
Follow @hugheatswithyou on Instagram
1
Put 12 eggs in a pot of cold water and bring it to a boil.
2
Once boiling, turn your burner off & let eggs sit for 10-15 minutes.
3
Make an ice bath so your eggs will stop cooking once removed from the hot water.
4
Peel your hard boiled eggs.
5
Cut your hard boiled eggs in half.
6
Separate egg yolks into a bowl.
7
Add 2 tsp. of lemon juice to the eggs yolks.
8
Add paprika, mayo, djon, salt & pepper to the eggs yolks.
9
Add the secret ingredient (pumpkin) & mix together.
If you want your mixture extra smooth, put it in a food processor.
10
Put your yolk mixture into a piping bag & fill your egg whites.
11
Add small pieces of celery for a stem.
Make little monsters by using tip # 233 & candy eyeballs.
Find the full written recipe at hugheatswithyou.com
- Put your eggs in a pot and cover with cold water. Bring to a boil, turn off burner and let the eggs sit in the hot water for 10-15 minutes.
- Fill a large bowl with ice and cold water.
- Transfer your eggs to the ice bath after 10-15 minutes.
- Once your eggs have completely cooled, peel them and cut them in half.
- Remove egg yolks and put into a bowl, reserve the egg whites.
- In your bowl, mix yolks, lemon juice, smoked paprika, mayo, dijon mustard, pumpkin, salt & pepper.
- For a smoother mixture, pulse in a food processor.
- Once completely smooth, transfer your egg yolk mixture into a piping bag fitted with a #10 piping tip.
- Fill your eggs whites with the mixture, piping curved lines to look like a pumpkin.
- Cut up your celery stalk into tiny pieces to look like stems and stick them into the top of the deviled egg.
- If you also want to make little monster deviled eggs, instead use a #233 piping tip and place Wilton candy eye balls on top!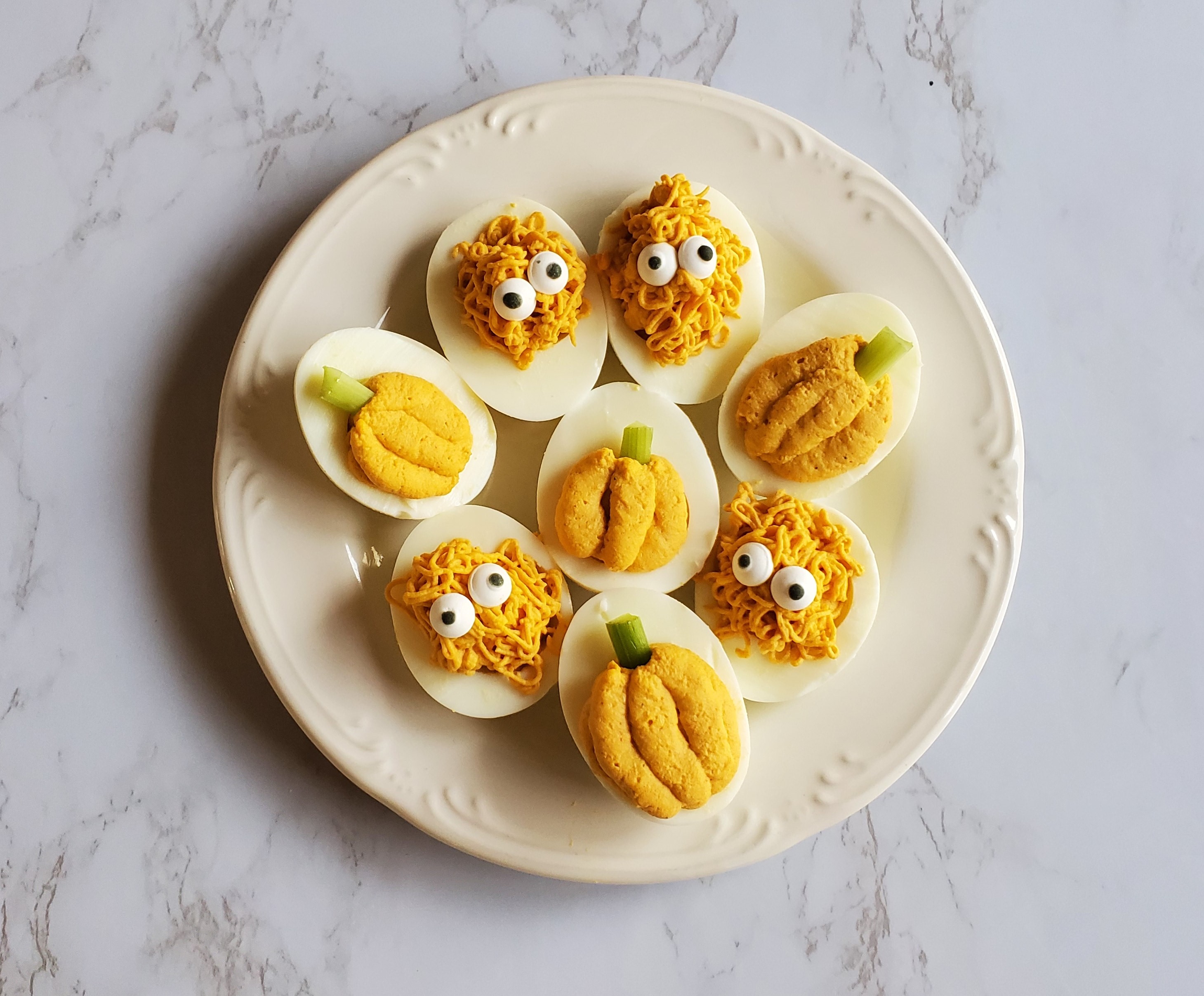 What You'll Need as an Amazon associate, I earn from qualifying purchases.
Wilton Candy Eyeballs, Assorted 3 pack