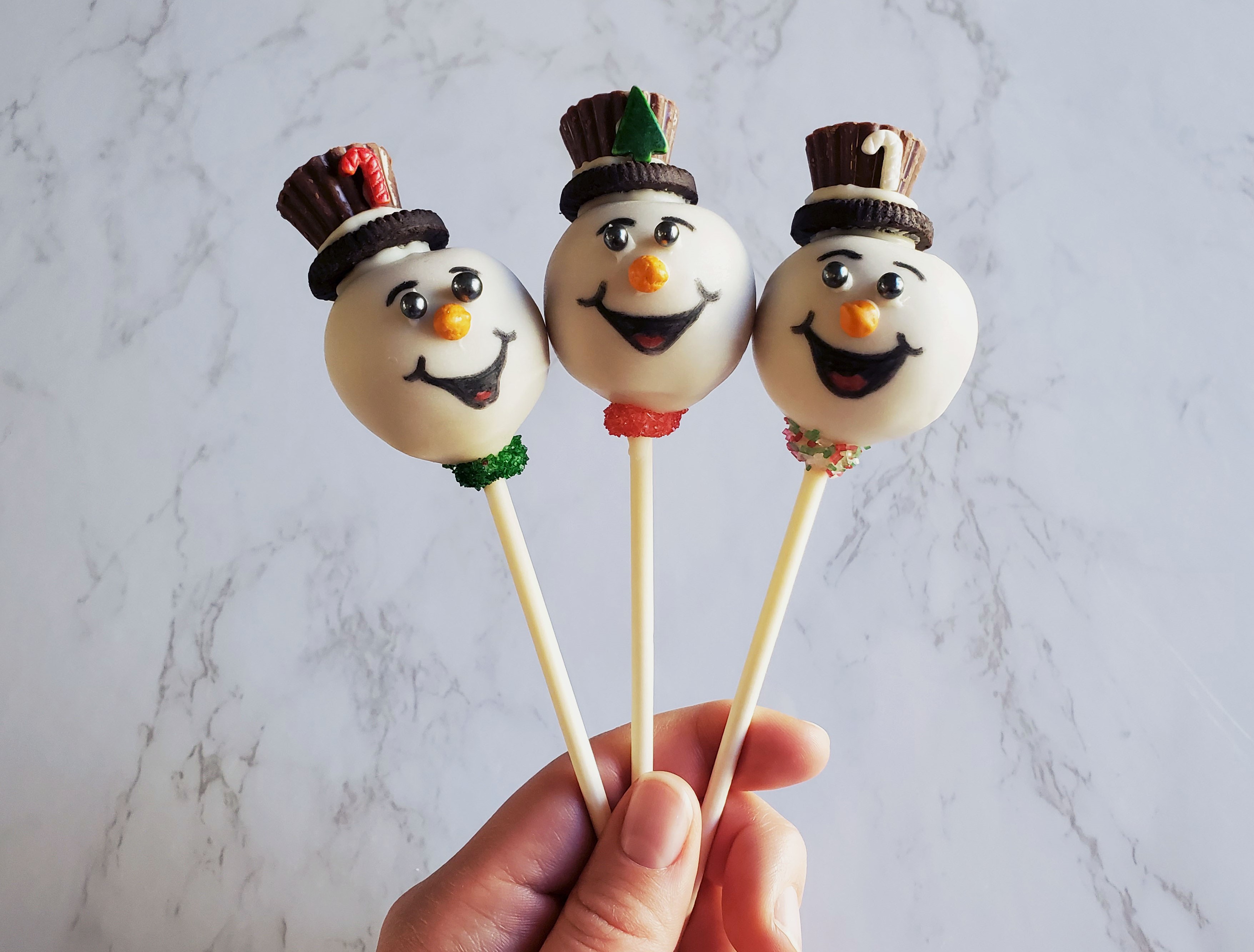 It's Day 6 of my 12 Days of Christmas Desserts and I am dishing out yet another cake pop! Can you tell cake pops are sort of my thing? These cake pops are great for a few reasons, they look just like Frosty the Snowman, and it's an excuse to add some extra nummies to your already delectable cake pop!
You see, growing up, I was always fascinated by the story of Frosty the Snowman. It's a magic filled tale about how a snowman comes to life. And just like in any great holiday movie, the adults don't believe the children and all the magical nonsense they are spouting. The lyrics go,
"There must have been some magic in that old top hat they found. For when they placed it on his head, he began to dance around".
So, in my personal opinion, the top hat is the most important part of this cake pop, because it's where the magic is at. Not only are we talking literal Christmas Magic, but this particular top hat it also made out of Oreos and Reese's. YUM!
Oddly enough, building a snowman is sort of like making a cake pop. But instead of gathering snow and rolling it into huge balls, you're crumbling cake and rolling it into tiny, bite-sized balls. The nice part about making cake pops is, you don't have to freeze your fingers while doing it and you can have a snuggly warm cocoa by your side, the whole time you bake and decorate!
If this is your first time making cake pops, I recommend you first journey to my How To Make Basic Cake Pops page and pick up on all of the nitty gritty stuff. Then pop on back over here for the added on decorating tidbits I include in this newest tutorial.
I also just wanted to mention that all of the specific sprinkles I've listed and are mentioned in the video are just recommendations. Feel free to use whatever you think looks best on your snowman! Also, there have definitely been times when the grocery store or wherever you shop doesn't have the sprinkles or candies I am looking for so I totally just improvise. Sometimes if I can't find Oreos or Reese's I go for making ear muffs out of M&Ms and a little piece of licorice. Be creative! I can't wait to see what you make!
happy eating!
Lauren
Snowman Cake Pop Essentials: (As an Amazon associate, I earn from qualifying purchases)
Mini Unwrapped Reese's Peanut Butter Cups
How To Make Snowman Cake Pops
Ingredients:
- 9 x 13 pan of cake, any flavor
- About 1 cup of buttercream frosting
- 1 bag of White Candy Melts
- Mini unwrapped Reese's Peanut Butter Cups
-Mini Oreos
Instructions:
Bake a 9 x 13 pan of cake (any flavor). Let it cool, cut it up and crumble it very finely in a large bowl.

Make some buttercream or buy some from the store and add to your crumbled cake. You want to mix in just enough frosting so that your mixture feels like Play-Doh. It is better to start with less rather than more or your cake pops with be to malleable.

Roll your cake mixture into individual, bite-sized balls.

Melt down a bag of white candy melts. Use a candy melter if you have one, or microwave at 30 second increments stirring in between until smooth.
Dip about 1 cm of the cake pop stick into the candy melts and then stick it into your cake ball. Smooth the excess out around the base of the stick. Refrigerate your pops for 15 minutes.

After your cake pops have set in the refrigerator, you are going to completely submerge your cake pop in the candy melts. Be careful not to jerk it around too fast or the cake could fall of the stick or get crumbs in your candy melts.

Cover all of your cake ball and allow this layer of candy melts to harden, I recommend using a cake pop stand to let your pops dry.

Fit your piping bag with a #4 Wilton tip (or other small round piping tip). Fill the piping bag with excess white candy melts.

Pipe small two dot of candy melts on the "face" of your cake pop. Then use 2 black non pareil sprinkles for "coal" eyeballs. Repeat this step to attach an orange candy chip as the "carrot" nose.

On the top of the "head" of your cake pop, again put a generous dot of candy melts. Attach one side of a mini Oreo for the base of your snowman's "top hat".

On top of your Oreo, pipe another generous dot of candy melts and attach a mini Reese's Peanut Butter Cup for the top of your "top hat".

Let your cake pop set again.

When these pieces have hardened, take a food safe marker and add an expression to your snowman, maybe even some eyebrows!

Optional: Attach a holiday sprinkle onto the snowman's top hat. Or pipe some candy melts around the base of your snowman's face, cover in sprinkles to create a "scarf".

Then place again on your cake pop stand to dry. Enjoy!