The Perfect Christmas Sugar Cookies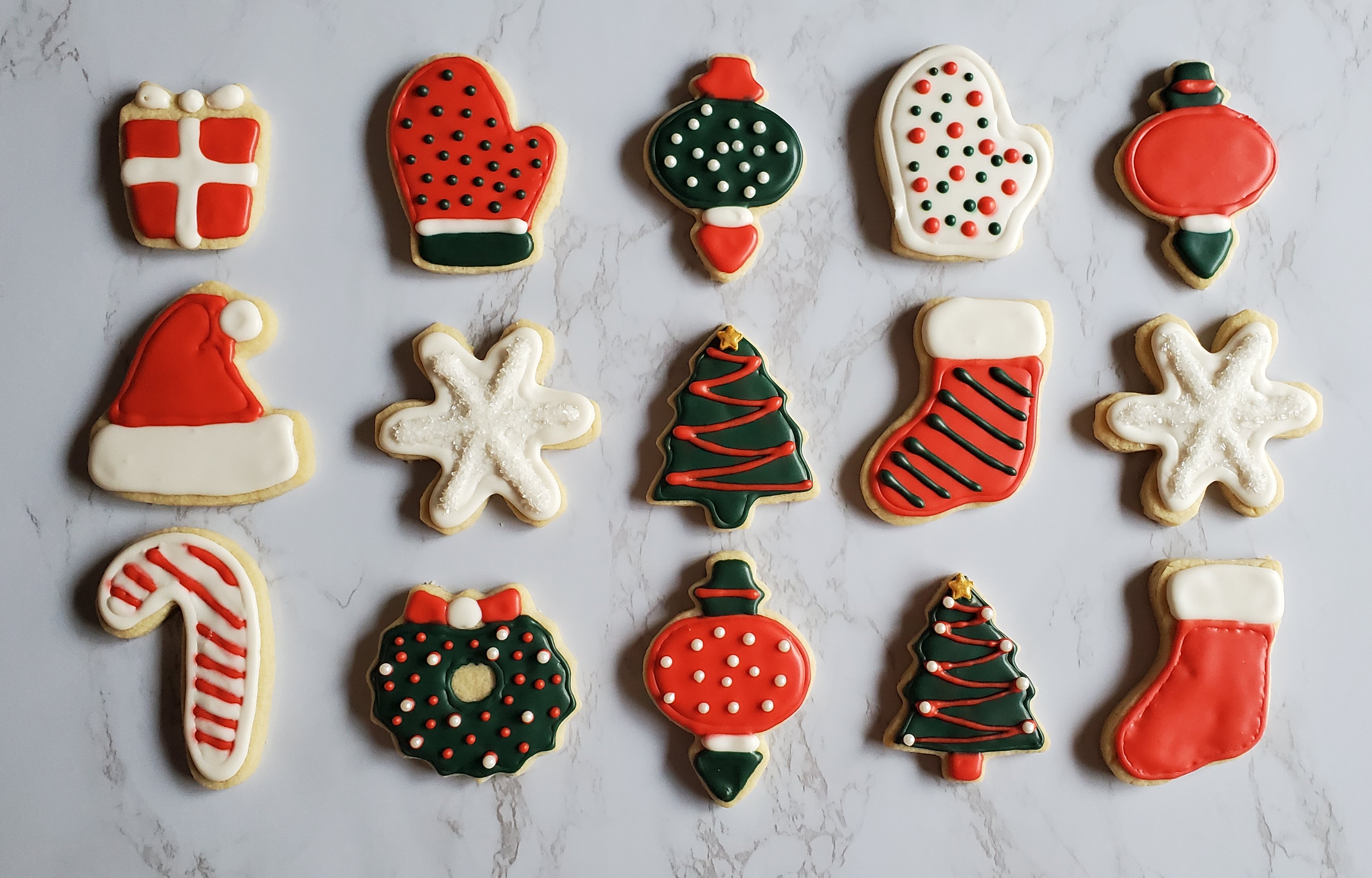 Welcome to Day 2 of my 12 Days of Christmas Desserts!! I am so glad you've come back for more. I started off my 12 days with my Christmas Tree Cake Pops, just to get everyone excited about the possibilities this season brings for baking. If those were a little bit intimidating for you, no worries, I completely understand! So, we're gonna go back to basics just for a moment.
One of the biggest holiday traditions I grew up with was Christmas cookies. At every holiday gathering I would go to; everyone would bring their signature treat. In my family, it always seemed like everyone knew who made the best peanut butter blossom or raspberry thumbprint cookie and no one would cross into someone else's territory. It was fascinating.
Oddly enough, one of the most basic desserts, the sugar cookie, never made an appearance at any of our holidays. Maybe because it was too basic? Regardless, I'm fascinated by sugar cookies. And when I say this, I don't mean that I'm fascinated by your run of the mill grocery store sugar cookie. No offense to grocery stores, but I usually find those unappealing. I mean the sugar cookies with beautiful royal icing designs. It truly is an art. My relative on my dad's side, Belinda makes them, and I need to take a lesson from her.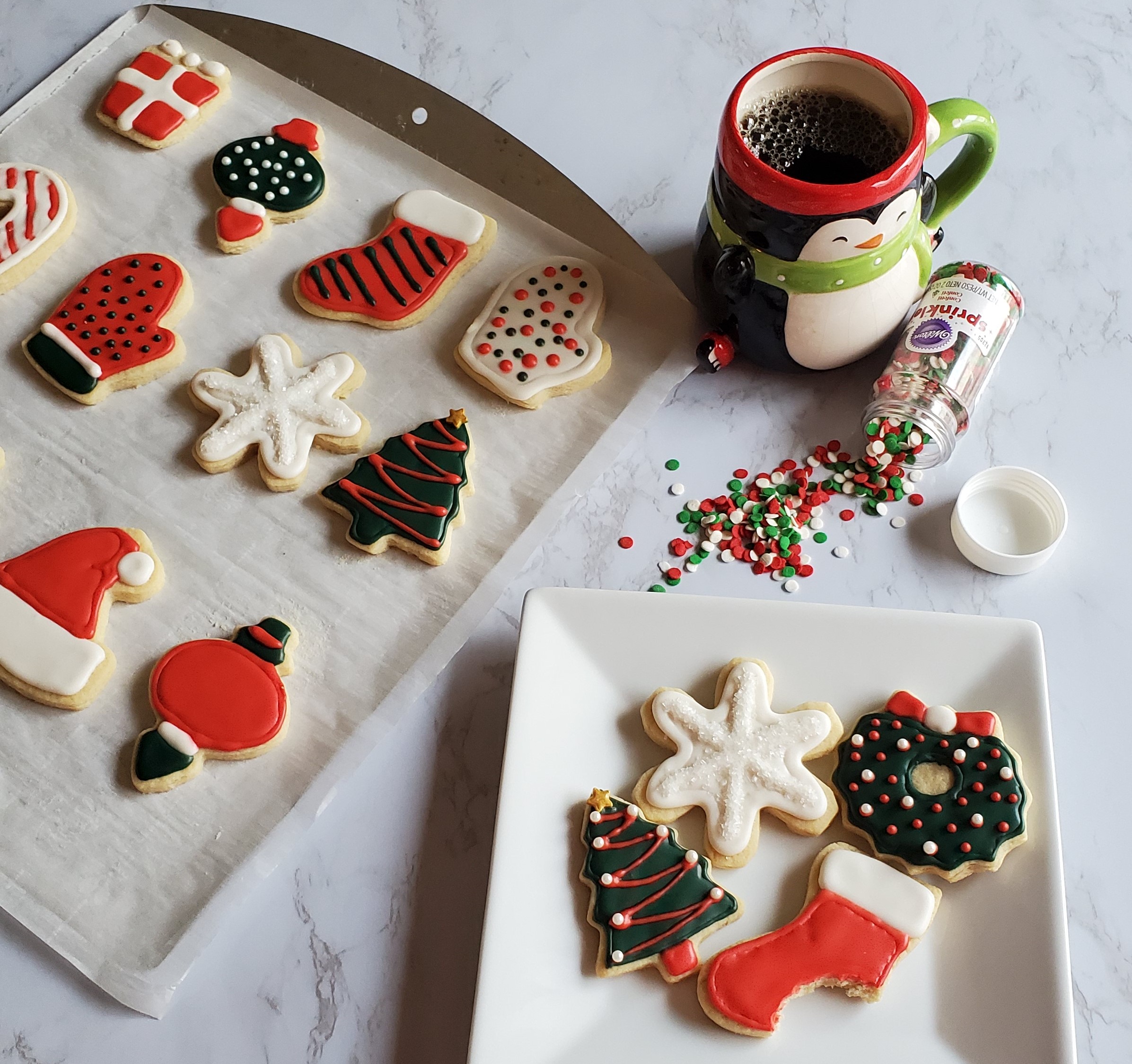 I'm definitely going to continue to perfect my royal icing decorating skills, but I think I gave it a pretty good go for the first time around! And I have to say, with my sugar cookie recipe, you'll never have to buy those dry ones from the store again! The nice thing about these sugar cookies is that they are a great to make with anyone in your family, young or old. And everyone gets to have creative freedom with their cookie. Also, depending on what cookie cutters you have, the possibilities are truly endless.
Make sure to keep an eye out in the coming days, because I'm also going to be posting How to Make the Perfect Gingerbread House Icing. Believe it or not, it is different than this one. And if you're anything like me, you always run out of whatever shitty icing comes with your gingerbread kit.
Tips on Making Sugar Cookies
The most important step when making sugar cookies happens before you even mix the ingredients. For starters, you must soften your butter!! And I mean truly soften your butter. Take it out with ample time, before you mix your dough. You could microwave it last minute, but there is just way more room for error if you do that, so I do not recommend it.
For the frosting, you also must buy pasteurized eggs for your egg whites. I suppose you could live life on the edge and not… but I'd rather not have anyone getting sick on my watch. Also, if you have an egg allergy, make sure to watch for my other royal icing recipe coming out in the next few days.
If you've skipped ahead to my sugar cookie recipe, then you've already seen that there is both vanilla extract and almond extract in the recipe. If you're thinking of foregoing the almond extract, I highly suggest rethinking that thought. Almond extract is the secret ingredient. In fact, it is the secret ingredient in many baked goods. It's that flavor that makes you go, "mmhm…what is that"? It's almond extract folks, so, if you don't have it, go get it, order it, whatever you have to do, but do not, I repeat, do not go skimping on the almond extract.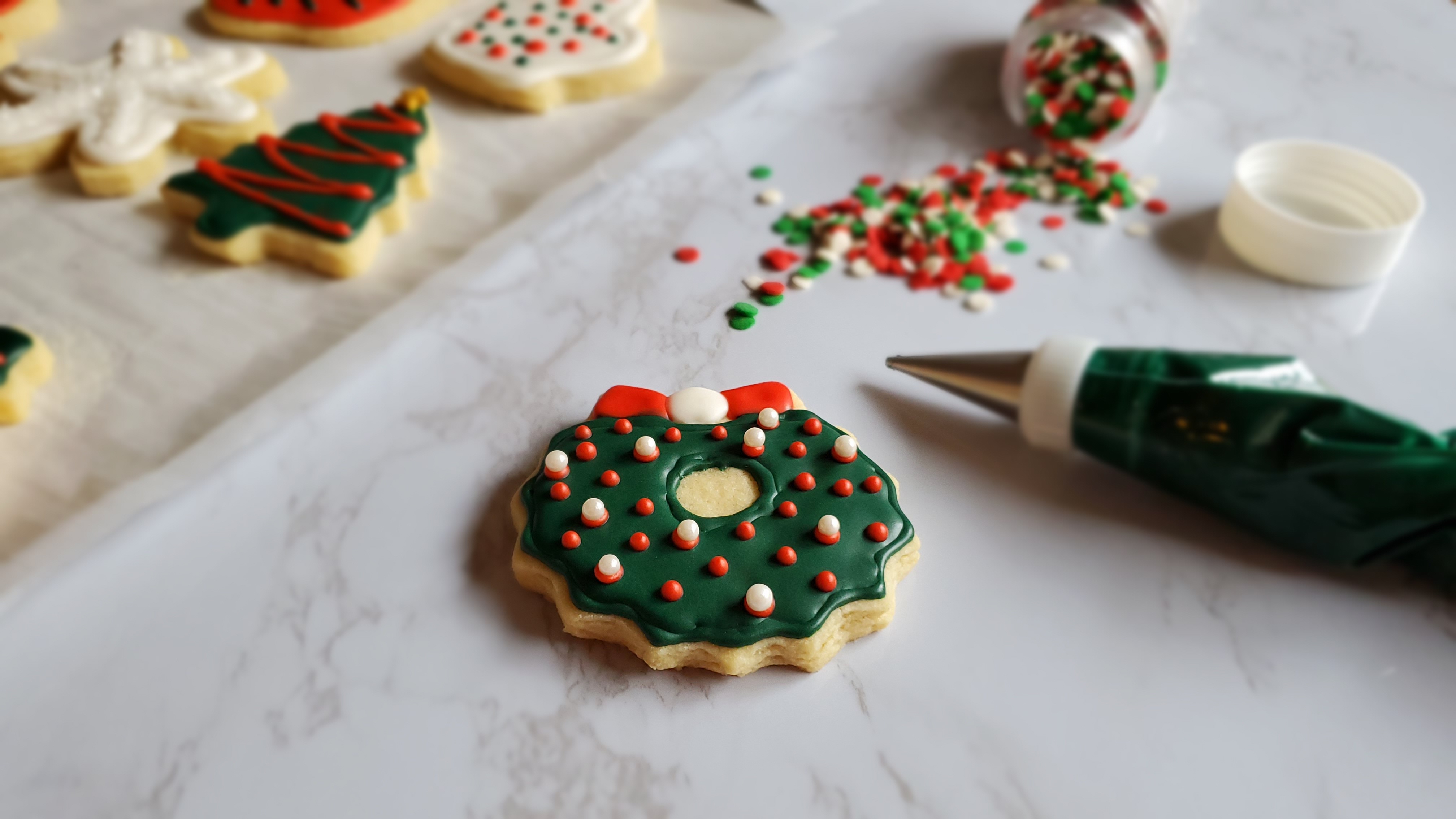 A pro supply tip is that you will want to have piping bags and piping tips, specifically a #4 Wilton tip or equivalent. You could technically use a sandwich bag and cut a hole in the corner, but I find that method to be extremely flimsy and unreliable. For the most control over your icing, invest in some tips and piping bags.
I've also included a pro-tip on how to put your royal icing in your piping bag. This tip is especially helpful when teaching kids how to use a piping bag, or just anyone who has never used one before. Basically what you can do is put your royal icing into a piece of plastic wrap, tie it up like a pouch. Then, over your piping bag that has already been fitted with your small round tip, you will snip the bottom of your pouch and place it into the piping bag. The plastic wrap will stick to your piping bag, making it much more difficult for icing to come spurting out of the wrong end.
I hope you enjoy these sugar cookies as much as I do and I hope you have fun making them! Leave comments below if you have questions!
happy eating!
Lauren
Sugar Cookie Essentials as an Amazon associate I earn from qualifying purchases.
#4 Wilton Piping Tip (I recommend this pack, because buying a single tip will cost you more.) 
Americolor Gel Food Coloring Set
The Perfect Sugar Cookie Recipe
For the Dough:
3 ¼ cups all-purpose flour (406 g)
1 tsp. aluminum-free baking powder (4 g)
½ tsp. fine sea salt (4 g)
1 cup (2 sticks) softened butter (231 g)
1 cup granulated organic white sugar (213 g)
1 egg
1 ½ tsp. vanilla extract (10 g)
1 tsp. almond extract (7 g)
Instructions:
Preheat your over to 350 degrees Fahrenheit.

In a separate medium bowl, mix together flour, baking powder and salt.

In your mixer, cream your butter with your sugar until light and fluffy. It should be a pale yellow color.

Then incorporate your egg, vanilla and almond extract.

Finally add in your dry ingredient mixture.

Flour a clean surface in your kitchen.

Pour out your dough onto the surface and shape it into a round ball.

Flatten your ball of dough slightly and then roll it out with a rolling pin. 

Until it is about the thickness of a bottle cap or your pinky finger (1/4 inch).

Cut out your cookies with Christmas cutters, dipping your cutter into flour in between.

Grab a baking sheet with parchment paper and carefully transfer your cookies, while gently removing the dough from around each cookie.

Bake on the middle rack of your oven for about 8-12 minutes. I recommended keeping an eye on your cookies though, as ovens may vary.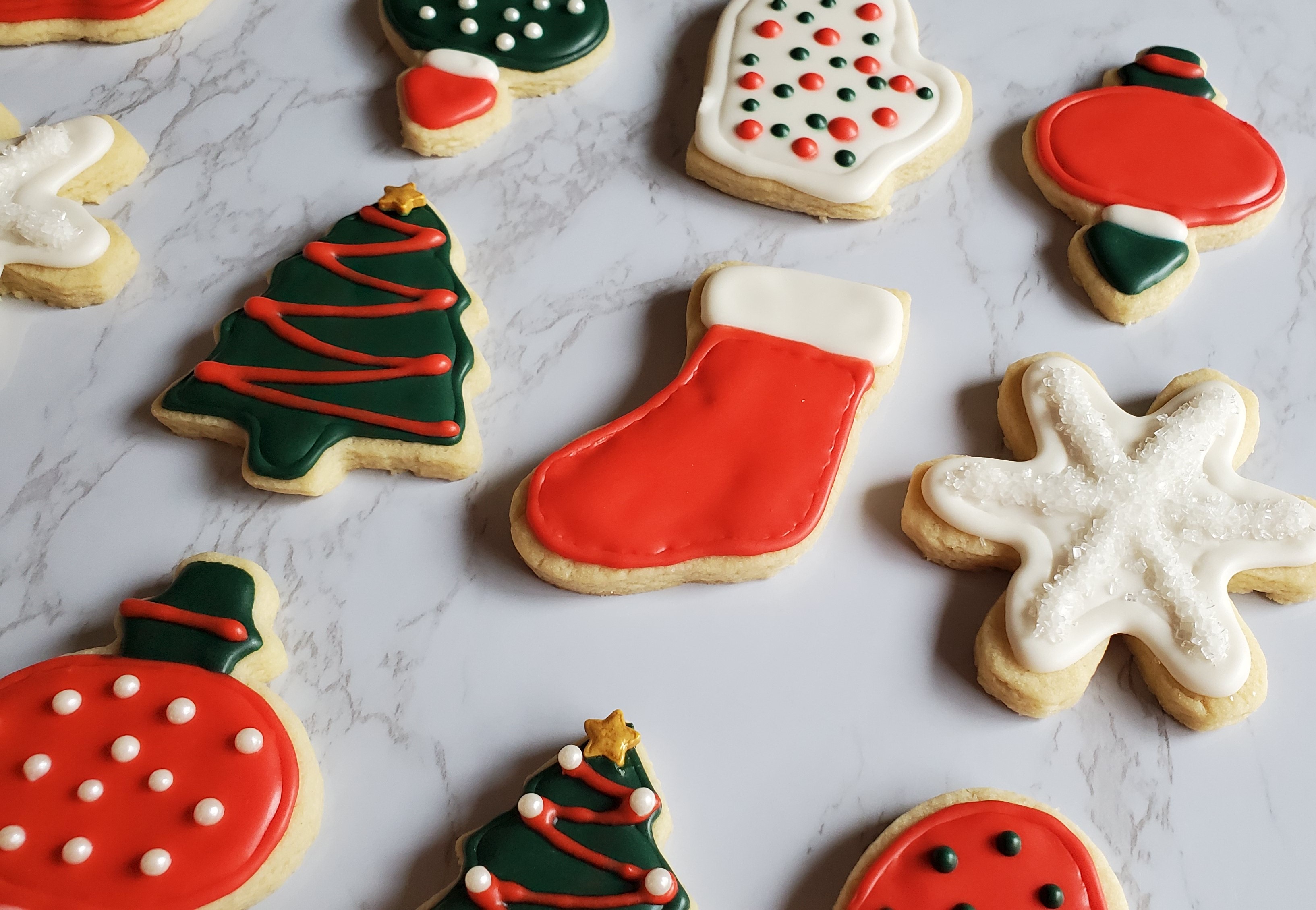 Royal Icing Recipe
2 pasteurized egg whites
¾ tsp. cream of tarter
3 cups powdered sugar (300 g)
1 tsp. vanilla extract
water if needed*
Instructions:
In your mixer fitted with a whisk attachment, whip your egg whites and cream of tarter until they are just slightly foamy (see video).

Then add in your powdered sugar, scraping down the sides of your mixing bowl as needed.

Finally add in your vanilla.

If you still think your icing is too thick feel free to add a little bit of water.

If you're coloring your icing now is the time to do so, I recommend a few drops of a gel based food coloring.
I put my royal icing in a plastic wrap pouch and snip the bottom before putting it into my piping bag fitted with a coupler and a #4 Wilton tip (see video). This helps so the icing does not spill out of the back end.

What you'll need

Wilton 12 in, 100 ct Disposable Piping Bags

Buy

Steps

1

Mix dry ingredients: 3 1/4 cup flour, 1 tsp. baking powder, and 1/2 tsp. salt

2

Cream together 1 cup softened butter, 1 cup sugar, 1 egg, 1.5 tsp. vanilla extract, and 1 tsp. almond extract.

3

Add your dry ingredients, 1 cup at a time.

4

Flour a clean surface and roll out your dough 1/4 inch thick.

5

Cut out your cookies & transfer to a baking sheet with parchment paper.

6

Bake in the oven at 350° F for 8-12 minutes. Cool completely.

7

Royal Icing: 2 pasteurized egg whites, 3/4 tsp. cream of tartar, 3 cups powdered sugar, and 1 tsp. vanilla extract.

8

Color your royal icing with a few drops of gel food coloring (like Americolor).

9

I put my icing in a plastic wrap pouch, snip off the bottom & put it inside a piping bag to avoid spillage. Then fit with a #4 Wilton round tip.

10

Outline the edge of your cookie, let it dry, then "flood" your cookie with icing & spread your icing to the edges with a toothpick.

11

Repeat with the rest of your cookies. Once your base is dry, you can pipe detailing on top.

12

You can also add accent sprinkles & 3D sprinkling!

You can find the written recipe on my website! #happyeating!