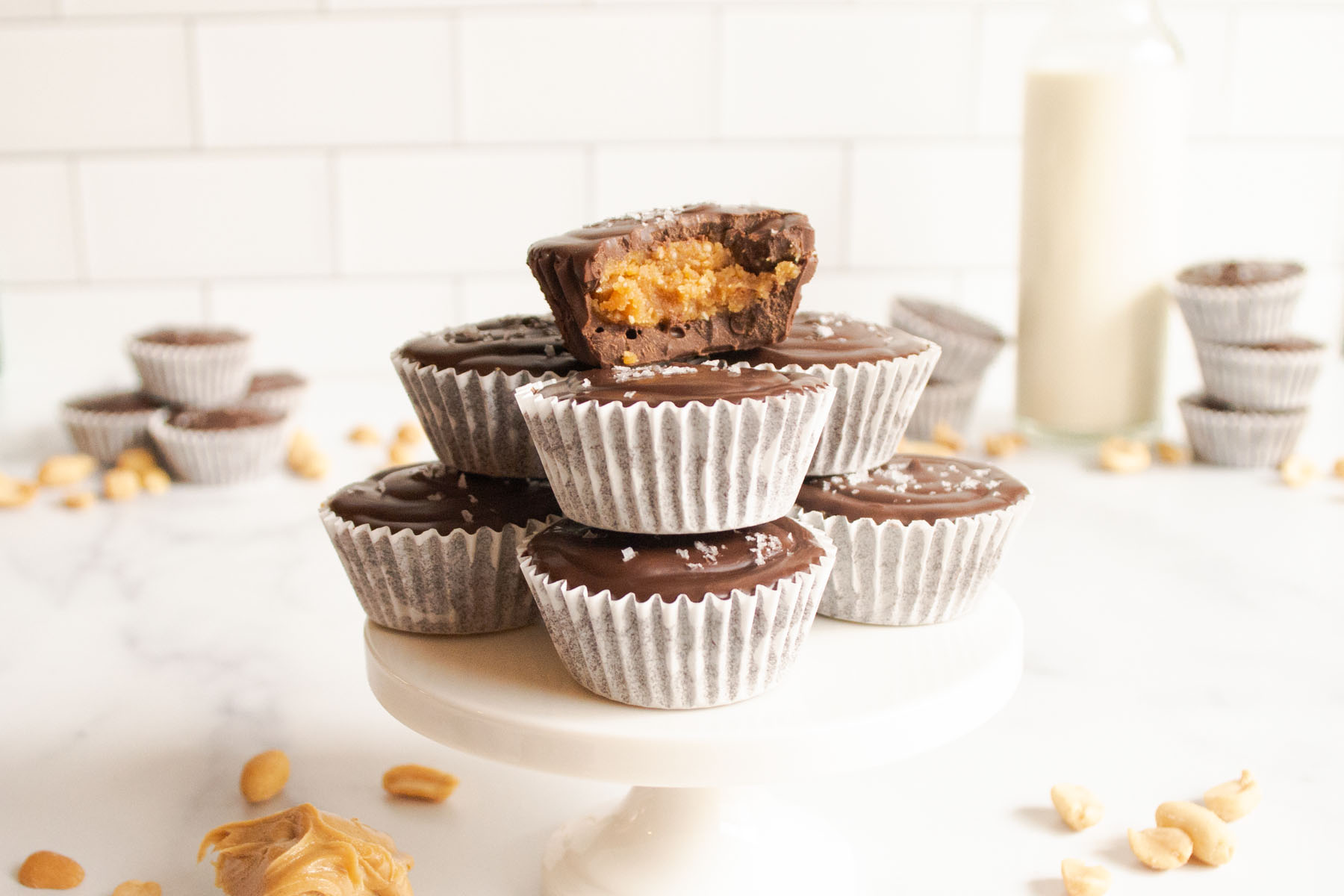 Alright y'all. If you're like me, that probably means you're obsessed with peanut butter and chocolate. If you hate peanut butter and chocolate… I might argue that there's something wrong with you. No offense, I still love you! Anywho, I know many of us have put on the quaranTEN these past few months and you know what, that's OKAY! Even when I'm trying to watch my sweets intake, well, I still want chocolate and peanut butter. But did you know that a Reese's Peanut Butter Cup contains maltitol, polydextrose, soy lecithin, artificial flavors, sodium caseinate, mono and diglycerides and mixed tocopherols?!
Now, not all of these ingredients are necessarily "bad for you", but I bet most of you don't know what the heck most of those words mean. Bottom line is, I want to know what ingredients are going into the food I'm eating, I don't want to have to Google my dessert. So please enjoy this recipe/video tutorial for the Healthier Peanut Butter Cup! As an Amazon Associate I earn from qualifying purchases but I only link to products I genuinely use & love!
The Healthier Peanut Butter Cup
(Vegan & Gluten-Free)
Ingredients:
Chocolate Mixture
1 c. semi-sweet or dark chocolate chips (Hu Baking Gems or if you are sugar free, I recommend the brand Lily's)
1 tsp. coconut oil
Peanut Butter Mixture
½ c. crunchy peanut butter (or another nut butter/sun butter)
2 Tbsp. maple syrup
1 Tbsp. coconut oil
2 ½ Tbsp. almond or coconut flour
2 tsp. vanilla extract (I use either homemade, Watkins baking vanilla or the Kirkland brand)
*Maldon salt or sea salt for sprinkling!
Directions:
-Put your chocolate chips in a heat proof bowl with 1 teaspoon of coconut oil. Microwave first for 30 seconds, then stir and repeat microwaving at 10 second increments stirring each time in between. If you microwave your chocolate any longer it will BURN & you will have to start over.
-Once your chocolate is melted, set it aside to cool slightly (but don't allow it to reharden).
-Put the crunchy peanut butter, maple syrup, coconut oil, almond flour and vanilla extract in a medium bowl or food processor. Mix until smooth.
-Line a mini cupcake pan with mini cupcake liners. In each liner put 1 teaspoon on the chocolate mixture on the bottom, 1 teaspoon of the peanut butter mixture in the middle and another teaspoon of the chocolate mixture on top.
-Finish it off by sprinkling some Maldon salt or sea salt on top!
-Place them in the fridge for about 15-20 minutes to harden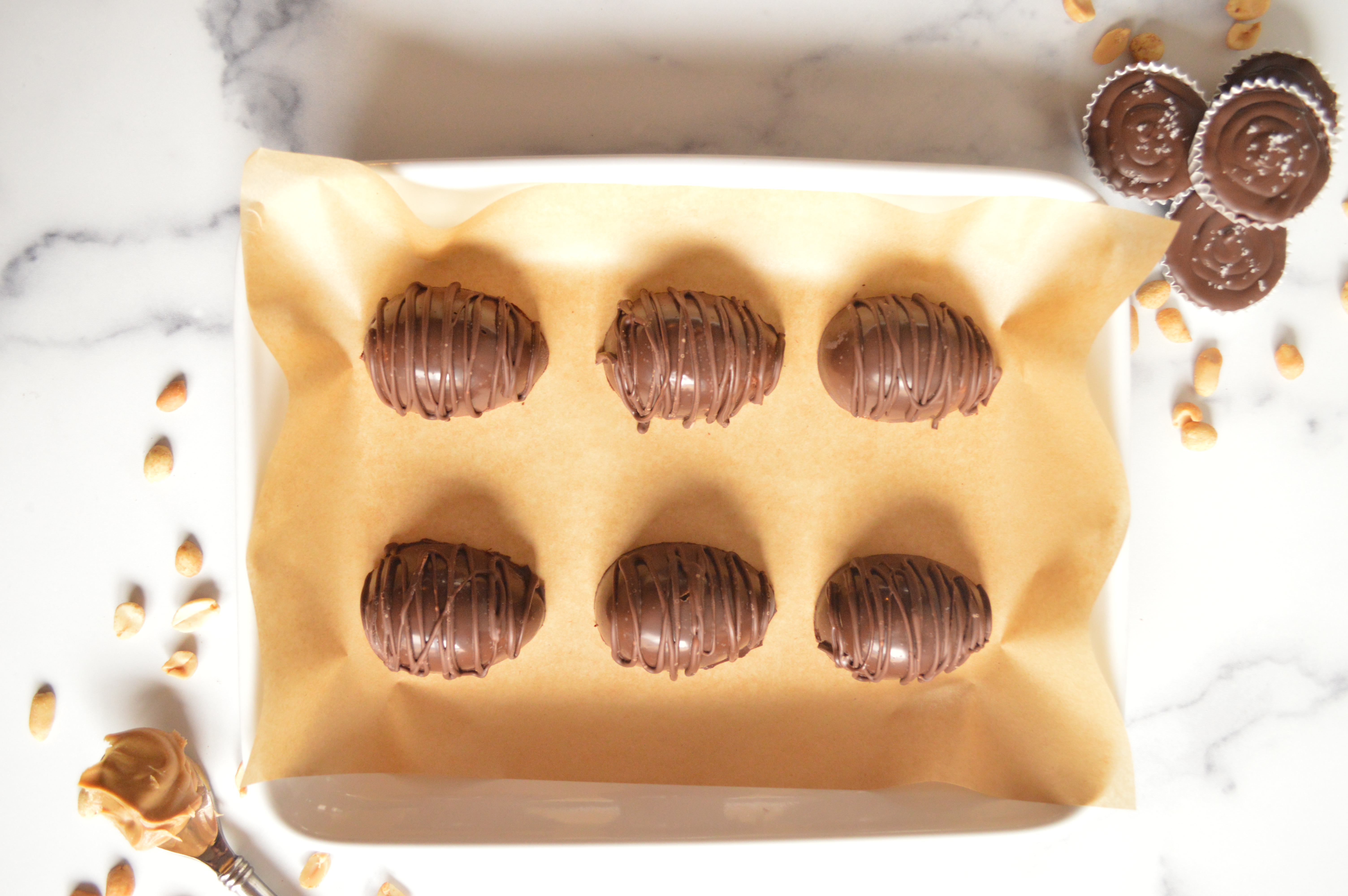 You can also use this exact same recipe to make Healthier Peanut Butter Eggs! Check out the reel on my Instagram page to see how!
happy eating!
Lauren