So, I'm sure most of you reading this blog post saw my Instagram/Facebook post of me with a charcuterie board the other day. And you probably thought I was joking about becoming Whisps Snacks Cheese Executive Officer (CEO). Well, it's a REAL thing! I had to apply with a written essay & photo/video material and everything! I didn't see it as "work" though, I actually had loads of fun doing it. Basically, if selected, I will get trained by a cheese monger, and receive Whisps snacks and other artisan cheeses to try while virtually working with their Cheese Board. It sounded super fun, so we'll just wait and see what happens!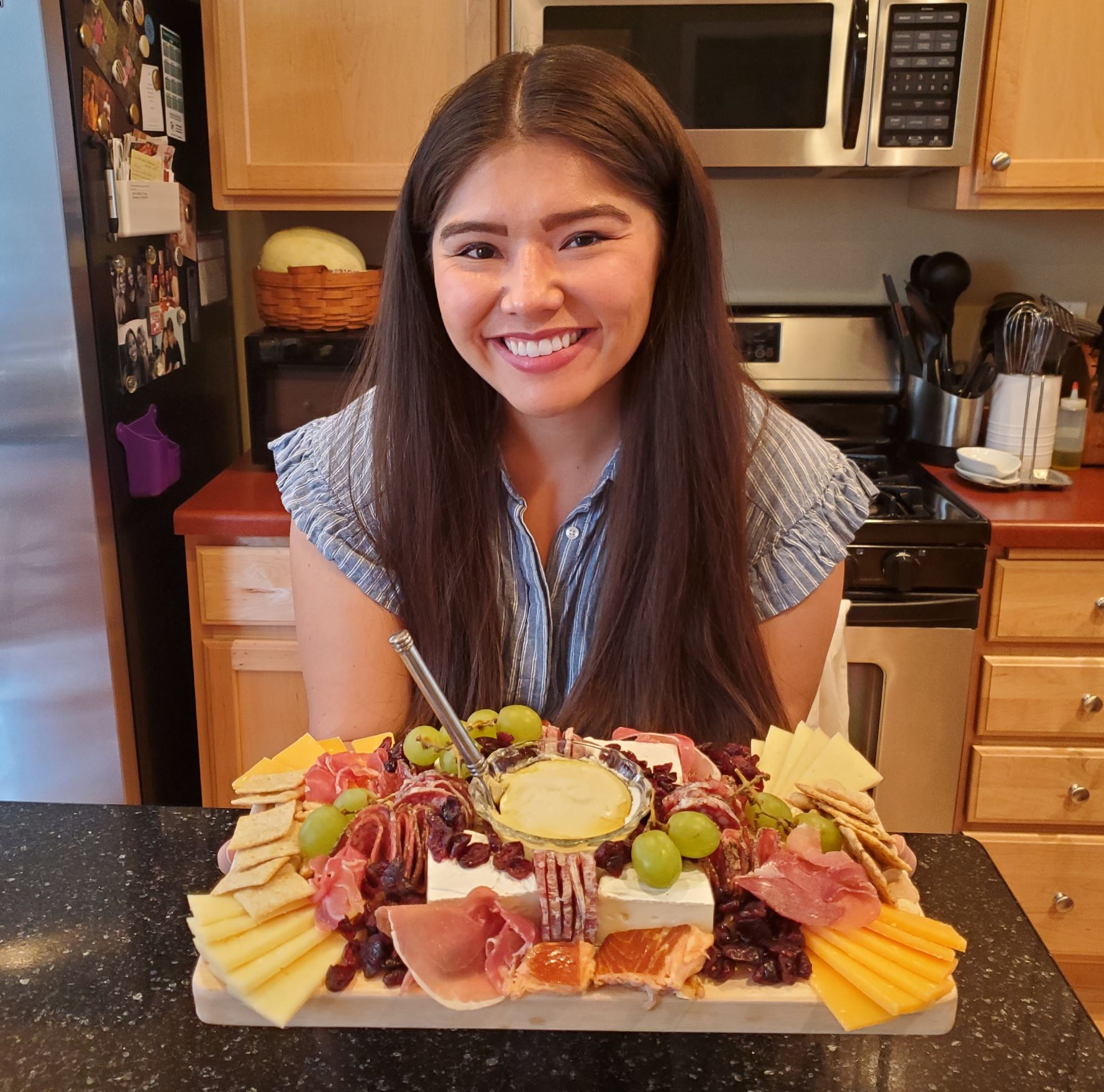 Click here to view the Instagram post!
Believe it or not, my dad came across the application to apply. My dad weirdly finds things that I'm very interested in and/or things that are trending on the internet. And sure, some of you are saying, "well dUh, Lauren. Your dad's like a super-techie-computer-wizard, of course he finds stuff on the internet". And you're right, BUT usually he's not looking for stuff for me on the internet, lol. However, since quarantine began, he became quite good at it (unintentionally). You know the Dalgona Coffee (fancy whipped coffee) trend on tiktok? Yeah, my dad found that before me. And while I'm mentioning tiktok, you might as well go follow me there too for video bursts of all your foodie desires (lauren_hugh).
ANYWAYS, back to cheese.
Before I entered college, I had no idea what a 'charcuterie board' even was. The closest thing I had to it was some Ritz, colby jack and summer sausage. Okay, I'm slightly exaggerating, but still. I think I was in college when my family went out to eat and my sister (who equally loves to eat out) was like, "yeah Lauren, a charcuterie board, my friends and I get these all the time. They're the best". After that, I was a convert. I had no idea people would gorge on a plate of meat and cheesy goodness. My aunt, Dianne, who learned French in college, later told us how to actually pronounce charcuterie ("shahr-kuh-tuh-ree") so we could stop sounding like fools.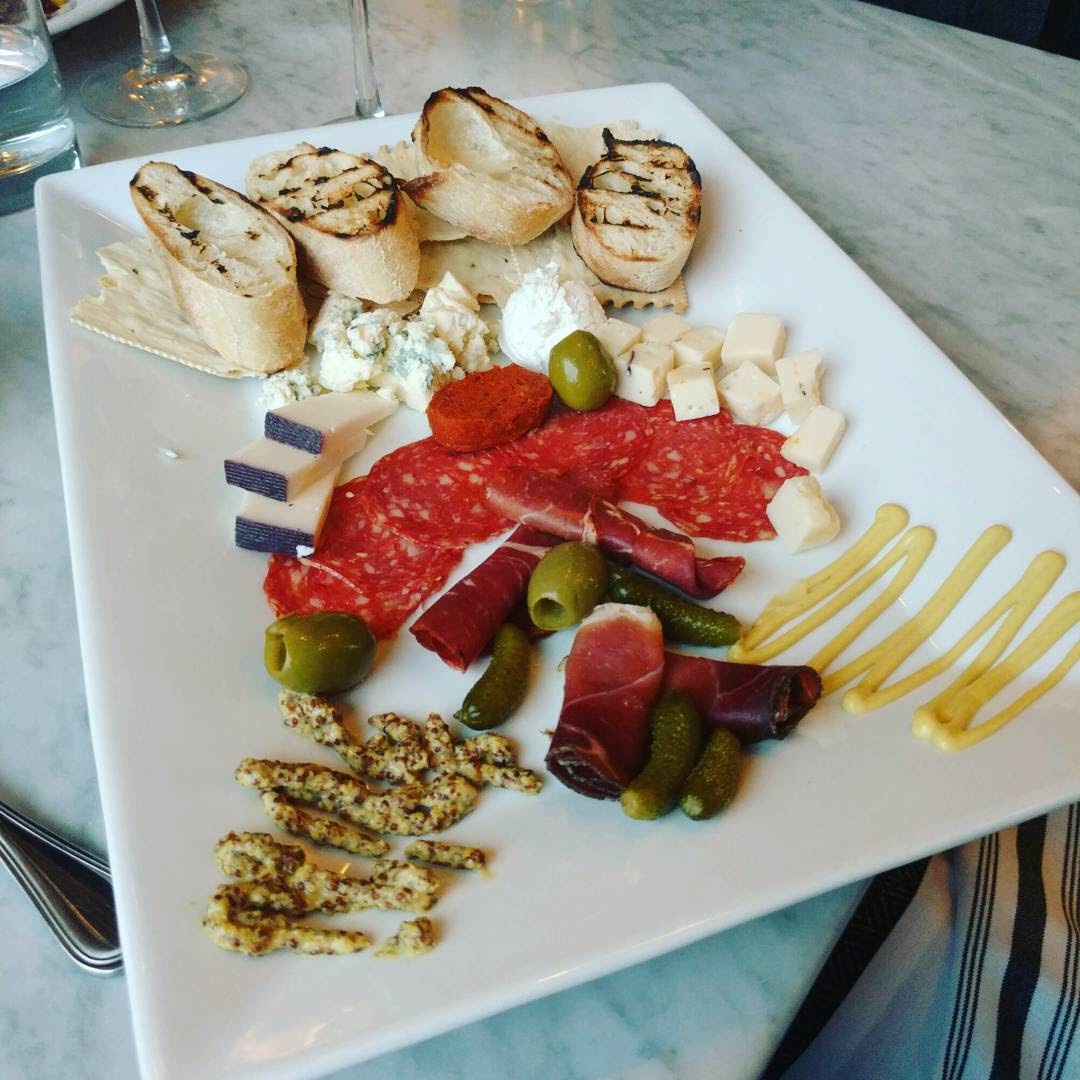 Noble Lion, Victoria, MN 
Oddly enough, the 15th century, French derived term, 'charcuterie' doesn't actually include the cheese part of your board. According to the Merriam Webster dictionary, charcuterie means: "a delicatessen specializing in dressed meats and meat dishes". The literal French translation is, "the pork-butcher shop". More traditional charcuterie boards include somewhat obscure items, like pâté and mortadella (Italian ground, heat-cured pork with incorporated cubes of pork fat, pistachios and black peppercorn – think bologna) which are an acquired taste for most these days. But you shouldn't be surprised, the concept of preserving the meats found on your favorite boards dates back to Ancient Rome, we're talking like 6,000 years ago! Like many ancient cultures, they believed that no part of the animal should be wasted which is probably why Head Cheese (Google it, I dare you) is a thing – thanks, Ancient Romans!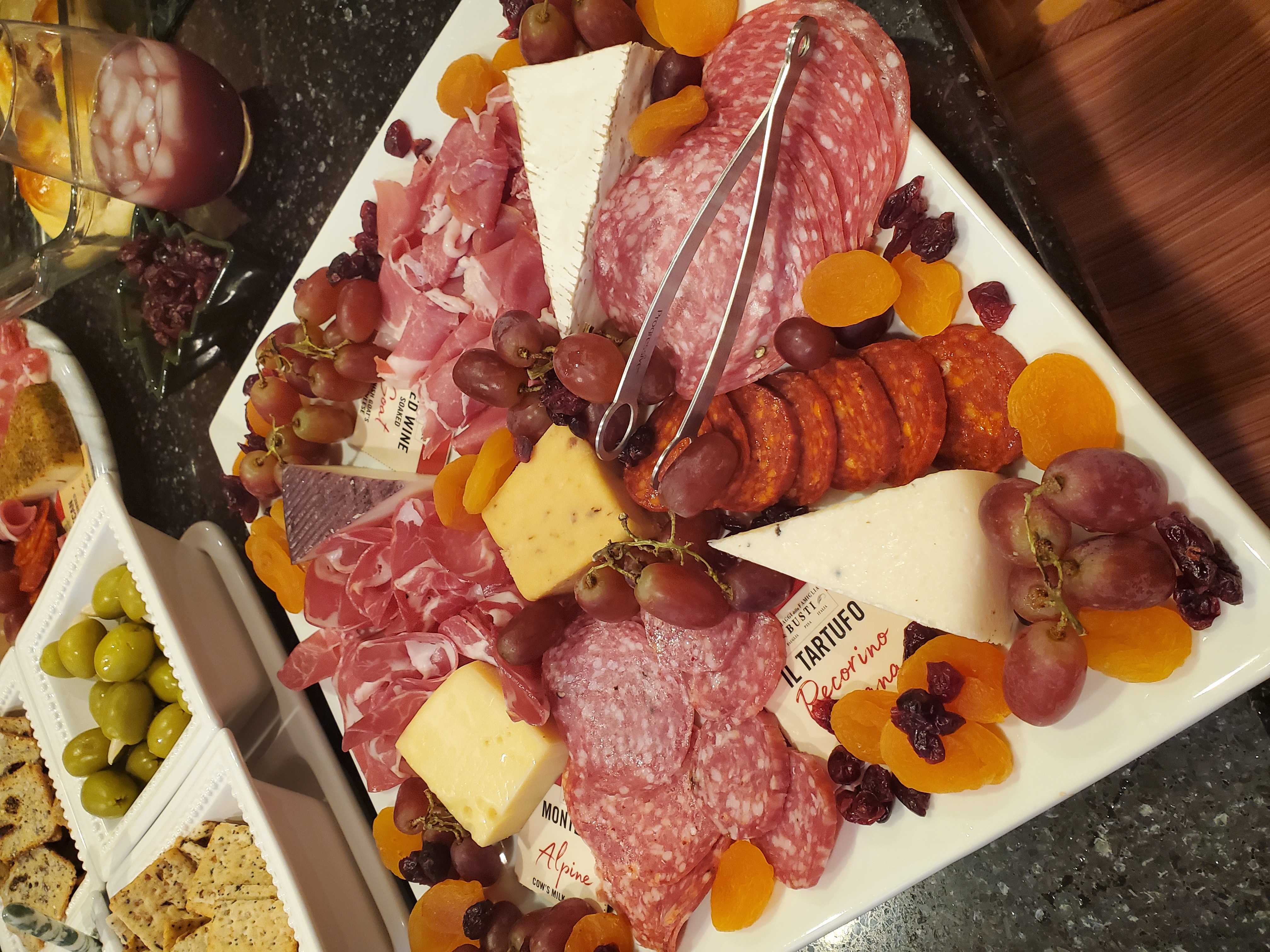 A board I made for Christmas last year.
It is only in recent years that Charcuterie has become trendy in America. Like, I said, I was in college when I discovered the actual term for what I was eating, and I consider myself pretty "on trend" when it comes to the world of food. So why has Charcuterie evolved to include pairings like, cheese, fruit, nuts and crackers? We can thank today's restaurant industry for that. Restaurants basically took the common appetizer concepts of a meat & cheese board and antipasto platters and created what we know today to be the modern-day Charcuterie Board.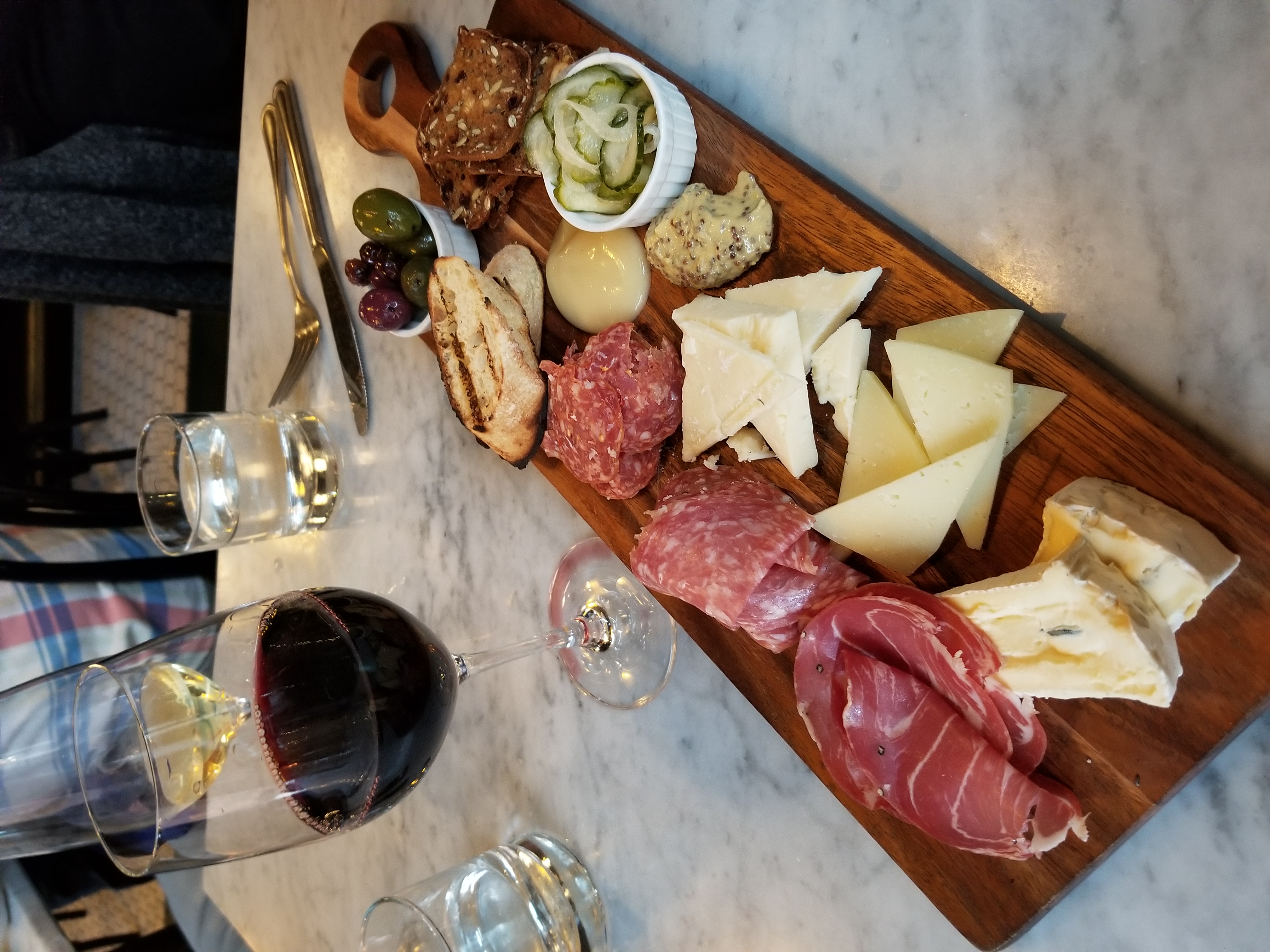 Another board from the Noble Lion, Victoria, MN
However, since it has become so mainstream, you will have to pay a pretty penny for a spread like this. That's why I love making Charcuterie boards at home. You can save a ton of money by buying your meat, cheeses and extras at places like Trader Joe's or Costco (get the Sartori Bellavitano Merlot cheese wedge!) and you can find some really great rustic, wooden boards on Amazon (disclosure: as an Amazon Associate I earn from qualifying purchases). You can watch my video below on the common items I like to include on my Charcuterie boards. These days, the term 'charcuterie' is ever evolving. To achieve the perfect board, you mainly want a variety of sweet and salty flavors to balance each other out. Some people even include olives, pickles and hummus on their boards! Why you may ask, well, there is such a thing these days as a vegan Charcuterie Board, in which there is absolutely no meat involved, how's that for a semantic progression?! And if you really want continuous inspiration, my grandma informed me that there is a Facebook group called "Show Me Your Charcuterie" that I have now joined.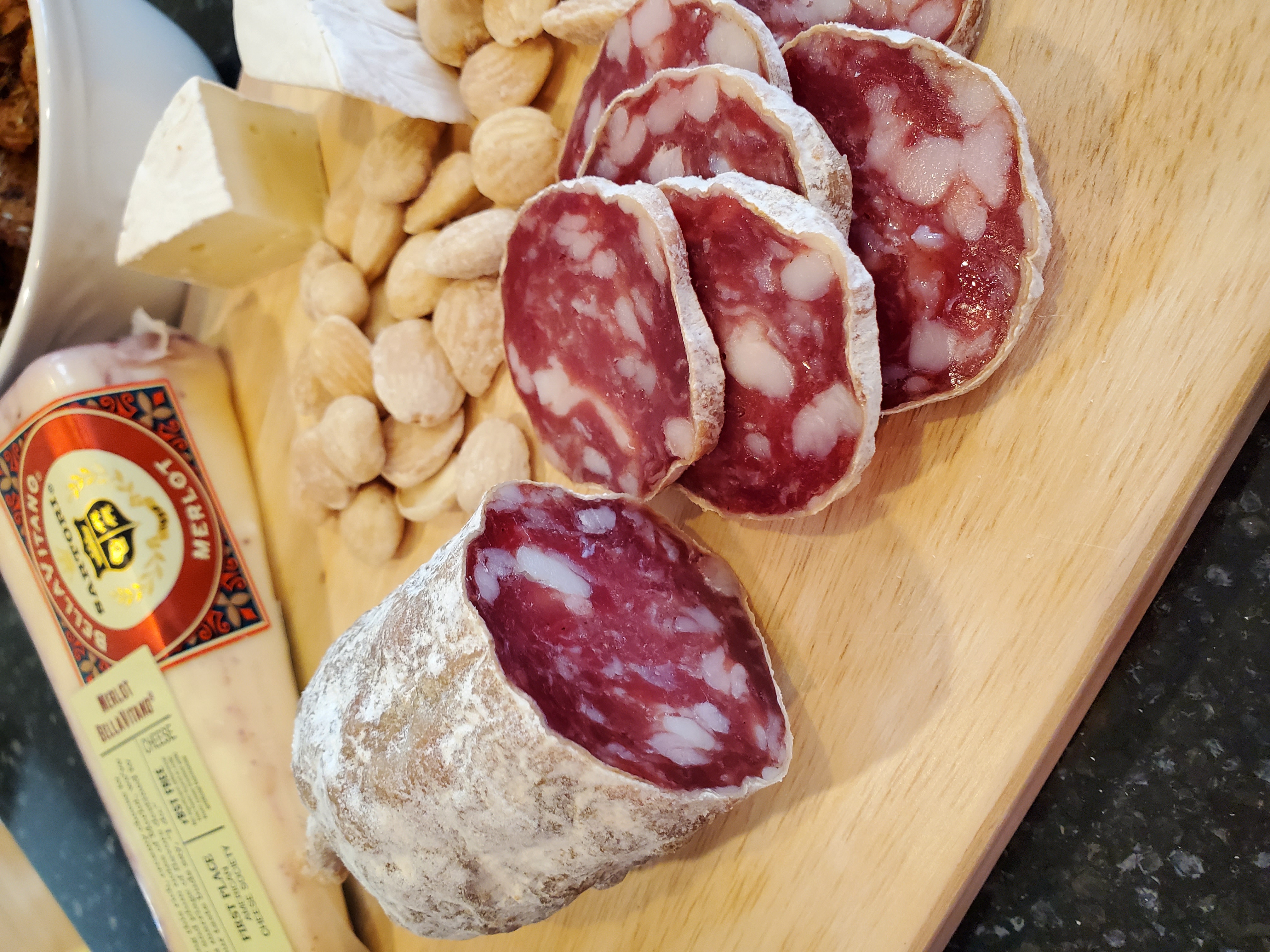 Snack board featuring one of my favorites, the Sartori Bellavitano Merlot cheese wedge!
But, like I mention, in the video, you can really make your board whatever you want it to be! Oh – and don't forget the WINE!!!
More items to spruce up your Charcuterie Board!
*as an Amazon Associate I earn from qualifying purchases
-Cheese Knife (this is one of the knives I use in the video and it is quite literally the BEST cheese knife ever! Also comes in black)
-Marcona Almonds (since you can't really get the Kirkland/Costco brand on Amazon, this is the next best thing!)
-Craisins (a dried raisin-like cranberry)
-Foustman's Cured Salami (Nitrate-free, naturally cured)
-Creminelli, Finocchio Salami (uncured)
-Simple Mills Gluten Free Crackers
-Jamie Oliver Acacia Wood Cutting Board
happy eating!
Lauren