Happy Grilled Cheese Thursday! Is that a thing? Well today it is!
I had to post this recipe today because it is just oh-so good, super simple and you might just want to have it for lunch this week. If you saw my Charcuterie Board video, then you know brie is my favorite cheese.  It's basically the closest cheese gets to butter. When you melt it, it's oooey-gooey and creamy! I got the idea for this recipe after my mom had a bunco party years ago. She would make a brie wheel with preserves on top, cook it in the oven and serve it with a fresh baguette or crackers. I loved this appetizer so much, that I decided to make it in sandwich form. With that, I give you, The Ultimate Brie Grilled Cheese!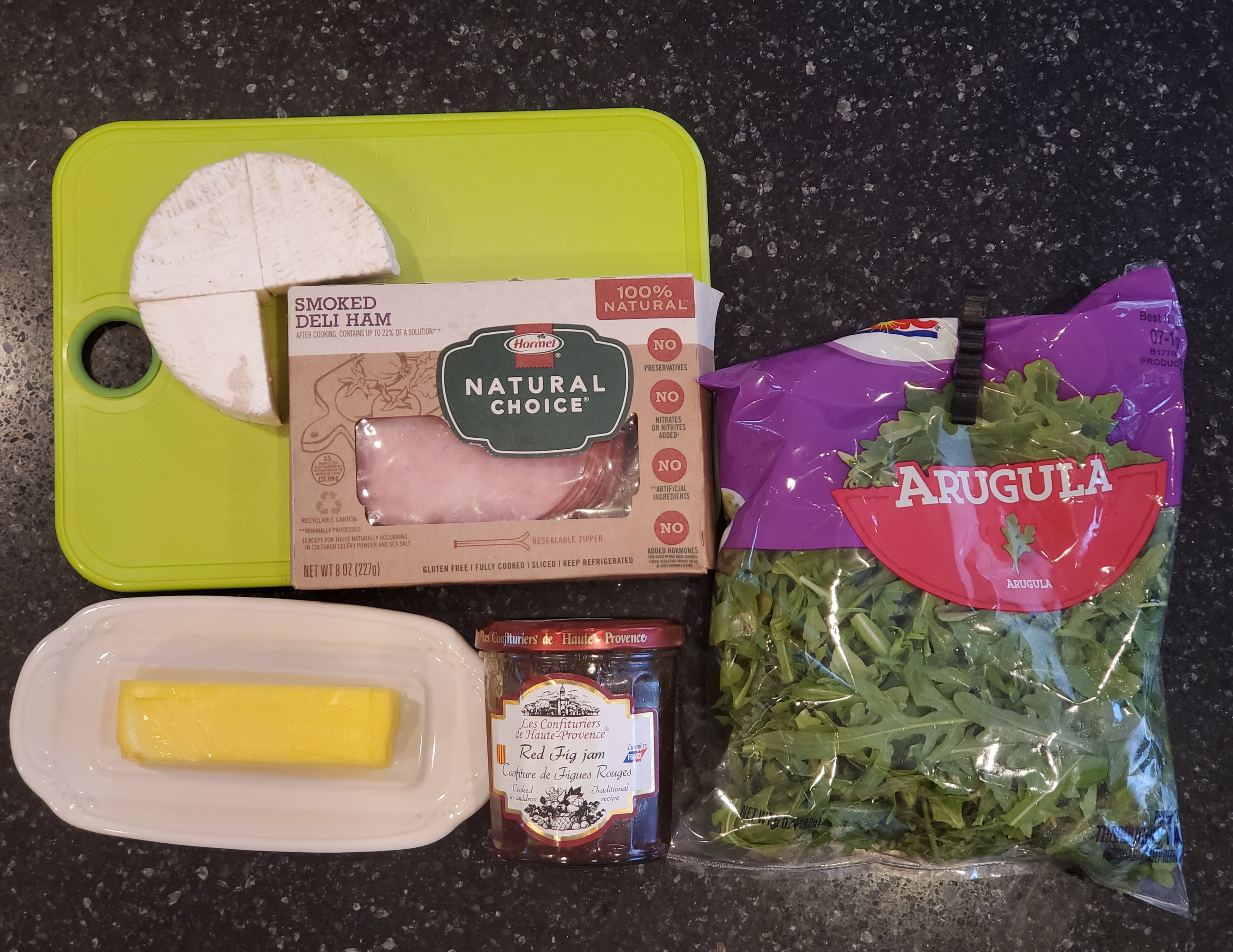 (See that chip clip? My Dad made it on his 3D printer!)
Here is what you will need:
- A small wheel of Triple Creme Brie (this is La Bonne Vie, use the brie from Costco for larger amounts of grilled cheeses)
- Ham or Prosciutto (I usually prefer prosciutto, but you can't always get what you want at the grocery store these days!)
- Softened Butter
- Fig Jam (this one is French, but I also love the Divina Fig Spread) *As an Amazon Associate I earn from qualifying purchases.
- Arugula
- Brioche Loaf (2 slices per sandwich)
Now I made this particular iteration of my Brie Grilled Cheese with brioche bread, but it is equally as mouth watering with sourdough or french bread (even GF bread). I guarantee you it is going to be delicious with pretty much any bread you put it on. 
First, take a baking sheet, place your slices of bread and spread softened butter on one side of each slice. If we're getting specific, I used Kerrygold, it's the best and I'm 25% Irish.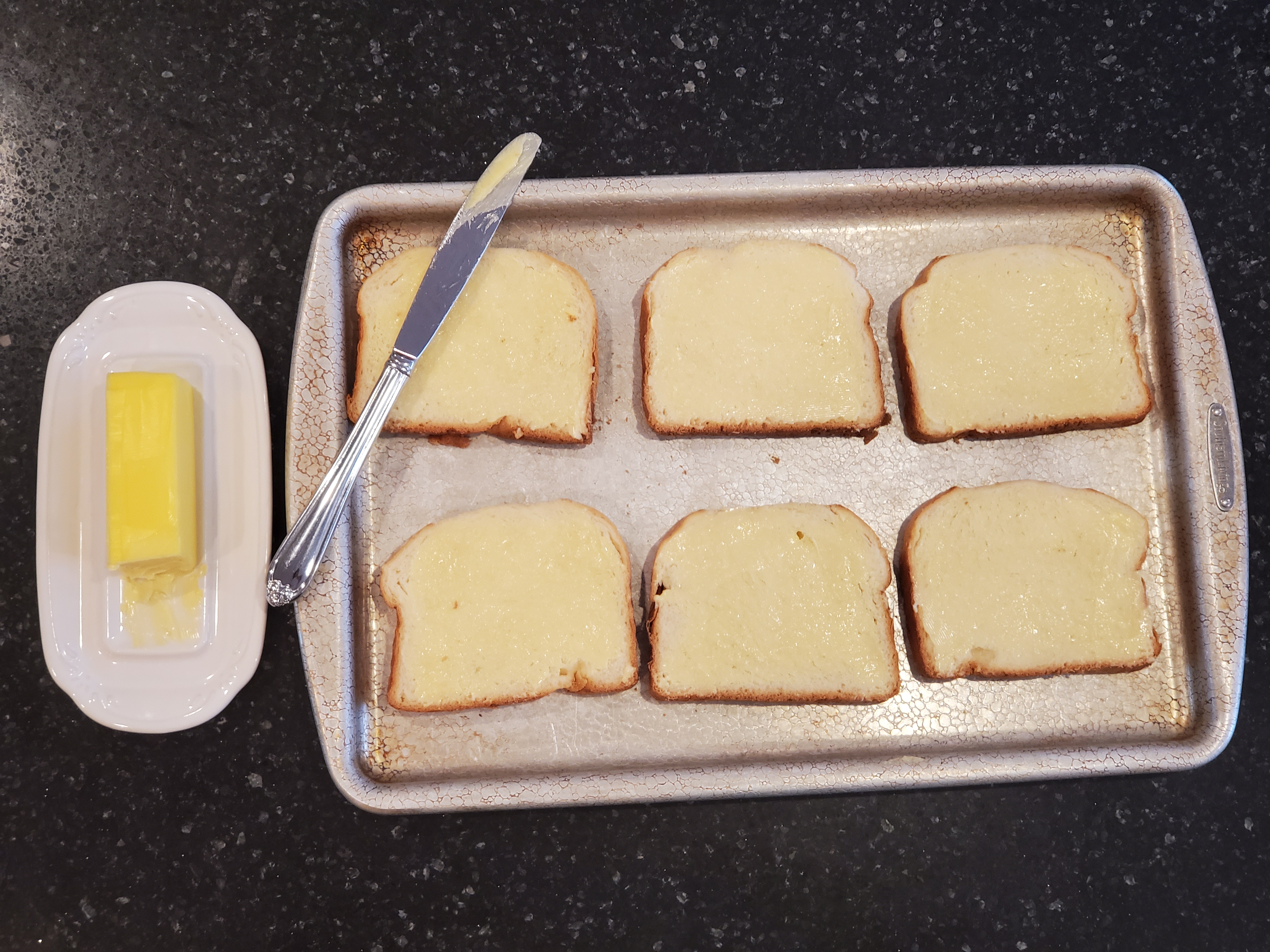 Flip your bread over (buttered side down on the pan). Slice up a few pieces of brie and put them on one slice of the bread (the thicker you slice your cheese, the more oooey-gooey it will be). If you're really not into brie, you can pick another cheese, however, this can no longer be called, "The Ultimate Brie Grilled Cheese". Some acceptable substitutions would be, an aged white cheddar or Fontina cheese. If you use American cheese or Velveeta, I will hunt you down, this is a classy sandwich. On the other slice, spread a layer of your fig jam. Fig jam can be pretty sweet, and we are going for just a hint of sweet, so make sure it is not too think (this particular jam in the photos has chunks of real fig). After that, you are going to put three slices of ham (or two slices of prosciutto - it's salty) on one side of each sandwich. If you are vegetarian, this sandwich is still incredible without meat, keep reading!
| | |
| --- | --- |
| | |
This particular jam had fig chunks, I prefer the Divina brand generally because it is much smoother, but use up what you've got!
Then you are going to put both sides of your sandwich together and cook it for 5-7 minutes at 425 degrees F, just until the cheese start to ooze out a bit. If your sandwich is not golden brown on top, put your oven on high broil for 2-3 minutes. It is crucial that you keep an eye on your sandwich at this point because it can burn in a matter of seconds.
Once your sandwich is crispy golden brown on each side, return it to a cutting board. You are going to peel open your sandwich. Use caution (or a spatula) as your sandwich will still be hot! That is the trade off for oooey-gooey cheese! Your slices of meat should easily peel apart for this step. Then you are going to place a healthy handful of arugula on top and reassemble your sandwich. If you're not an arugula fan, feel free to use something like spring mixed greens or spinach. But please, this sandwich deserves better than romaine/iceberg, folks.
Then simply cut your sandwich in half. Serve with a side salad (I just made up a bagged kale salad for something quick & easy) or some chips if you're into that sort of thing and enjoy!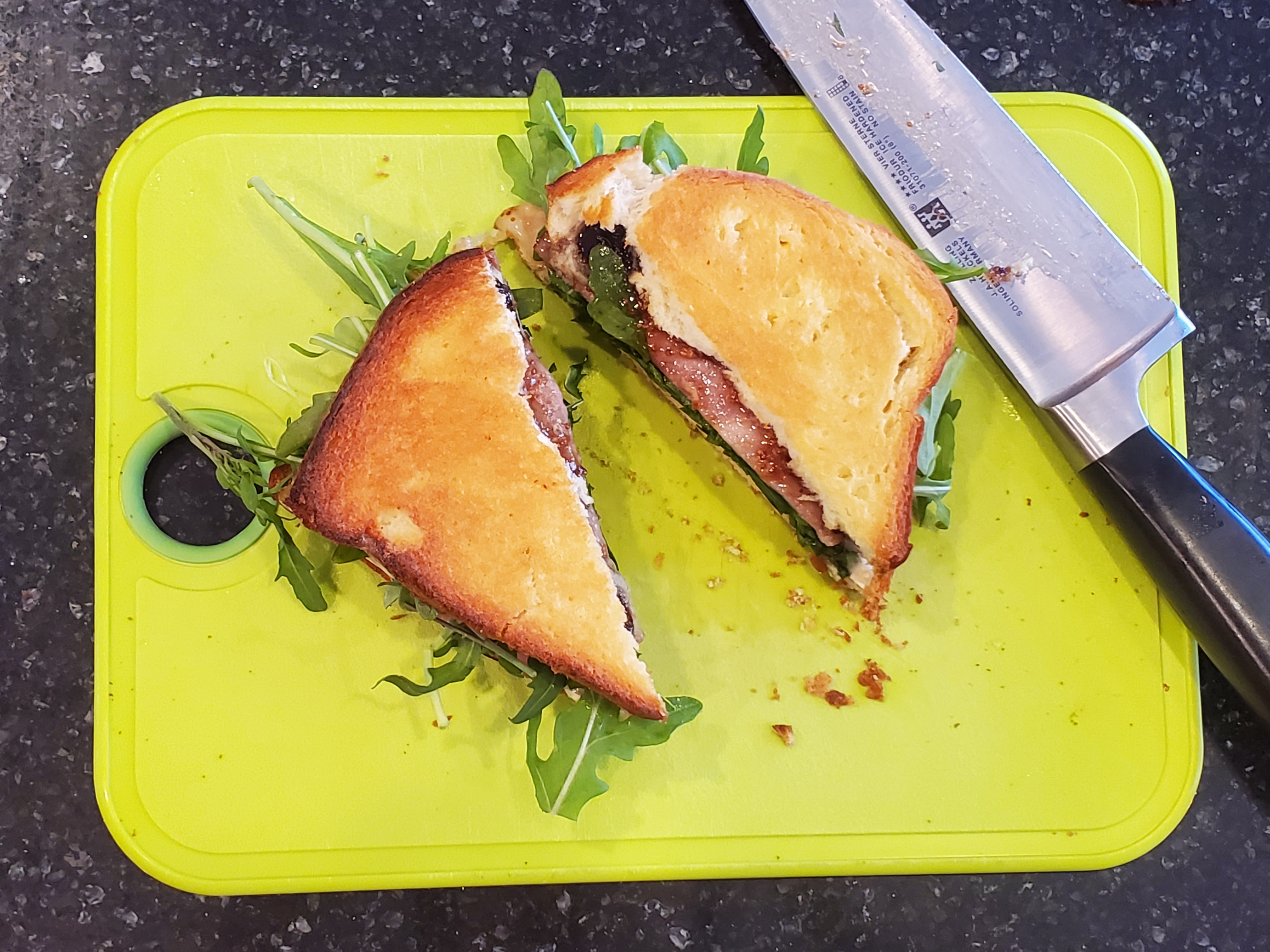 Also - you can now leave comments! Leave one below if you feel so inclined! Your responses help me create content for YOU my avid readers! It doesn't even have to be relevant to this post!
happy eating!
Lauren