Looking for a last-minute recipe that is easy to make and sure to impress for Lunar New Year? Then my family's Chinese Potstickers are just the thing to make! Read on for uniquely tasty potstickers, with the crispiest bottoms you ever did see, plus a step-by-step video tutorial!
The Story of the Hugh Family Potstickers
The story of how my family potstickers came to be is actually quite a funny one.  As many of you know I'm half Chinese. And I've had a ton of Chinese food throughout my life however, I don't have any sort of magical recipe book that was passed down from generation to generation. In fact, I only recently started picking my grandma Hugh's brain for the Chinese recipes she makes. You see, my grandma Hugh is an incredible cook (both of my grandma's actually are, but we're specifically talking Chinese food right now). However, my grandma Hugh doesn't need a recipe book. Her recipes live rent free in her head. So, if she makes me something that I love and want to know how to make, she usually has to tell me about what she did and then I have to (sometimes struggle) to recreate it.
Now, let's venture back to my elementary school days. As my mother recalls, I was asked in class to bring in a "family recipe". At the time, we were going to Dim Sum a lot and ordering Chinese takeout on the weekends. Because of this, my Chinese half of myself was feeling very dominant, so I wanted to bring in a potsticker recipe. As I remember it, I asked my dad if we had one and he said we didn't. I was like, "what do you mean we don't have a family potsticker recipe"?! I was so disappointed. I was like, "we are Chinese". That was my first clue into how Americanized-Chinese my family actually was. My dad, will probably never admit it, but I think the fact that I was so upset made him want to help.
We ended up researching different potsticker recipes on the internet and adjusting them. The recipes were good to start out with I'm sure, but I always think I can make something better, so we changed it. We also didn't have some specific ingredients. If I knew what the recipes we picked away at for ideas were, I would include them here, but this was honestly so many years ago, and I am old now. But my family collectively came up with our lovely mixed family recipe and I've gotta say, it's the real deal, and super delicious. Me, my dad and even my mom taught ourselves how to fold potstickers that day. I think we even learned off of a YouTube video, so I guess it's sort of full circle that I've now made my own to continue to teach other people. It was important for me to learn that part of my culture, and I think it's a testament to any mixed person, that it is okay, even encouraged to seek out missing gaps of your culture (on either side) that you'd like to learn.
(I also posted a TikTok video of my potsticker recipe at the beginning of quarantine. It was my fifth TikTok and it sort of blew up, I guess. To this day, it has amassed 65.4k views on the app. So go give it a view, if you have a short attention span!)
How to Fold Your Potstickers
Obviously, there are many different ways to fold your potstickers, or any dumpling for that matter. I fold my dumplings in funky different ways all the time. But, if you want to fold your dumplings like I did in my YouTube video, so they sit nice and flat in your pan (and look like the ones from Trader Joe's) follow these tips.
Using water, dampen the outer perimeter of your dumpling wrapper.
2. Place a spoonful of your meat mixture in the middle of your wrapper. The key here, is to fill your dumpling wrapper, without having too much that explodes out as you fold.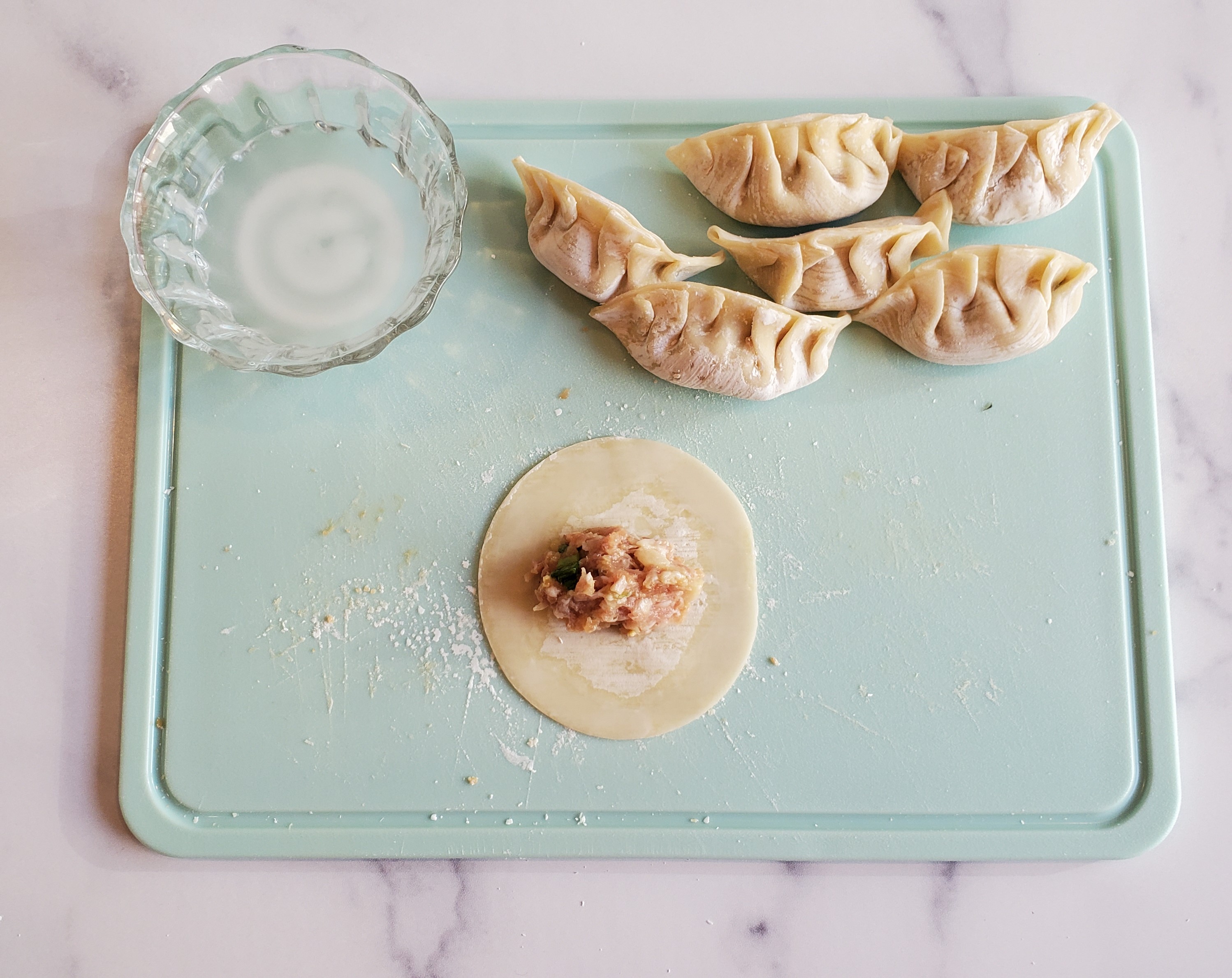 3. Pull two ends together and press in the middle.
4. Use your index finger to fold over one side of the wrapper gradually like an accordion.
5. Flip your dumpling and do the same thing on the other side.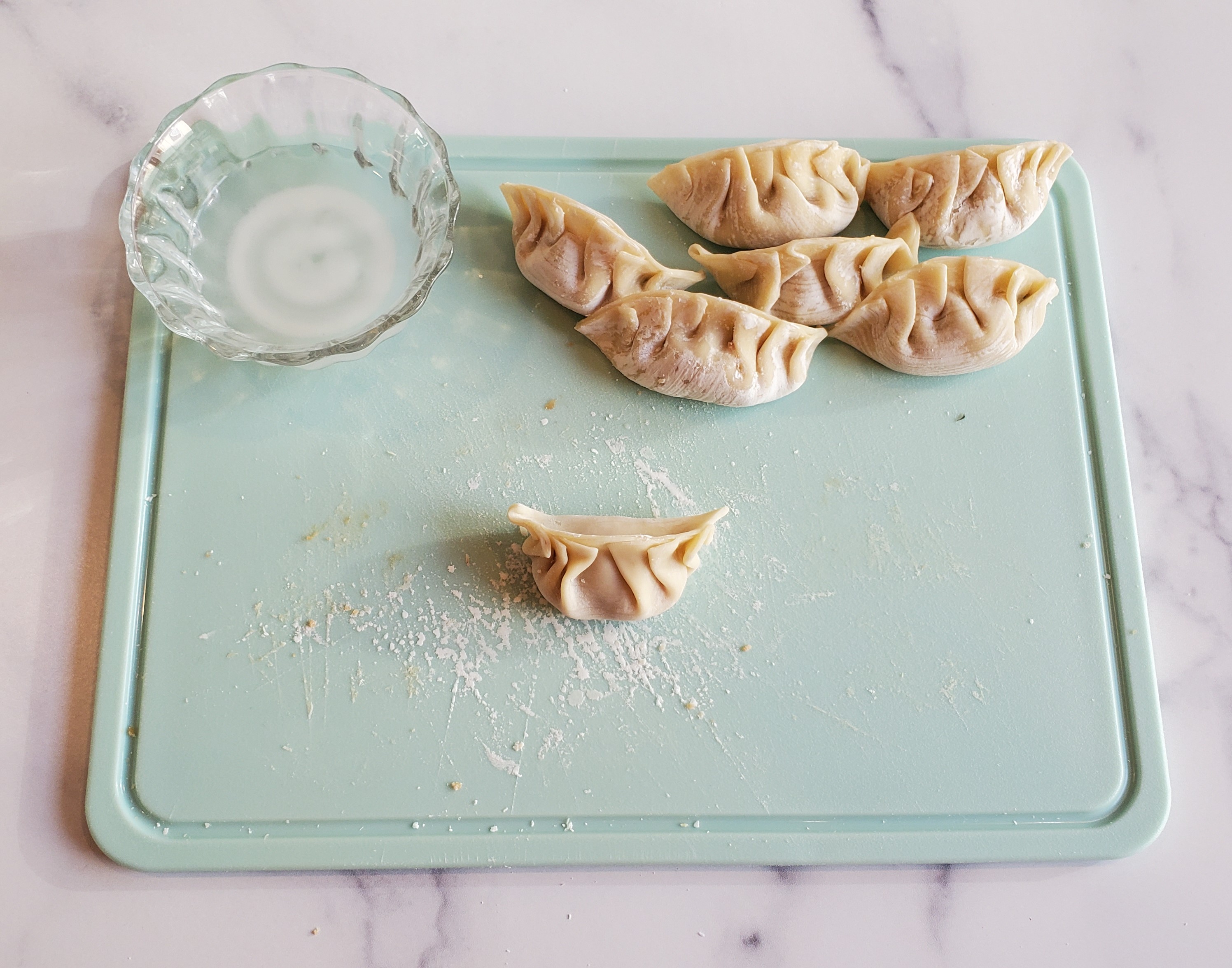 How to Cook Your Potstickers
The cooking process is very unique to the potsticker. It is it's defining characteristic to any other dumpling. What makes it so unique is the fact that the dumpling gets both pan fried and steamed. Which is why it will slightly stick to your pan and come out with a delectably crispy bottom. In order to achieve this, I make sure my pan is already hot with glistening oil before my dumplings hit the pan. I use avocado oil because it has a high smoke point. You also don't need a ton of oil, just enough to coat your pan, probably a tablespoon, depending on the size of your pan. Then I place in my dumplings, making sure not to overcrowd them (as this can change the rate at which they cook). I cook them uncovered for five minutes, then pour in a bit of water, about a quarter to a half a cup for a full pan. Then I cover the dumplings for another five minutes. After that I remove the lid from my pan and if there is still some water at the bottom, I'll let them cook just a tad longer until that water cooks/evaporates.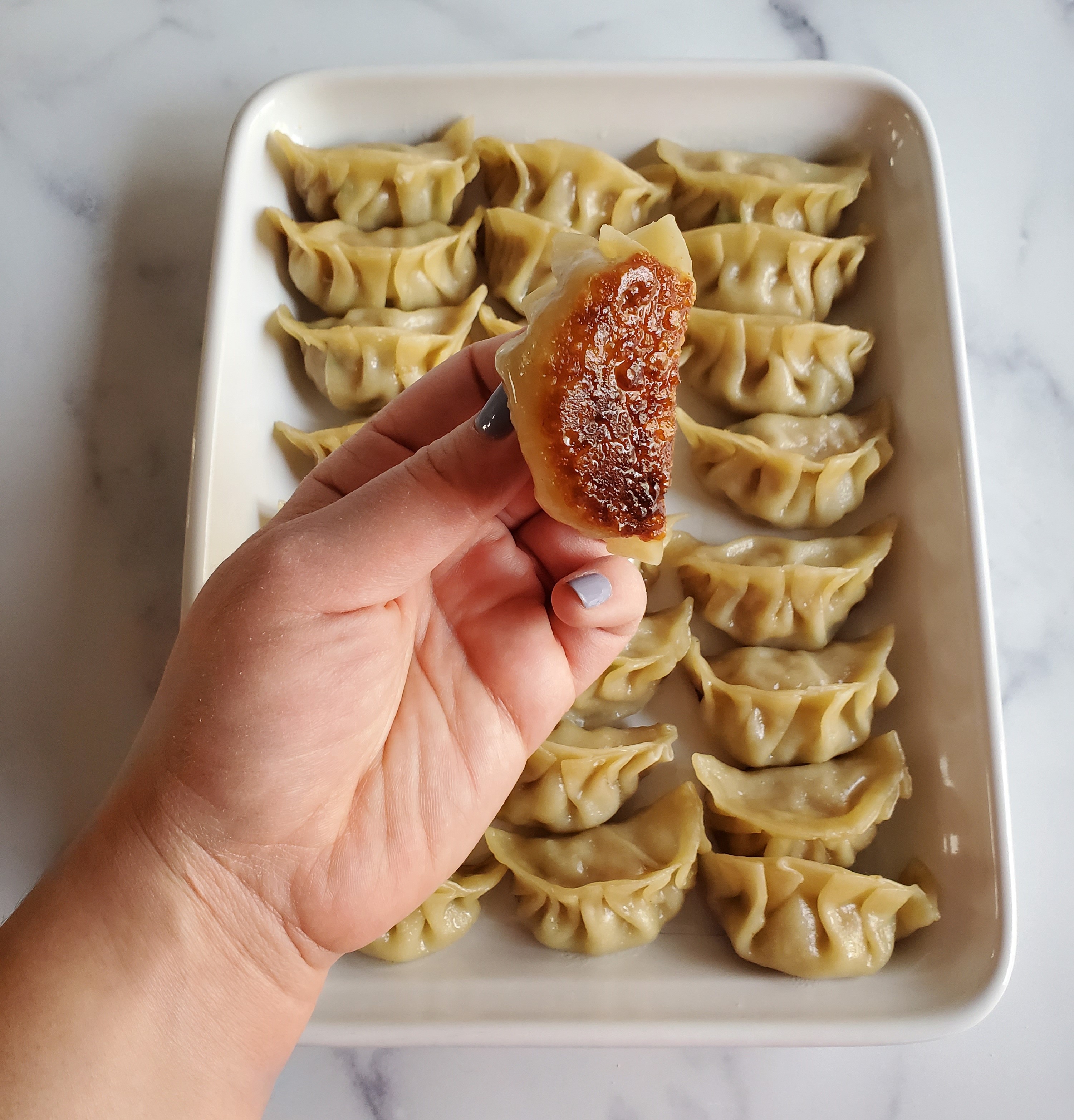 How to Serve Your Potstickers
Serve your Potstickers, fresh out of the pan. They are traditionally served as an appetizer, but we often make a double batch and eat them as a meal. My family also buys a dipping sauce at the grocery store, but when we don't have that, I also make my own! It's usually just a mix of soy sauce, sesame oil and rice vinegar which I will include below.
Hugh Family Potstickers Recipe
Ingredients:
1 pack of round wonton wrappers

1 lb. ground pork

1 Tbsp. Soy Sauce

1 Tbsp. Sesame Oil

½ Tbsp. Oyster Sauce

1 tsp. Mirin

1/2 tsp. fish sauce (Red Boat)

4 cloves garlic, finely diced

1 Tbsp. finely diced fresh ginger

3 green onion thinly slice (use the white part as well)

5 finely chopped water chestnuts (optional)

5-6 shiitake mushrooms finely chopped (optional)
** CLICK HERE for my preferred brands of sauces **
Instructions:
Mix all ingredients together with your hands.

Wet the edges of your round wonton wrapper, put about a half a tablespoon of meat filling in the middle & fold.

Heat oil on medium in your pan (flat pans work best) until the oil is shiny.

Place your potstickers and let cook for 5 minutes uncovered.

Pour in about a half a cup of water and cover to steam for 5 minutes.

Remove your lid and let the potstickers cook until the water has evaporated and the bottom of your potstickers are golden brown.

Serve with dumpling sauce and enjoy!
Dumpling Sauce
Ingredients:
4 Tbsp. low sodium soy sauce

1 Tbsp. sesame oil

1 Tbsp. rice vinegar
Stir together!