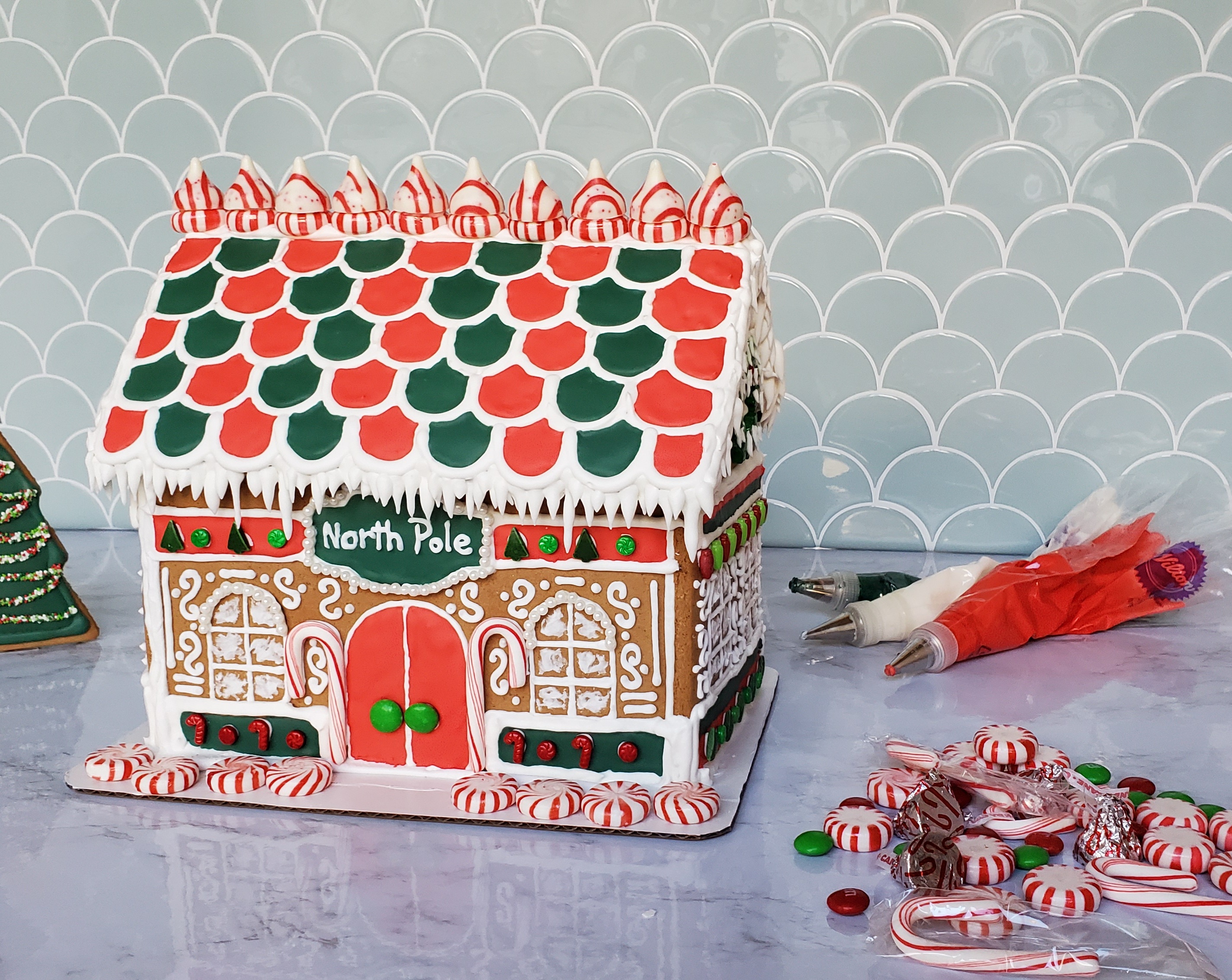 It's Day 3 of my 12 Days of Christmas Desserts! Today we are continuing on with our theme of royal icing with the BEST Gingerbread House Icing. This recipe is subtly different from the one I gave you for sugar cookies, but boy is it a game changer in the world of making Gingerbread Houses.
I don't know about you all, but I make a gingerbread house pretty much every year, and every year I run out of icing. They give you the TINIEST package inside your kit and I just quite frankly don't understand it. How do they expect me to assemble the whole house AND decorate the whole thing with what seems like a sandwich bag full of icing?! Honestly, it's probably a scheme to get you to buy more of their premade, prepackaged frosting. And it works, because many years I have done just that. The problem is, I'm never satisfied with the consistency of these frostings. They never hold your gingerbread together, they never keep your candies from sliding off and they're horrible to decorate with. I watched a video a friend posted on Instagram today of their gingerbread house falling apart. So, it seems like everyone needs a little help in the gingerbread house frosting/icing department. Well, you're all in luck, because this royal icing is basically sugar cement.
Have you ever tried to pipe icicles on your gingerbread house and they just fall off because their either too heavy of too liquidy? I promise you it will never happen again. All you need to do is invest in some meringue powder. It truly is the secret ingredient. You can find meringue powder all over the place, Target, Amazon, Michaels, and many more. Then all you're going to need is some powdered sugar and water. Yup, it's that easy my friends. I'm about to change your gingerbread-making life.
Comment below with what you're making this holiday season! 
happy holidays, happy eating & happy decorating!
Lauren
 What You Will Need (as an Amazon associate, I earn from qualifying purchases.)
How to Make Extra Gingerbread House Icing
Ingredients:
*Food gel for optional coloring
Instructions:
Add all ingredients to the bowl of a standing mixer. If you don't have a mixer, use a bowl and whisk.

Mix well with a whisk attachment until there are no chunks remaining. Scraping down the sides of the bowl occasionally.

Add a few drops of your gel food coloring to reach your desired color.
Put the royal icing into a piping bag fitted with a round tip like a #4 Wilton, or similar tip.

If you are going to use this icing for flooding cookies, slowly ad water until your ideal consistency is achieved.