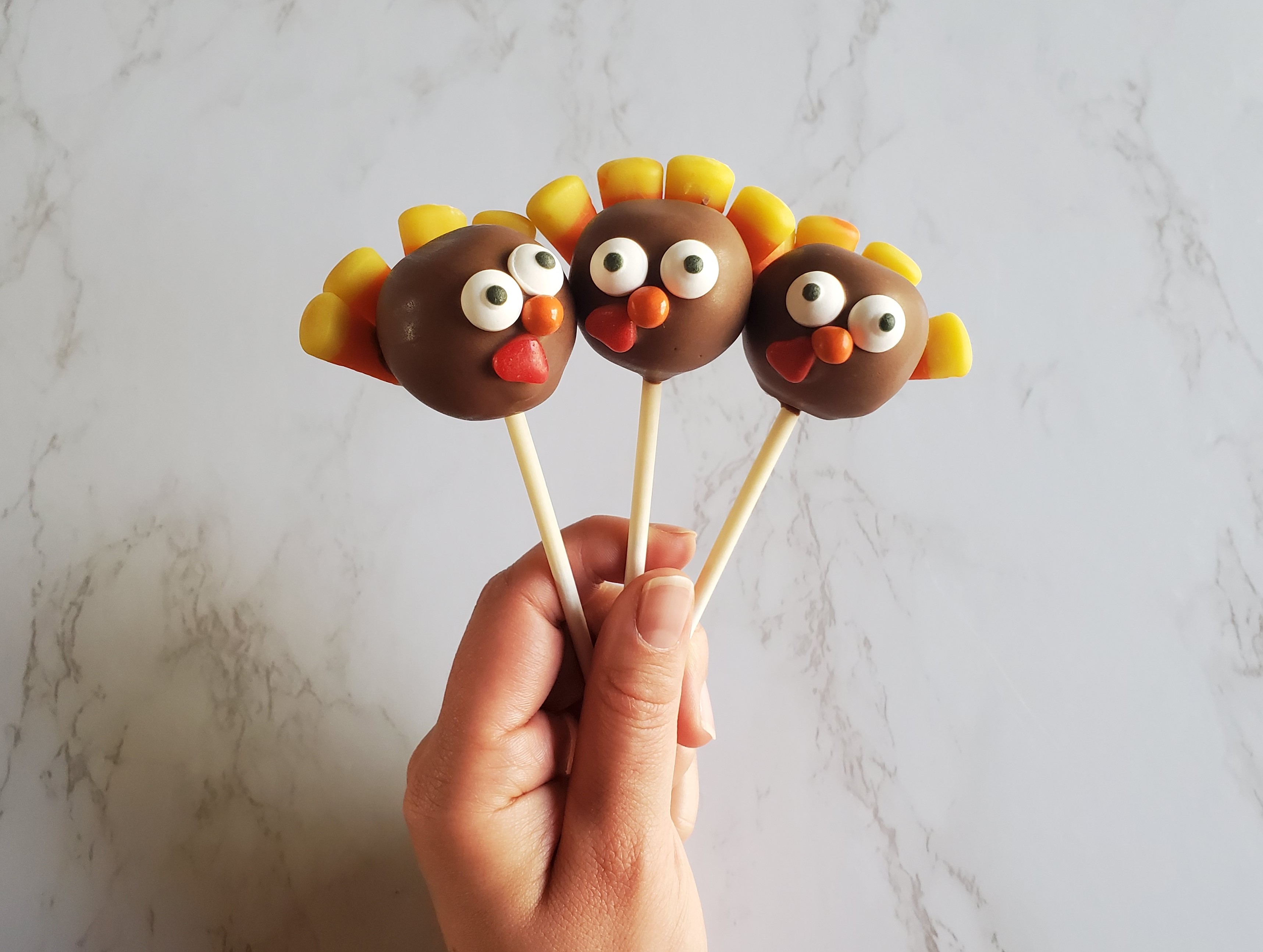 Thanksgiving always seems to sneak up on me. After Halloween ends, everyone just skips right to Christmas. Don't get me wrong, I love Christmas. But my birthday is in November and then Thanksgiving is the week after. It always just seems like there is so much going on. Well, usually so much going on, maybe not this year. Unlike Christmas, Thanksgiving is a weird holiday for desserts. Of course, you've got pumpkin pie, which, don't get me wrong, is a favorite! And then you've got pecan pie… but what else is there really? Oh wait, apple pie... How about something that isn't a pie? Yes, you could make all of the above pies into bar form, but that's sort of boring. Since I'm already on this cake pop kick, I decided I'm also going to show you how to make Turkey cake pops!
These are cake pops that look like turkeys, not cake pops made with turkey for those that got worried for a split second. But that'd be a wild idea! If you've made my Halloween cake pops or watched my latest post on how to make basic cake pops, the drill is pretty similar. The difference is in the decoration. I'm also encouraging people to consider cake pops for their gatherings this year because they are a great dessert to maintain social distance. This way everyone can grab an individual pop. No more of that multiple hands in a plate of cookies nonsense. Plus, they are perfectly portioned and a huge hit with the kiddos!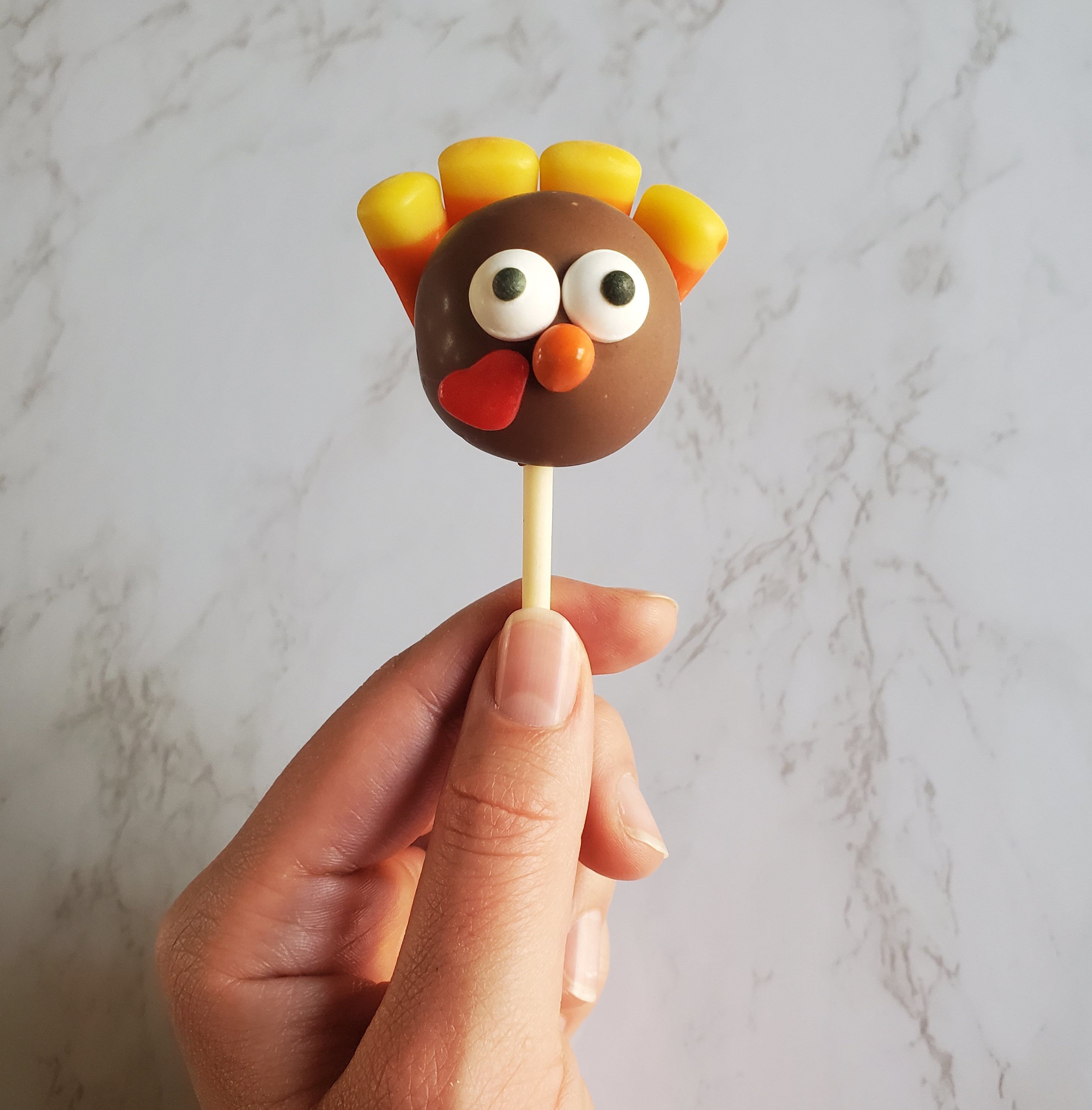 What you will need: As an Amazon associate, I earn from qualifying purchases.
9 x 13 pan of cake
½ - 1 cup buttercream frosting
1 bag of 6 in. lollipop sticks
Rainbow chips (only orange for the beak) 
More Helpful Items:
Watch the tutorial video below!
How To Make Turkey Cake Pops
I highly recommend you skip this part and watch my YouTube tutorial, but if you're the type who likes to read, here you are!
Bake a 9 x 13 pan of cake (any flavor). Let it cool, cut it up and crumble it very finely in a large bowl.

Make some buttercream or buy some from the store and add to your crumbled cake. You want to mix in just enough frosting so that your mixture feels like Play-Doh. It is better to start with less rather than more or your cake pops with be to malleable.

Roll your cake mixture into individual, bite-sized balls.

Melt down a bag of candy melts in your candy melter, or in the microwave at 30 second increments.
Dip about 1 cm of the cake pop stick into the candy melts and then stick it into your cake ball. Smooth the excess out around the base of the stick. Refrigerate your pops for 15-30 minutes.

After your cake pops have set in the refrigerator, you are going to completely submerge your cake pop in the candy melts. Be careful not to jerk it around too fast or the cake ball could fall of the stick or get crumbs in your candy melts.

Immediately attach your candy eyeballs, orange candy chip (beak) and cinnamon heart (gobble). Hold and allow all of your candies to set just slightly before vertically placing on your cake pop stand to dry.
After you have completed step 7 with all of your pops. Go back and secure 4 candy corn on the back of your turkey cake pop as feathers. The candy corns are heavy and will slide off so make sure that after you dip them in candy melts you hold them into place until the candy melts begin to firm up slightly.
If you are worried that the feathers are not completely dry, lay the cake pop candy corn side down until the candy melts have completely hardened, then place on your cake pop stand and serve.
happy eating!
Lauren