I apologize for no video last week, but this week you're getting two! And they go together, so try and save some brownies…hint, hint. I didn't get a video together last Thursday because I was busy starting my first week as an Acting Apprentice with the Actors Theatre of Louisville's Professional Training Company. No, I am not moving to Louisville (right now anyways), we're going online and you can read more about it here, now back to food!
I know what you're all thinking, "Lauren you're not vegan". You would in fact be correct. However, I have a few friends that are that follow this blog. I also run my bakery, Peace of Cake and like to have options for my customers. I also think it's fun to experiment with vegan baking/cooking. It is an exciting challenge for me to try and make it taste "normal". Also, many people often have excess zucchini in their gardens around this time of the year so I thought, why not?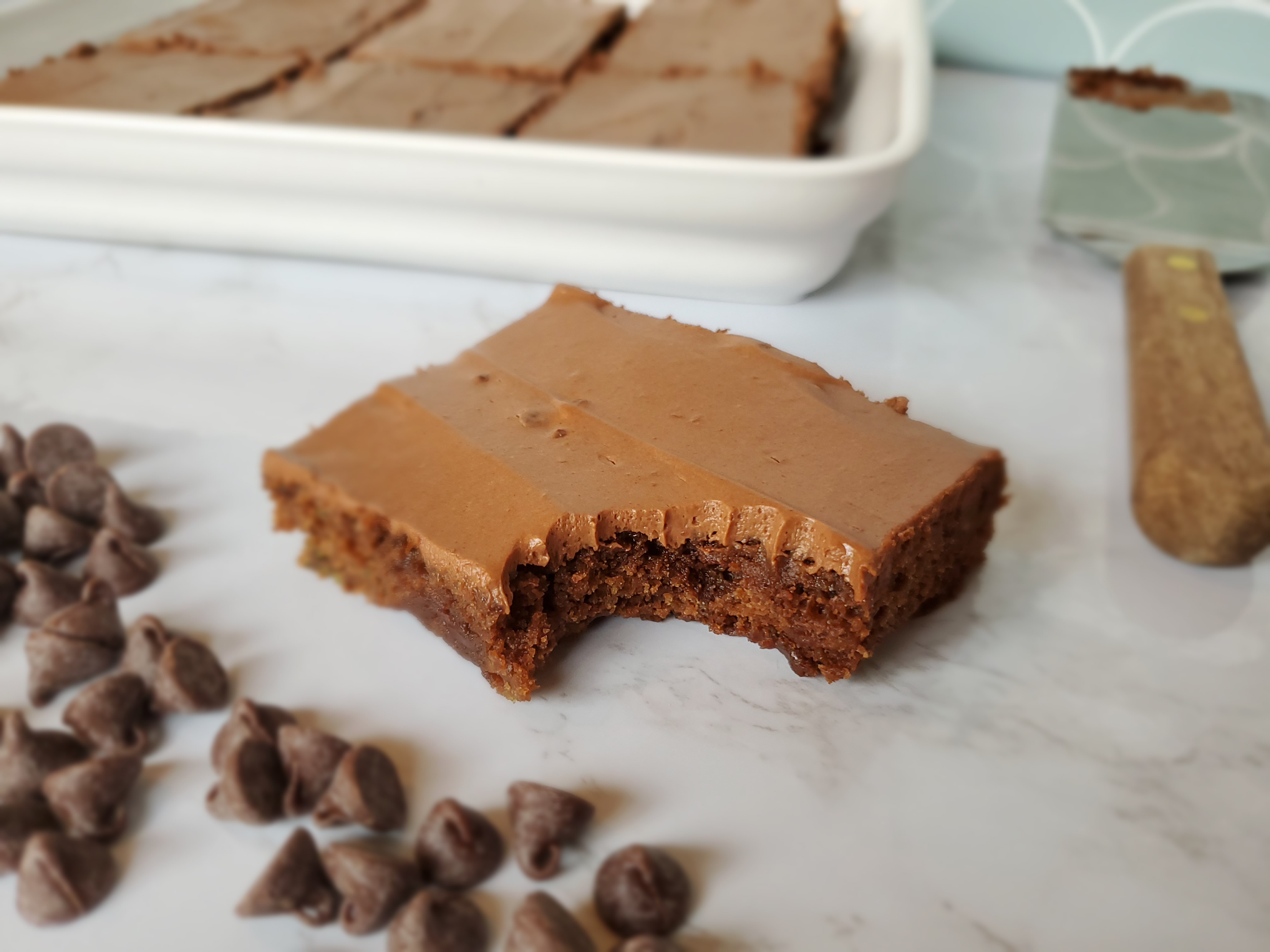 Like many of my recipes, this is based off of one from my mother. My mom used to bake zucchini brownies all the time when I was a kid and to be honest, sometimes I wanted them instead of the regular ones. I'm pretty sure it all started when my sister and I took a program at the Minnesota Landscape Arboretum, which was conveniently located down the road from my childhood home. We planted little gardens with herbs, flowers and veggies and at the end of the summer, we got to bring home our bounty. I remember kids bringing home these MASSIVE zucchinis, like the size of one of their limbs, it was insanity.
The conundrum I imagine my mother (and many others) faced at the time was, "how the heck am I going to get my kid to eat this huge zucchini"? And luckily for my mother, my sister and I had each brought home a child-sized one. The crazy thing about this recipe, is that you literally would not know there is zucchini in it unless you saw it or someone told you. I imagine that's why the original recipe included a frosting, so it would hide the flecks of zucchini from the wandering eyes of picky children. But throw some frosting on it, and boom, it's a real deal brownie.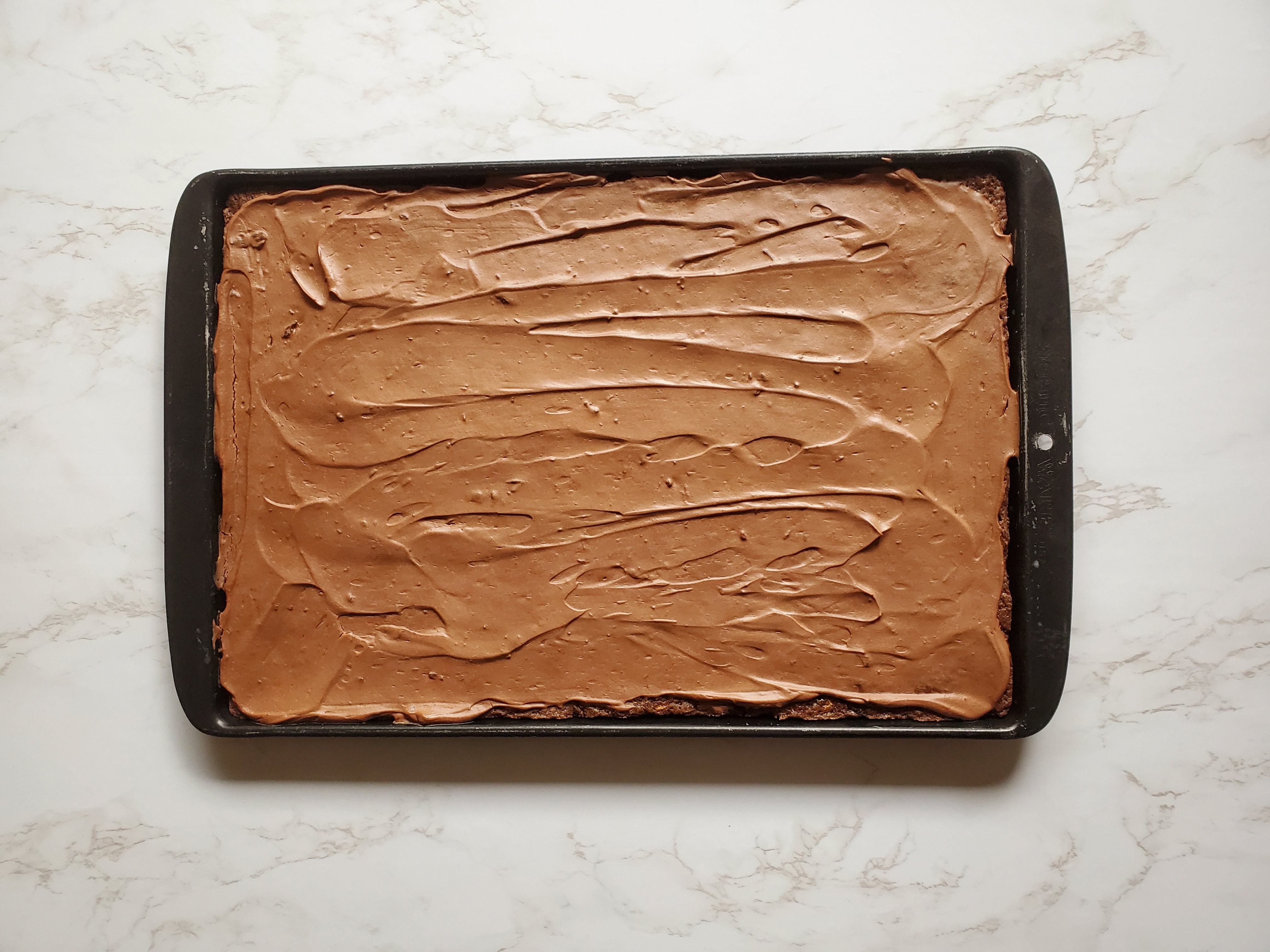 Now I never had any intention of making a vegan brownie recipe. But I have an amazing vegan ice cream coming up in a few days and I decided I wanted some brownie in it, so here we are! If you're at all hesitant, I say just make them. I fooled several people with this recipe over the weekend. They didn't know it was vegan and they had no idea there was zucchini in it. And I'm not just trying to get you to eat your vegetables, that's just an added benefit. The zucchini is actually the secret to why these brownies are so moist and decadent.
Now I'm going to throw another curveball at you, the frosting is made with tofu. Yep, you heard me, and again, my taste-testers had no clue. My dad even willingly eats these brownies, and he's the type of guy that always wants to have "boxed-brownies" on his birthday. However, I have a feeling he might be asking for these next year.
I hope I've convinced you to try these out…it would be a shame if you missed out on this deliciousness in your life!
And don't for get to try out the new comment feature below!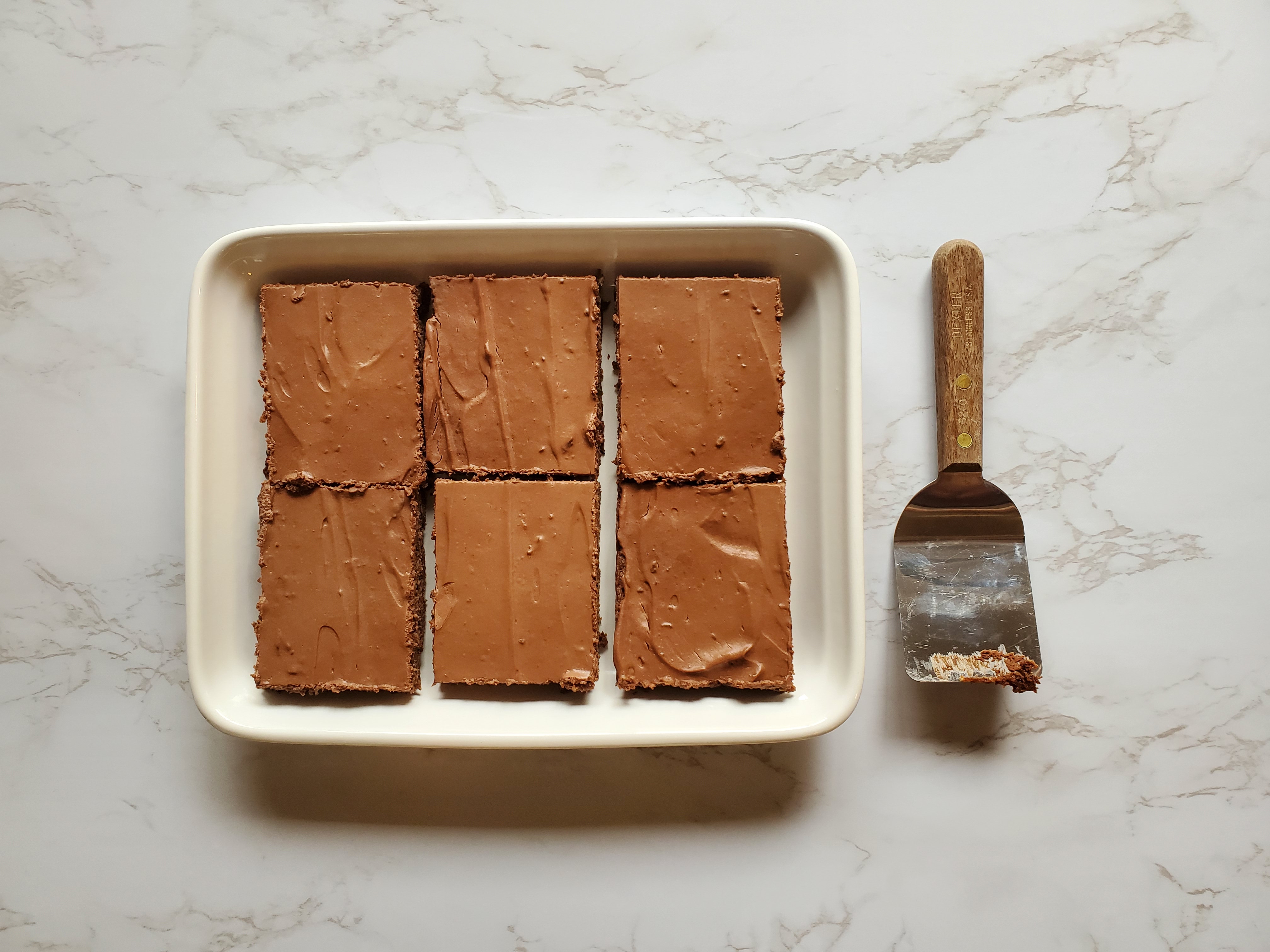 Vegan Zucchini Brownies
Dry Ingredients:
2 ½ c. All-Purpose Flour

½ c. cocoa powder (my favorite is Rodelle Gourmet Baking Cocoa)

1 ¾ c. sugar

1 tsp. salt

½ tsp. baking powder

½ tsp. baking soda
Wet Ingredients:
Additional Ingredients:
Vegan Chocolate Frosting
Directions:
Preheat your oven to 325ᵒF

Whisk together flour, cocoa powder, sugar, salt, baking powder and baking soda in a bowl and set aside.

Mix flax meal and water to create your "flax eggs", then incorporate espresso powder.

Pour your flax egg mixture into the bowl of a standing mixer along with, avocado oil, vanilla, coconut oil, and full-fat coconut milk. Mix for about a minute or until combine.

Then add in your dry ingredients and mix until incorporated.

Remove from your mixer and fold in zucchini and vegan chocolate chips.

Grease a cookie sheet (that has slightly raised edges, about 2 cm) with coconut oil.

Spread out the brownie batter evenly and bake at 325ᵒF for 40-45 minutes, or until a toothpick inserted comes out clean.

While the brownies bake, make the frosting.

Put your silken tofu, maple syrup, vanilla and melted vegan chocolate chips into a blender. Blend until combined, scraping down the sides for any chocolate that might get stuck.

Once your brownies are out of the oven, let them cool for about 30 minutes.

Once they have cooled, evenly spread the chocolate frosting on your brownies.

Stick the brownies in the refrigerator for 10-30 minutes to allow the frosting to set.

Cut your brownies to serve & enjoy!
These are some of the specific brands I prefer for this recipe – As an Amazon Associate, I earn from qualifying purchases.
- Medaglia D'Oro Instant Espresso Powder
- Rodelle Gourmet Baking Cocoa
And some of my equipment favorites!
- Kitchen Aid Artisan Design Standing Mixer
- Nordic Ware Spatulas (a MN company!)
- Cuisinart Kitchen Central CFP-800
I used this to grate my zucchini super fast. The Cuisinart Kitchen Central CFP-800 comes with a blender, juicer, food processor and grater/slicer attachments, all in one!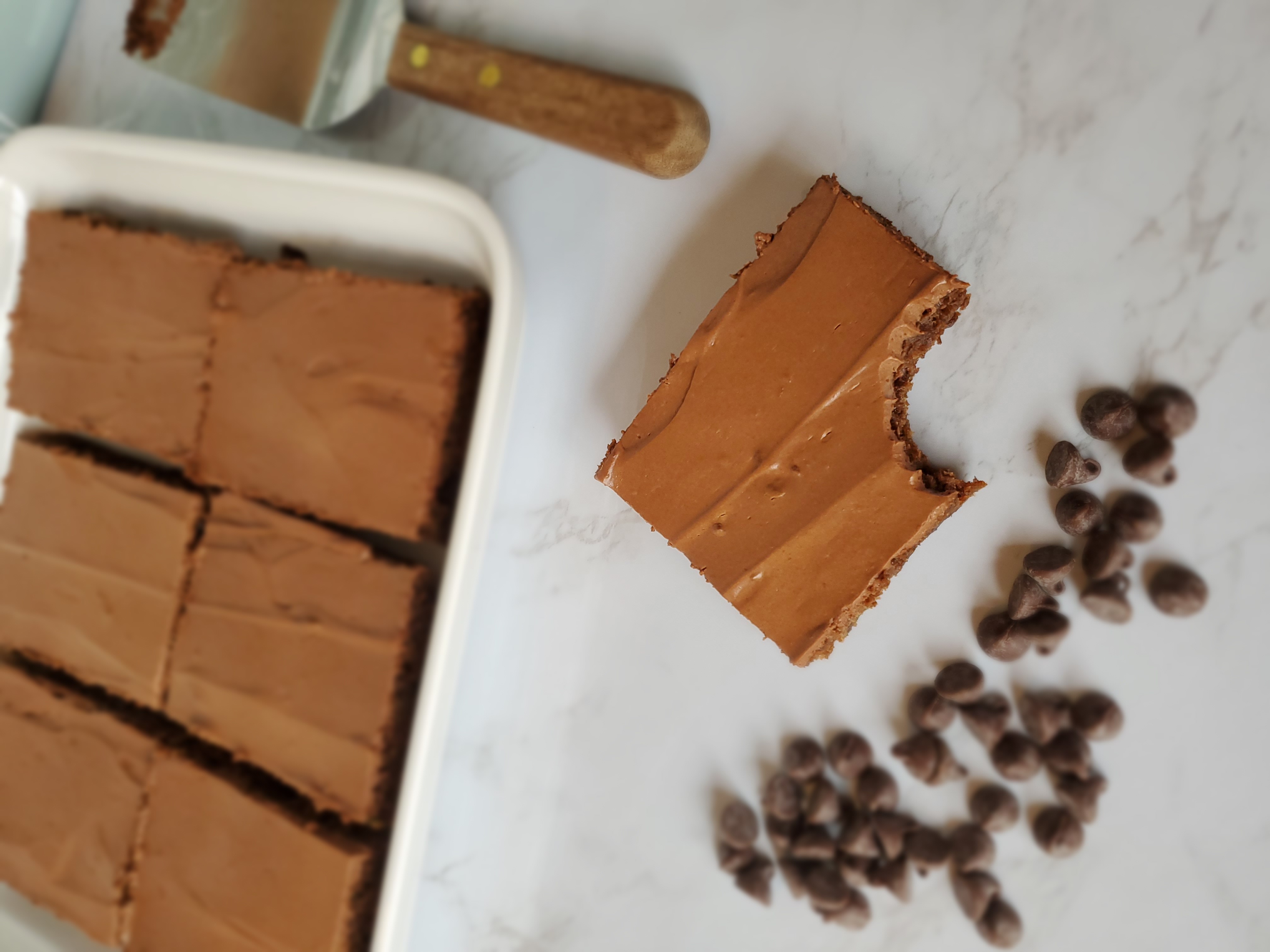 happy eating!
Lauren