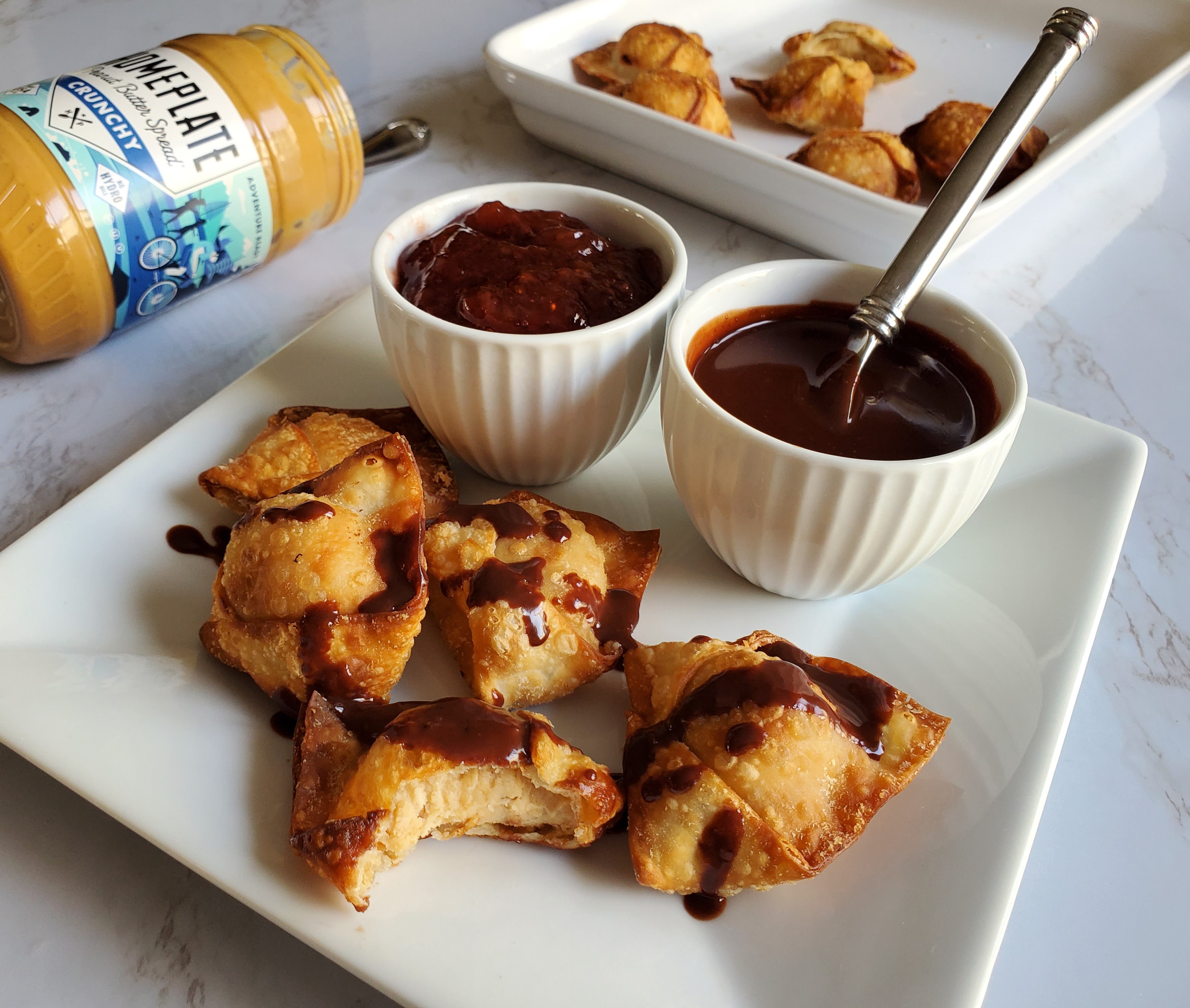 Looking for something to do with your extra wonton wrappers lying around after the Lunar New Year? Well here's the perfect excuse to dessert-ify them with my Peanut Butter Dessert Wontons! And they're served with my delicious, and decadent Chocolate Ganache Dipping Sauce!
Ingredients
Filling:
- 1/2 cup crunchy peanut butter
- 8 oz package of cream cheese, softened
- 2 Tbsp. honey
- 1 package wonton wrapper (12 oz)
*water for sealing your wrappers
Chocolate Ganache Dipping Sauce:
- 1 cup semi-sweet chocolate chips (7 oz/ 197 g)
- 1 cup heavy whipping cream (8 oz)
Optional: Jam for dipping, to make a PB & J wonton
Instructions:
1. Using a standing mixer, combine crunchy peanut butter, cream cheese and honey until smooth.
2. Take you wonton wrappers along with a small bowl of water to prep your wonton folding station (I use a cutting board so I have a flat surface).
3. Lay down your wonton wrapper like a diamond. Using your finger, wet the edges. Put about a 1/2-1 tablespoon of filling in the middle of you wrapper.
4. Fold the bottom of your wrapper to the top of you wrapper to create a triangle. Seal the edges, making sure to push out any air bubbles.
5. Next, wet the lower corners of your wonton and fold them into the middle. Repeat with remaining wrappers and filling.
6. Fill a pan about 1 cm deep with a neutral flavored oil. You want it to come halfway up the sides of your wontons while frying.
7. After about 5-6 minutes, toss in a tiny bit of wonton wrapper, if it bubbles and sizzles, your oil is ready.
8. Arrange your wontons in your pan, making sure not to overcrowd, as this will bring down the temperature of your oil.
9. Fry your wontons for about 2 minutes on each side. However, this may vary among pan sizes/oil temps, so keep an eye on your wontons and flip/remove from the pan when both sides are golden brown.
10. I recommend removing your wontons onto a plate or platter lined with a paper towel to collect excess grease.
11. While the wontons cool, make your chocolate ganache dipping sauce.
12. Simply microwave your heavy whipping cream for 2 minutes and then pour it over your semi-sweet chocolate chips. I usually stir first with a spatula and then whisk at the end to make sure my sauce is smooth.
13. You can also serve your dessert wontons with some jam to create a PB & J wonton!
I recommend eating right away, because that's when they'll be the crunchiest! However they will last about 3 days in your refrigerator. To reheat, you can either put them in your air fryer and 400 for 5-6 minutes or on broil in your oven for 5 minutes.