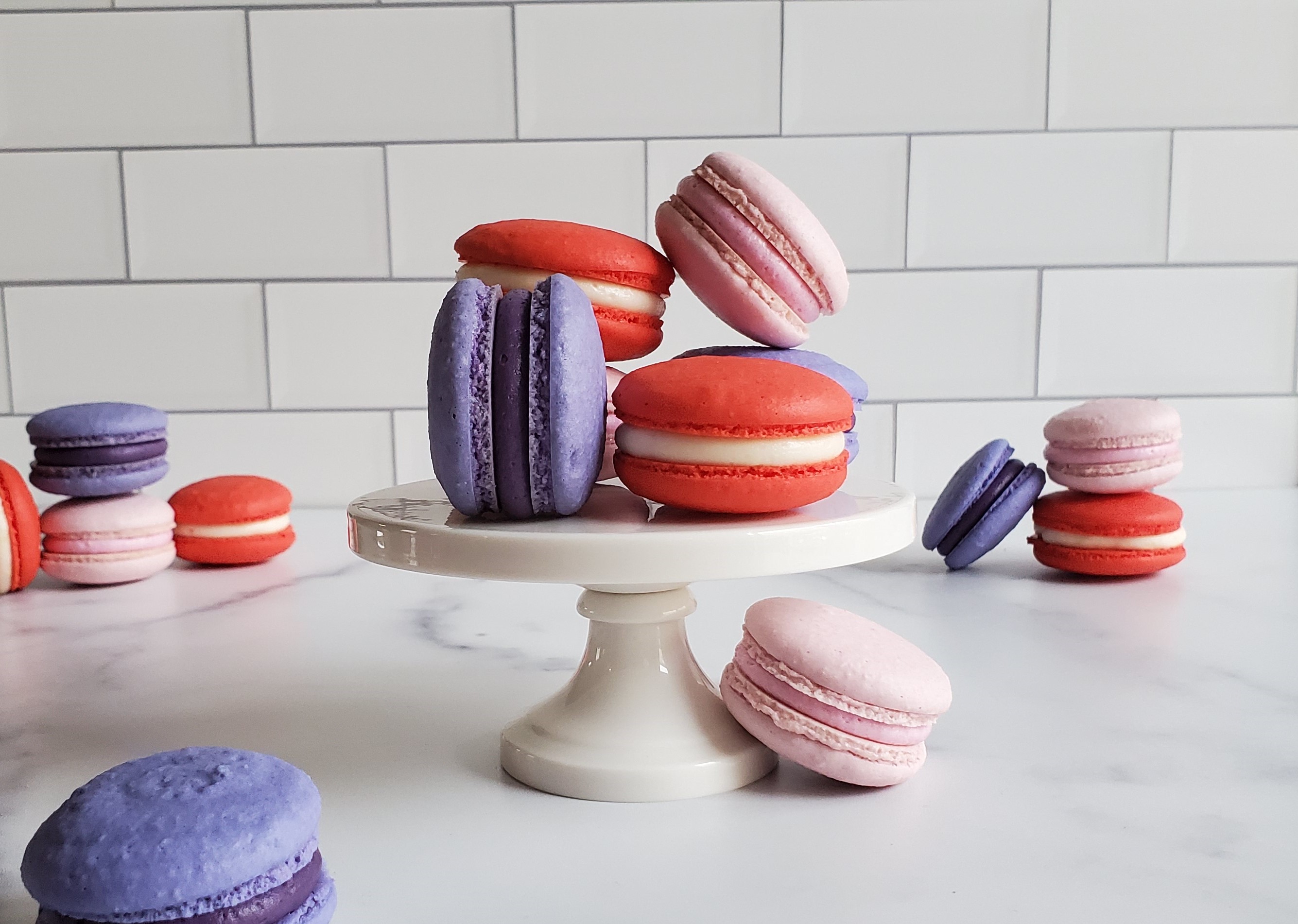 Looking for a fun Valentine's/Galentine's date idea? Why not make some of these GORGEOUS French Macarons?! I know macarons can be intimidating, but in this video, I completely break it down for you so you can make this delectable bakery staple at home! Read my more in depth blog post on the process of macrons here!
Basic French Macarons
Ingredients:
- 100 g superfine blanched almond flour (1 cup, minus 2 tsp.)
- 75 g powdered sugar (3/4 cup)
- 75 g white granulated sugar (1/3 cup)
- 70 g egg whites, room temperature (about 2)
- 1/4 tsp. cream of tartar
- 1/4 tsp. kosher salt
Basic Buttercream Filling
Ingredients:
- 2 cups powdered sugar
- 1/2 cup softened butter (1 stick)
- heavy cream, as needed
Instructions:
Sift your almond flour and powdered sugar twice through into a medium bowl. Mix together and set off to the side.

In a standing mixer fitted with a whisk attachment, whisk your egg whites on medium speed (setting 4 on a Kitchen Aid) until foamy.

Add in cream of tartar and kosher salt.

Continuing to mix on medium speed, poon in your granulated white sugar 1 Tbsp. at a time. Allowing it to dissolve in between each addition.

When your meringue is thick but not firm, add a few drops of your desired gel food coloring.

Whip until the meringue is firm and stiff peaks form.

Remove your mixing bowl from stand and pour in your almond flour/powdered sugar mixture.

Fold in the mixture, being careful not to over-stir, about 50-70 strokes. Your batter should slowly slide off of your spatula. Watch my tutorial to see what you're going for.

Fit a piping bag with a #10 round tip and place the batter inside.

Take a baking sheet and line it with parchment paper, or a silicone mat (ideally one with macaron outlines).

Pipe out your macaron shells and bang the pan a few times against your counter to reduce air bubbles.

Allow shells to dry for 1-2 hours. In the last 30 minutes of your shells drying, preheat your oven to 300ᵒ F.

In the meantime, in your mixer, cream butter, then add powdered sugar. Once the powdered sugar is incorporated, add any desired flavoring extracts. I recommend starting with just one teaspoon and adjust to your liking.

At this time fit a piping bag again with a #10 tip and fill it with your buttercream, set aside.

Once your shells have dried, bake at 300ᵒ F for 15-18 minutes. You'll know they are done, when you press on their side and they do not move.

Let cool 10-15 minutes and then remove to a wire rack.

Once they are completely cooled, match like-sized pairs and pipe a single, circular layer of frosting on one shell.

Sandwich the cookie with it's matching shell.
Tips:
*For best flavor, let your macarons mature overnight to develop the flavor of your buttercream.
*Your macarons can be let at room temperature for 2 days, stored in the refrigerator for up to 3 days, or in your freezer for 3 months. When defrosting, make sure to do so first in your fridge and then leave at room temperature 30 minutes before serving.