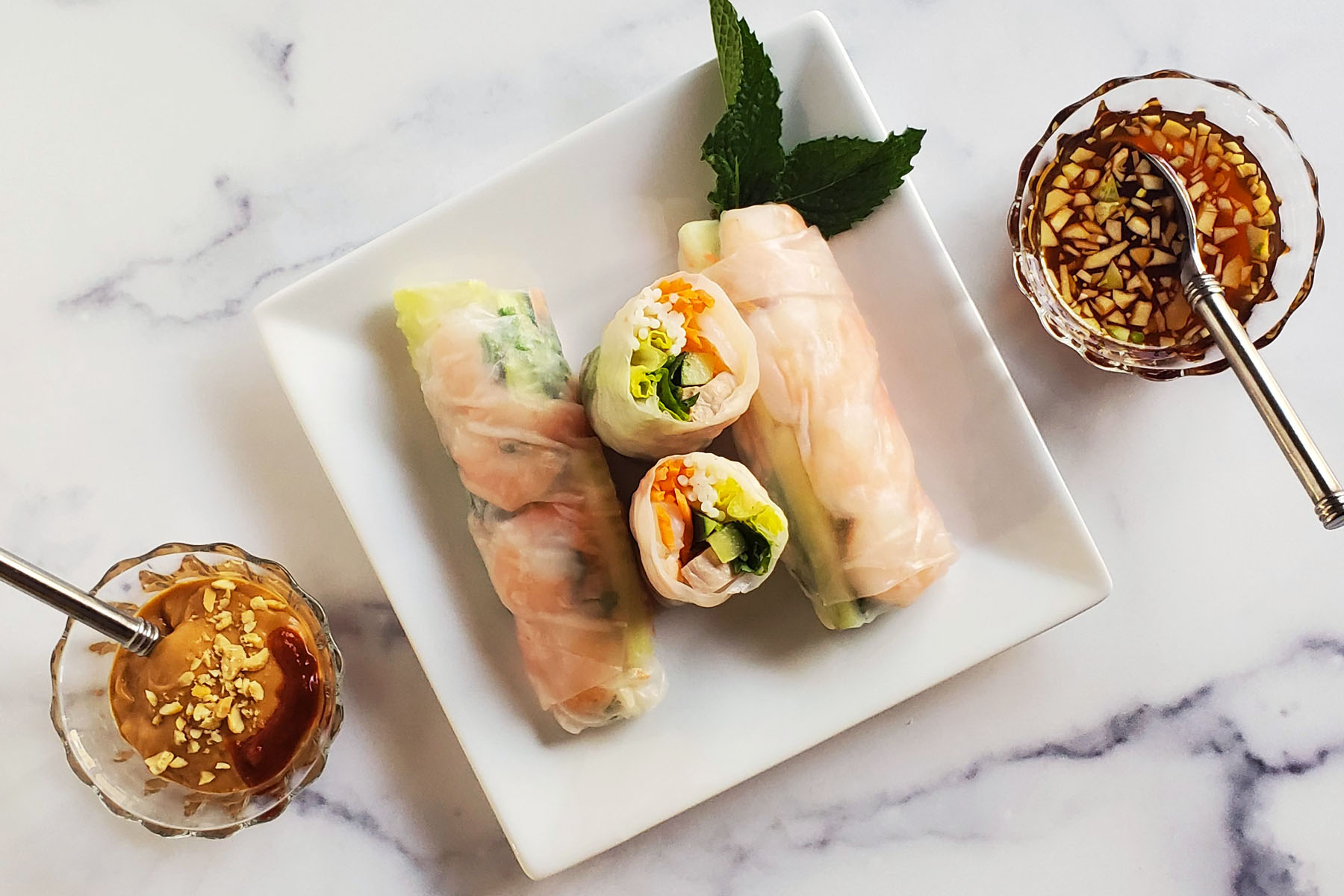 It's getting to be about that time of the winter where I've had enough of the cold weather and am looking forward to Spring! Maybe it's the fact that I've had to stay in even more than usual this winter? In order to manifest the Spring weather into Minnesota, I decided to make Vietnamese Spring Rolls. I don't think there's another dish that could be more of a blatant sign to Mother Nature to give us a break from this cold! So, join in with me and get into the springy mood with these delicious Spring Rolls!
I'll be honest, I was a little late to the Spring Roll game. I wasn't introduced to this delicious appetizer until around middle school. Let me back up for just a moment. You see, in my immediate family, there is a running joke that my mom started a trend on her side of the family. My mom was the first of anyone in her family to marry someone of Asian descent (my dad is Chinese), and then a bunch of my cousins either dated or married people of various Asian backgrounds. Basically, she's a trendsetter. It's also just a little bit funny when people assume my relatives are the other Asian people in pictures, when in reality, I'm actually related to the Caucasian ones.
So, when my cousin Evan was dating his now wife, Linh, they came over one summer day for lunch. If my memory serves me right, my family made a few dishes and then Linh also brought along all of the fixings for Vietnamese Spring Rolls and taught us all how to make them. It was one of the funnest (yes, I'm going to use 'funnest' as a real word) experiences I ever had, not to mention I got to eat them when I was done. Linh knew exactly how to win me over.
The Composition of a Vietnamese Spring Roll
Vietnamese Spring Rolls are traditionally a rice paper round, filled with shrimp, pork, cucumber, carrot, romaine lettuce, cilantro mint and vermicelli noodles. Because of all of the fresh vegetables and herbs, these rolls are incredibly refreshing, but the element that really makes these stand out are the accompanying sauces. Now the recipes I've included below are basically my best stab at recreating the flavors of the traditional Vietnamese sauces that I've had throughout my life or at restaurants. Generally, whenever you have spring rolls, they are going to be offered to you with one or multiple sauces, including a peanut dipping sauce, nuoc cham or some sort of hoisin sauce.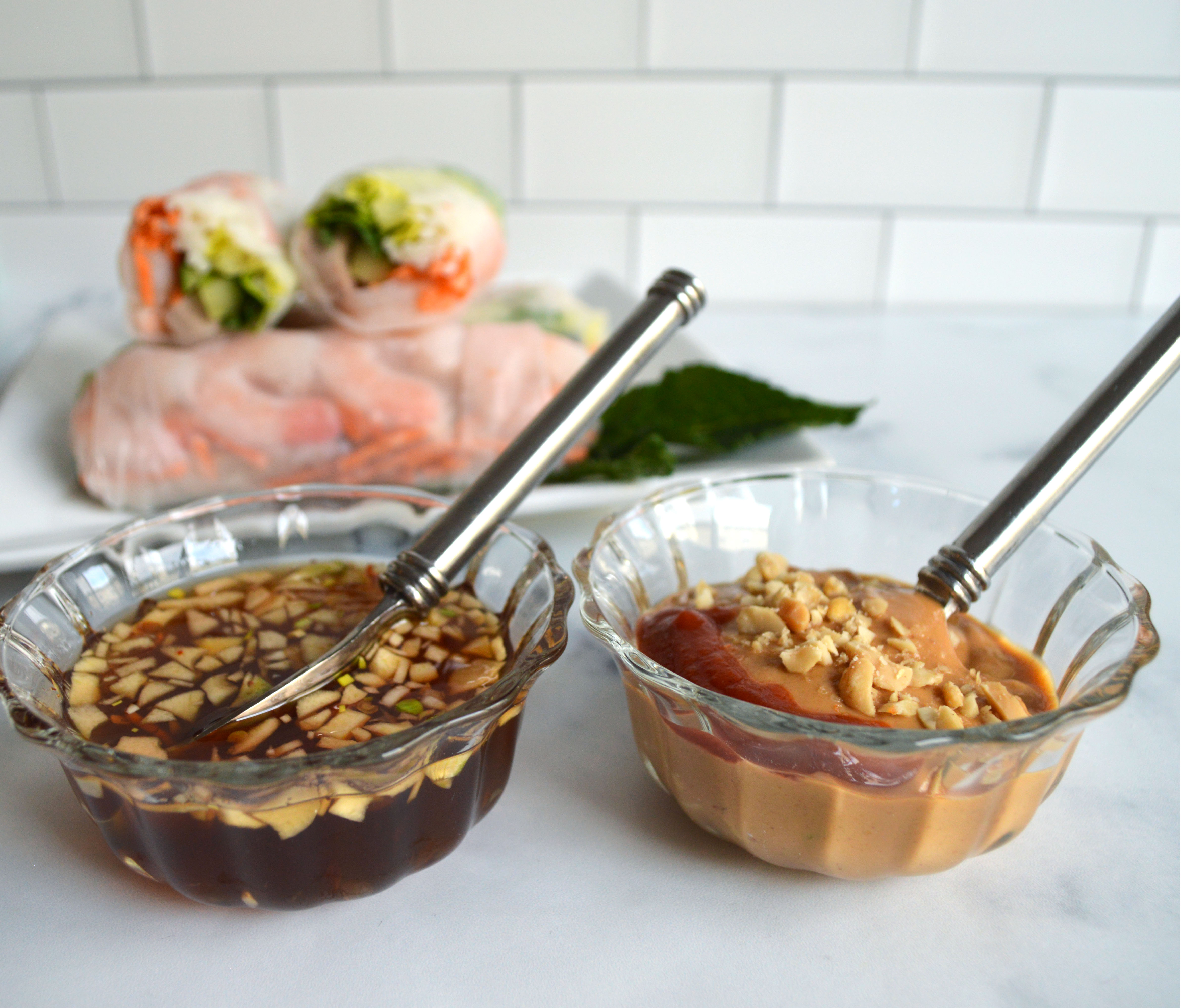 Spring Roll Sauces
The peanut dipping sauce is my all-time favorite; I would pour that sauce on pretty much anything. If you're familiar with Thai peanut noodles, the sauce has a similar taste. I also opt for the peanut sauce, because it already has hoisin sauce in it, the best of both worlds, clearly. There are other various hoisin dipping sauces out there for spring rolls, but I usually just use straight hoisin from the jar if I am going that route. Another terrific sauce for spring rolls is Nuoc Cham. Nuoc Cham is a much lighter dipping sauce and packed with flavor, it's loaded with fish sauce which is basically the liquid gold of any Asian cooking.
If you're looking through my recipes below and curious what brands I use for some of my various ingredients, make sure to check out my earlier post on Essential Pantry Items for Asian Cooking (as an Amazon associate, I earn from qualifying purchases). Also, if you're vegan/vegetarian, I have included some substitution options below for you as well.
Don't forget to follow me on Instagram (@hugheatswithyou) and tag me in your photo when you make these!
 If you watch my YouTube tutorial, it would mean the world to me if you like the video/subscribe to my channel/ turn on notifications! This tells YouTube you enjoy my content and helps me perform better on the platform!
Vietnamese Spring Rolls Recipe
Ingredients:
1 package rice paper rounds (Banh Trang 12 or 14 oz)

1 lb. cooked shrimp

1 pork loin (24 oz)

1-2 medium cucumbers

1 bag shredded carrot

1 bunch fresh cilantro

1 bunch fresh mint leaves

1 head of romaine lettuce

1 bag vermicelli noodles (14 oz)
*You can substitute shrimp/pork loin for tofu/mushrooms/avocado to make these vegan/vegetarian.
Instructions:
Prep pork loin and vermicelli noodles according to their packaging. If you bought raw shrimp, cook these ahead of time as well. Make sure to rinse your noodles in cold water after cooking.

Cut/prep all of your ingredients. If you are using full sized carrots, julienne them. Cut your cucumbers into sticks about the length of your ideal spring roll (probably around 4 in./10 cm). Wash your herbs, and cut your pork loin into rectangular pieces about 4 in. long a 1 in. (2.5 cm) wide.

You can either cut your shrimp down the middle vein line to stretch them further, or keep them whole for a meatier spring roll.

Get a bowl of room temperature water and dampen your rice paper round. Once it is completely wet, transfer to a nonstick surface like a cutting board or silicone mat.

In the middle of your wrapper, place four shrimp (or four shrimp halves) all facing the same direction. If you cut your shrimp in half, the cut side should be facing you.

Next place a couple pieces of pork loin on the opposite side of the shrimp from you.

Then place your cucumber, shredded carrot, cilantro, mint and romaine on top of your proteins.

Finally add a lump of vermicelli noodles in front next to your pork loin.

To fold, pull the edge nearest to you forward over all of your ingredients, making sure to shove everything under the wrapper. Keeping everything compact, fold the left and right sides of the wrapper into the center. Once the sides are sealed, roll forward like a burrito making sure none of the ingredients inside can escape.

Continue this process with the remaining ingredients.
*Spring Rolls are best eaten immediately, they do not keep well, because the wrapper is made of rice and will harden upon being put in the refrigerator. However, if you want to attempt to save your spring rolls for another day, I recommend wrapping them up individually in a slightly damp paper towel.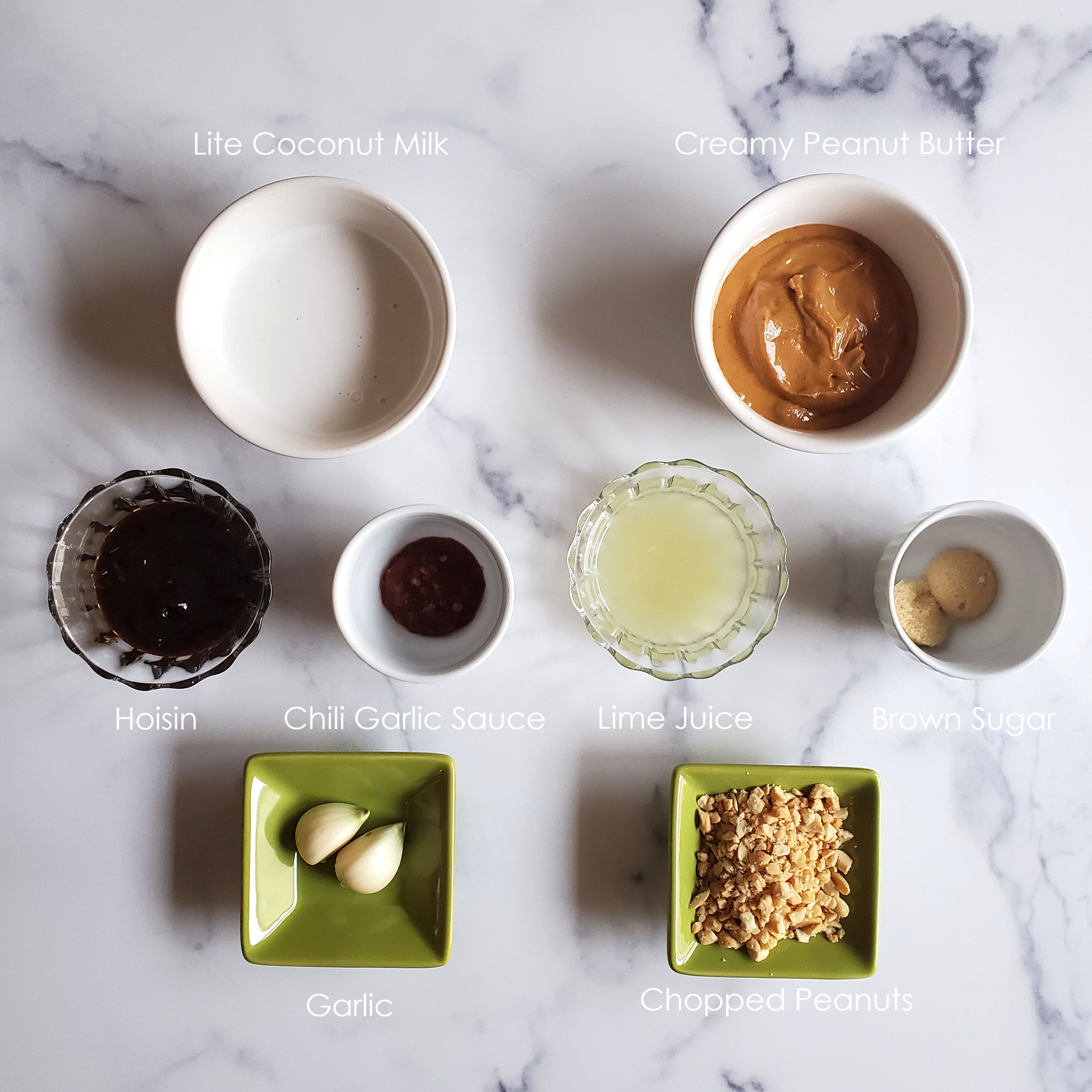 Peanut Dipping Sauce
Ingredients:
½ cup creamy peanut butter (unsweetened)

½ cup lite coconut milk

3 Tbsp. fresh lime juice

3 Tbsp. hoisin sauce

2 tsp. chili garlic sauce

2 tsp. brown sugar (or coconut sugar)

2 cloves fresh garlic, minced

1-2 Tbsp. chopped peanuts (optional)
Instructions:
Whisk together peanut butter, coconut milk, lime juice, hoisin, chili garlic sauce, brown sugar and minced garlic.

When serving, you can sprinkle chopped peanuts on top, sometimes I also add a squirt of Sriracha on top.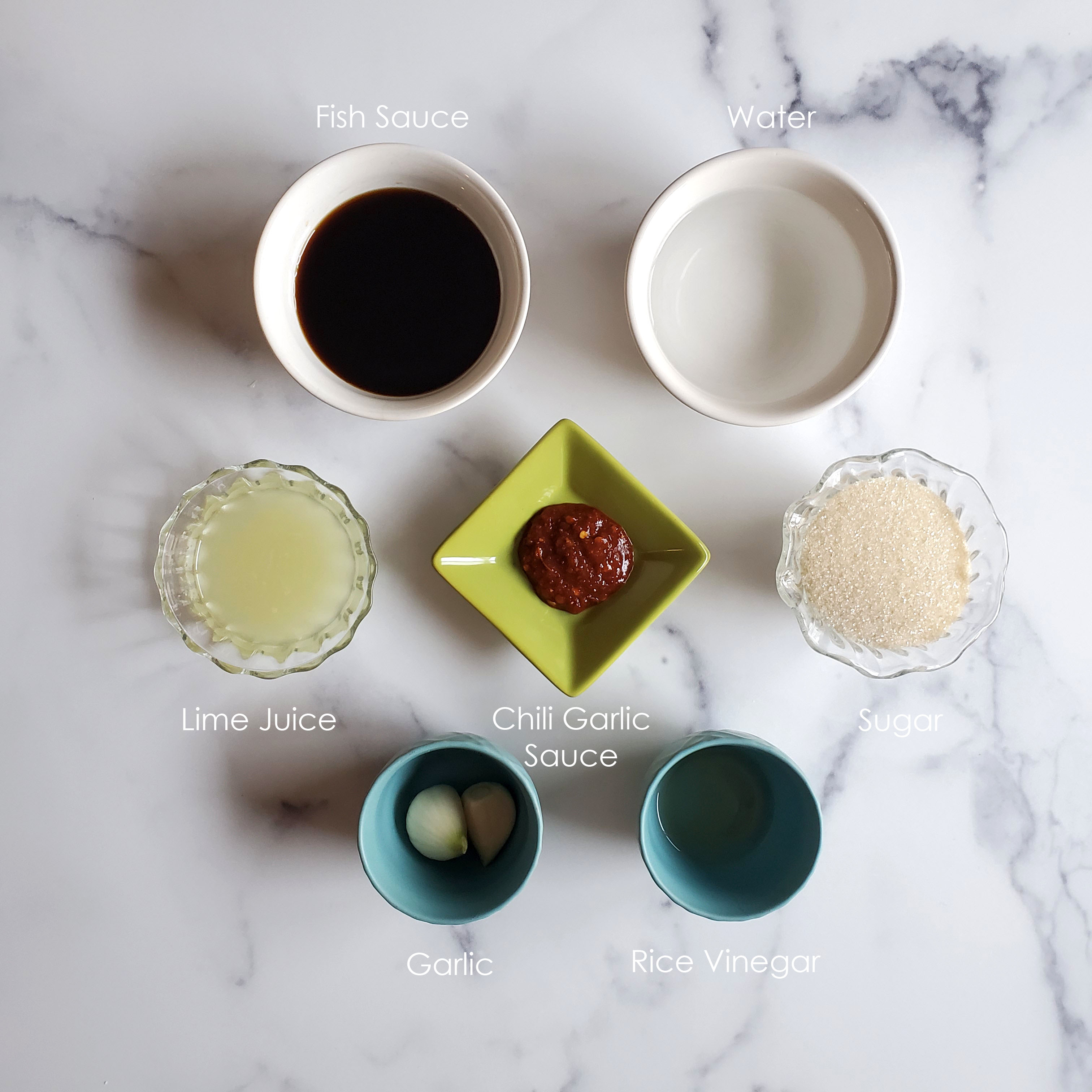 Nước chấm – Vietnamese Dipping Sauce
Ingredients:
½ cup white granulated sugar

2/3 cup hot water

½ cup fish sauce (sub for ¼ cup coconut aminos for vegan option)

4 Tbsp. fresh lime juice

4 tsp. rice vinegar

3 tsp. chili garlic sauce

2 cloves fresh garlic, minced

Shredded carrot (optional garnish)
Instructions:
First put your sugar into a medium bowl, followed by your hot water. Whisk these together and allow the sugar to dissolve.

Then incorporate fish sauce, lime juice, rice vinegar, chili garlic sauce, minced garlic and stir.

Optional: garnish with shredded carrot upon serving.