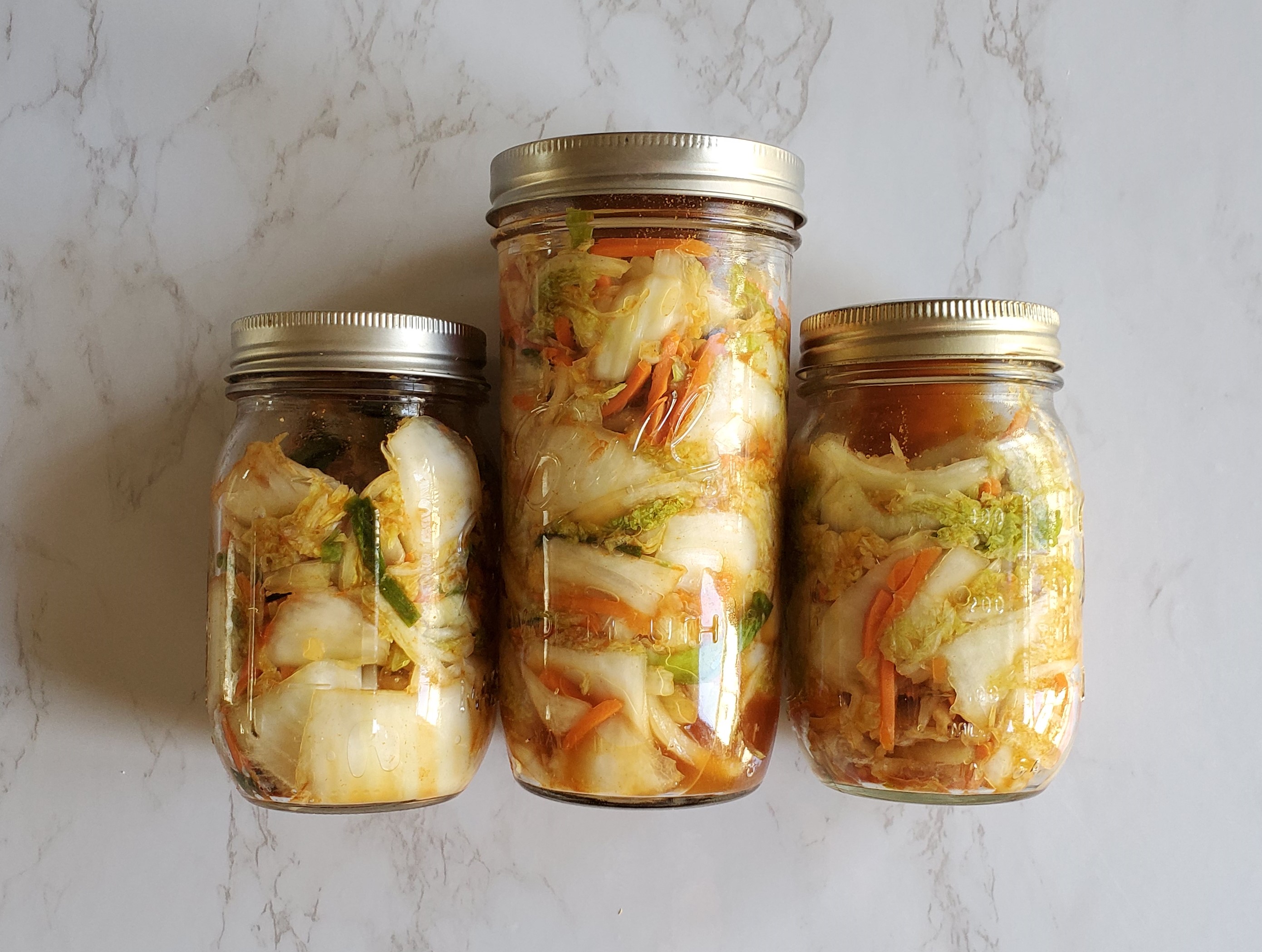 Ingredients:
- 1 medium or large napa cabbage
- 1/4 cup non-iodized salt (kosher or sea salt works)
- Filtered water (enough to cover you cabbage in your bowl)
- 1 cup matchstick carrots/daikon radish (or do 1/2 cup of both)
- 6-8 scallions, cut into 1-2 inch pieces
Spice Paste:
- 2 Tbsp. fish sauce (Red Boat - always!!)
- 1 Tbsp. Korean red chili pepper powder/gochugaru (up to 5 Tbsp. if you like it really spicy)
- 1 1/2 tsp. fresh grated ginger
- 1 Tbsp. fresh minced garlic (or more, the more garlic the better!)
Essential equipment:
- Colander
- 3 to 4 clean jars (or Fermentation Jars)
Directions:
- Cut your napa cabbage in half lengthwise. Then take each half and quarter it lengthwise.
- At the base of each quarter, you will see the firm core. Cut this out at an angle and discard it. Then cut your cabbage into about 2 inch chunks and place in a very large bowl (for this part it might be helpful to refer to the video tutorial). Also, if you have any undesirable looking parts of your cabbage, make sure to discard them as well, or they could potentially spoil the rest of your kimchi.
- Cover your cabbage with the non-iodized salt and massage it in with clean hands until the cabbage becomes slightly soft.
- Once your cabbage has softened (it will shrink up slightly) pour filtered water over the top until it is completely submerged. Then take a plate or something heavy to weigh down the cabbage.
- Set your bowl of cabbage/salt/water aside for 1-2 hours.
- While you wait, mix together the fish sauce, Korean red chili pepper powder, ginger and garlic in a small bowl to create your spice paste.
- Once your cabbage has sat in the salt/water for 1-2 hours, you are going to rinse it thoroughly in a colander, about three times through.
- Return your cabbage back to your large bowl. You will see that the salt pulled out much of the liquid from the cabbage and it should have shrunk/wilted.
- Mix in carrots, scallions and spice paste with a pair of food safe gloves. The gloves are important because the spice paste could burn your hands.
- Once everything is well incorporated, take your jars and tightly pack in your kimchi, leaving about an inch or two of room for the gases to move around during the fermentation process.
- Leave your kimchi out at room temperature for 1-5 days to ferment. Make sure to "burp" your kimchi at least once a day. This is simply loosening the lid to allow the gases to escape. At this time you should also take a clean spoon and push the kimchi back down until it is resubmerged in the kimchi liquid.
- After 5 days your kimchi will be ready to eat, you can then keep it in the refrigerator for up to 6 months!
- Enjoy your kimchi with bibimbap, in soup, Korean BBQ, rice bowls, on a brat or just by itself!
Products Used As an Amazon Associate, I earn from qualifying purchases.
- Tae-kyung Korean Red Chili Pepper Powder Gochugaru
- San Franciso Salt Co. Sea Salt
happy eating
Lauren
*P.S. feel free to ask any questions below!