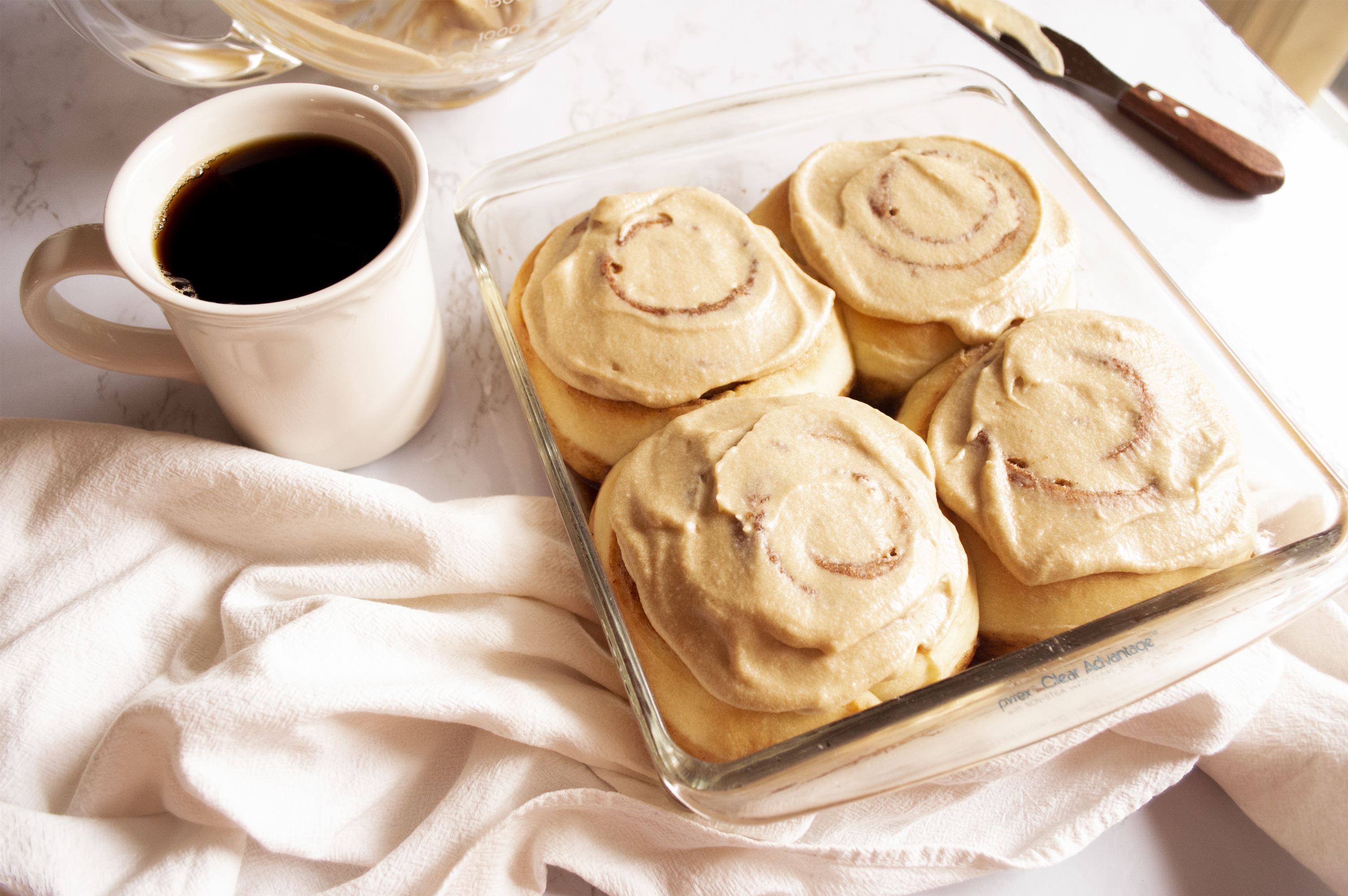 Raise your hand if you like coffee... now raise your hand if you like cinnamon rolls. That's what I thought. I know I can't actually see you, but I'm going to optimistically guess that most of you raised your hands. Cinnamon rolls are an American classic, and to be completely honest, coffee is also the life blood of this country (along with many other countries). I made these rolls as part of the #CoffeeDessertCollab that I put on with a fellow Minnesota food blogger that I met through Instagram. That's right, I threw together an entire collaboration with Carol of @carolsbakingadventures just over the internet.
That is one of the strange silver linings of the pandemic. I have met so many incredible (and super nice) food bloggers over the internet, and quite a few of them are either overseas in the UK or Australia. Any who, I know this blog shouldn't be a diary because apparently people just want the recipe, who knew? I know espresso is not technically coffee but it counts, okay. These Espresso Cinnamon Rolls are seriously going to knock your socks off. They are filled with an espresso-sugar mix and that frosting on the top - you guessed it, Espresso Cream Cheese Frosting.
Also, in this photo there are only four rolls, to be completely transparent, the recipe actually makes eight large rolls. I just froze the other half because I can't eat a cinnamon rolls every day (as much as I want to). But that's the beauty of this recipe. Put in the elbow grease one weekend making them and have cinnamon rolls in the freezer to pop out whenever you need them! Also, I know I'm horrible at getting process photos, it requires a bit more planning, so they will be coming soon! Let me know if you have questions!
happy eating!
Lauren
Rise and Grind Espresso Cinnamon Rolls!
Ingredients:
Dough
½ cup heavy cream

½ cup water

2 tsp. active dry yeast

¼ cup sugar

2 eggs

4 cups all-purpose flour

1 ½ tsp. kosher salt

6 Tbsp. unsalted butter, very soft
Filling
½ cup soft butter (1 stick)

¾ cups brown sugar

1 Tbsp. cinnamon

1/8 tsp. fine sea salt

1 tsp. vanilla extract

1 tsp. espresso granules
Espresso Cream Cheese Frosting
4 oz. cream cheese, softened

4 Tbsp. unsalted butter, softened

2 cups powdered sugar

1 tsp. vanilla extract

1 tsp. espresso granules
Directions:
To make your dough

, combine your heavy cream and water in a microwave safe bowl, then microwave for 1 minute. Your mixture should be hot to the touch, add in sugar and whisk to dissolve

Once sugar is dissolved into the warm cream/water mixture (about 110-115ᵒF) mix in active dry yeast and allow it to sit for 10 minutes until the yeast blooms.

Put the flour, eggs, and kosher salt in the bowl of a stand mixer with your yeast mixture and combine with a dough hook (only on medium speed). Once the dough has come together, add your softened butter 2 Tbsp. at a time, fully incorporating the 2 Tbsp. before adding the next. After all of the butter has been mixed in, mix your dough on your mixer's medium setting for 10 minutes.

Place your dough in a medium bowl, greased with a neutral oil. Let your dough sit at room temperature for four hours. You can also put your dough in the fridge for eight hours and complete the remaining steps the next morning.

While the dough rises, make your filling and frosting

For the filling, set aside the ½ cup softened butter (you will use this later once your dough is rolled out). Put your vanilla in a small bowl along with the espresso granules and allow them to dissolve. In a slightly bigger bowl mix together brown sugar, cinnamon and sea salt. Once the espresso granules have dissolved into the vanilla extract, pour it over the top of the cinnamon mixture and stir to incorporate.
For the frosting, combine softened cream cheese and butter in a standing mixer. Again, in a small bowl mix vanilla and espresso granules until they dissolve, then add the mixture the dairy. Then add in two cups of powdered sugar and mix until smooth.
To continue your dough, flour a clean surface and pour your dough out onto it. Using a rolling pin, roll your dough into a 12" x 16" rectangle.

Take the softened butter that you set aside and spread it evenly on your dough, leaving an inch gap on one of the short ends for sealing later.

Then sprinkle your sugar mixture evenly over your buttered dough, except for the one-inch edge.

Tightly roll you dough from one short end to the other that has the non-buttered edge. Then pinch the edges together.

Cut your cinnamon roll log into eight for large, restaurant-style rolls or 16 for personal sized rolls.

Place your rolls in a 9" x 13" pan (or two pans if you made 16 rolls). Cover and let them rise for 60-90 minutes in a warm spot. Preheat your oven to 350ᵒ

Cook your rolls for 20-25 minutes until golden brown.

After removing your rolls from the oven, allow them to cool on a wire rack for about 5 minutes, then generously frost your rolls with the Espresso Cream Cheese frosting, serve warm & enjoy!