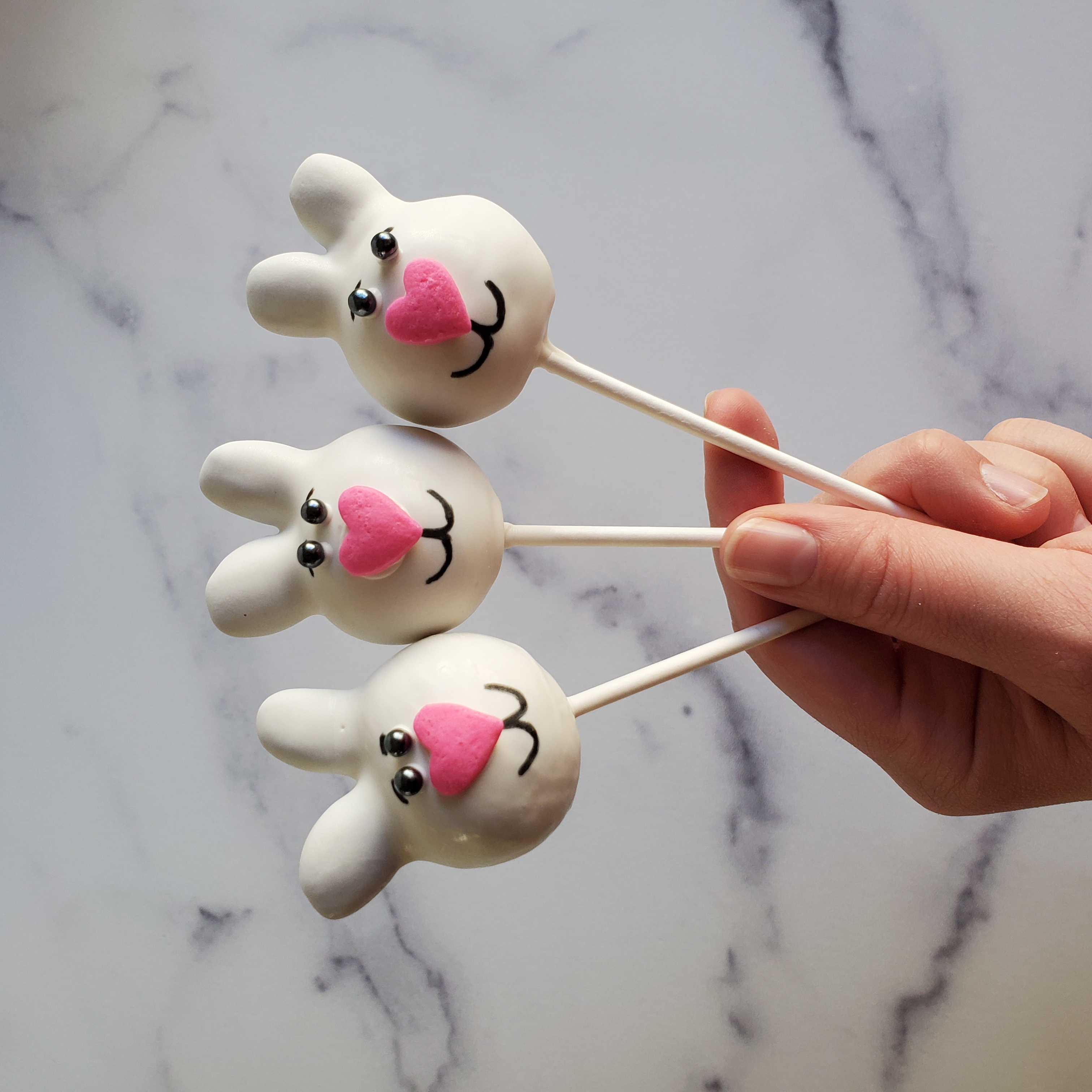 Easter is upon us, so why not make these ultra cute, little Easter Bunny cake pops? If you've never made cake pops before, make sure to check out my blog post on How To Make Basic Cake Pops along with it's video tutorial! Then once you've reviewed that, go ahead and give these festive thumpers a try!
Keeping Your Cake Pops White
The key to making cake pops that stay looking white is having the right stuff inside and the right stuff outside. Here's what I mean by that... In order to have cake pops that look pure white on the outside, it is best to have white or vanilla cake on the inside. If you have chocolate cake on the inside, you're candy melts will look dark and dull or if you have red velvet on the inside - if your cake pops crack - it might look like you bunnies are bleeding, and we don't want that! Another pro tip is to not only just buy 'white candy melts' buy 'bright white' candy melts if you can find them. You can sometimes get them on Amazon, although I will admit, for a cost. The best place to find them, I have found, is at your Michael's craft store.
Add-ons For Bunny Cake Pops
Obviously most of the things you will need are similar to making Basic Cake Pops. However, you will need a few additions to make these adorable little bunnies. For the ears I used almonds, however, you can also use candy corn or even shape some small pieces of fondant or marzipan. For the nose I used a giant pink heart sprinkle, for the eyes just some black pearls sprinkles and finally I drew on the mouth using food safe markers (as an Amazon associate, I may earn from qualifying purchases).
Almonds or Candy Corn

buttercream frosting
Fool Proof Cake Pop Vanilla Cake Recipe
1 ¼ cups (236 g) vegetable shortening (Crisco)
2 cups sugar(400 g)
3 cups flour (405 g)
1 ¼ teaspoon fine sea salt
1 ¼ teaspoon baking soda
1 ¼ teaspoon pure vanilla extract
3 extra-large eggs
1 ¼ cups buttermilk
Preheat oven to 350 degrees F 

Grease 9 x 13 pan & set aside.

In a medium bowl mix together dry ingredients, flour, salt and baking soda.

Beat shortening and sugar in a large bowl of an electric mixer at low speed just until blended.

Then add vanilla extract and dry ingredients gradually.

Add eggs individually, beating 1 minute after each addition. Add buttermilk in 2 portions, beating just until blended.

 Bake 35 to 40 minutes or until cake just begins to pull away from sides of pan.

Allow cakes to cool completely.

Cut and crumble your cake into a large bowl.

Mix with 1 to 1 1/2 cups buttercream frosting until the mixture is a Play-doh-like consistency.

Roll into bite sized balls.

Refrigerate 15 minutes, meanwhile melt your candy melts. You can either do this in a candy melting pot or your microwave at 30 second increments.

Take a lollipop stick and dip it about 1 cm deep into the candy melts, then insert into your cake pop. Repeat this step for all cake pops and return them to the fridge for 15 minutes.

Take your almonds and dip one end into the candy melts and then into the top of your cake pop, repeat with another almond to create the other ear. Repeat this step to your other cake pops, allowing the almonds to set into place while doing so.

Once almonds are set into the top of your cake pop, fully submerge the entire cake pop into you candy melts. Tap the stick gently on the side of your bowl or candy melting pot to remove excess.

Allow your pops to set on a cake pop stand.

After the pops are set, use the remaining candy melts and a toothpick to attach black pearl sprinkles for eyes and a heart sprinkles for a nose. Then, without pressing too hard, draw two upward curves to create the bunny mouth.