The color of these cookies makes me SO happy! Don't they make you happy?! For me they are a sign of spring and summer approaching.
If you haven't noticed, I've had a lot of fun making different flavored/designed sugar cookies lately. My "perfect sugar cookie" recipe is super versatile and the base for all of my fun variations. I love having these cookies with coffee because they're subtly sweet and slightly soft in the middle. They're also a great treat to package up individually and share with your friends as a party favor or gift!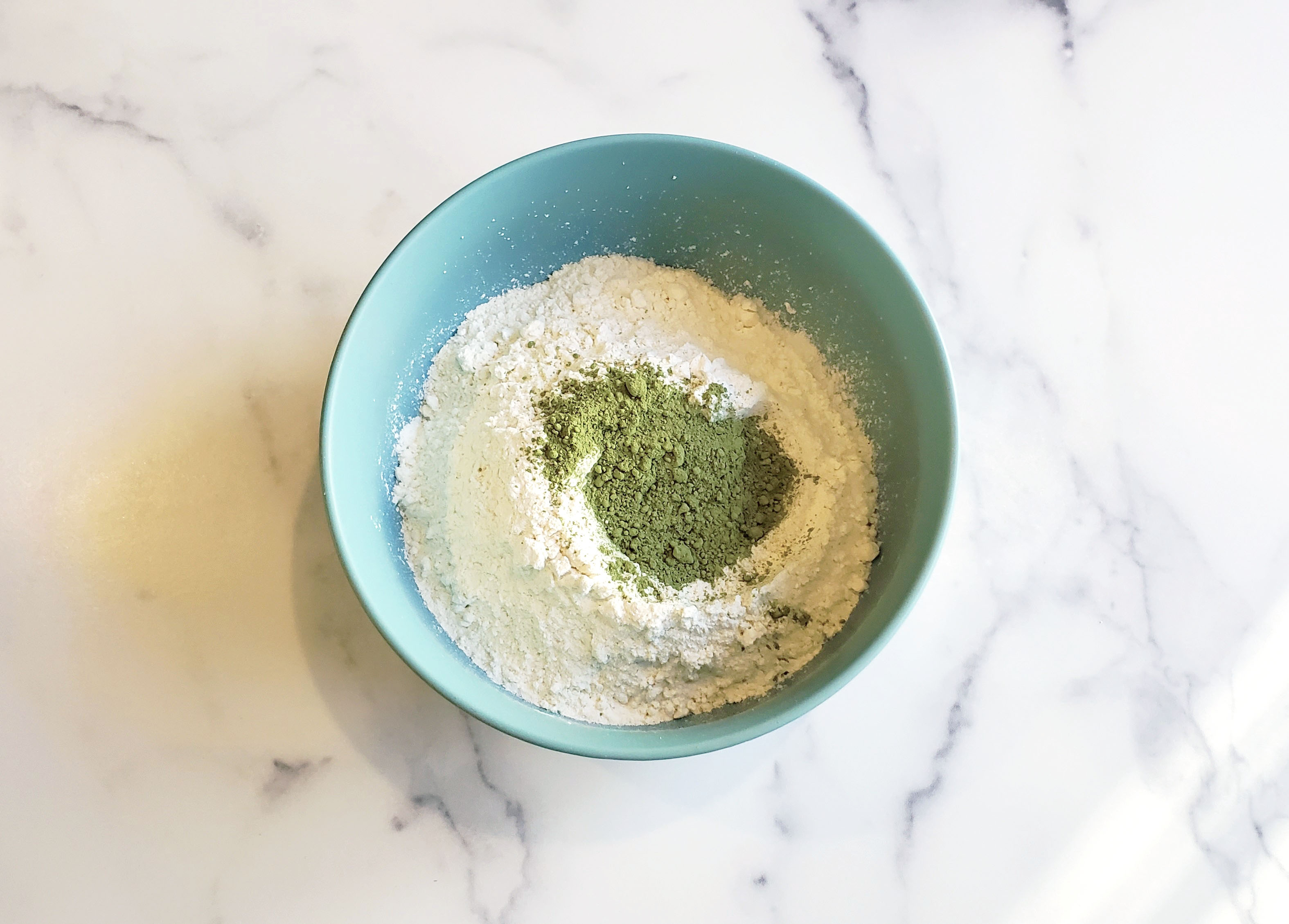 First I mix together my dry ingredients (excluding sugar) in a separate bowl from my mixing bowl. I used an organic, ceremonial grade Matcha powder. It's important that you get a matcha that has no sugar added. So make sure it is pure matcha powder and not something like a powdered matcha latte mix.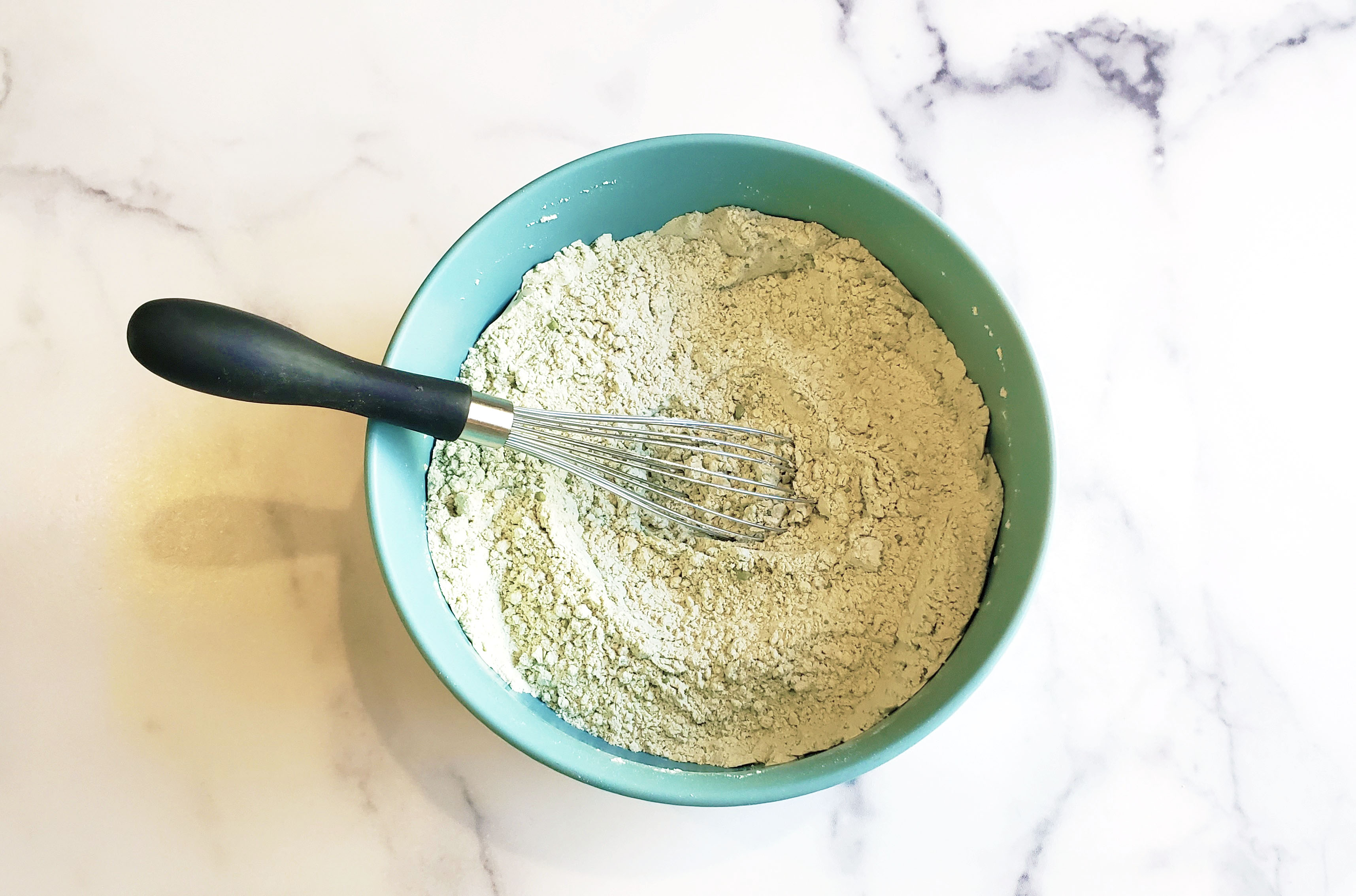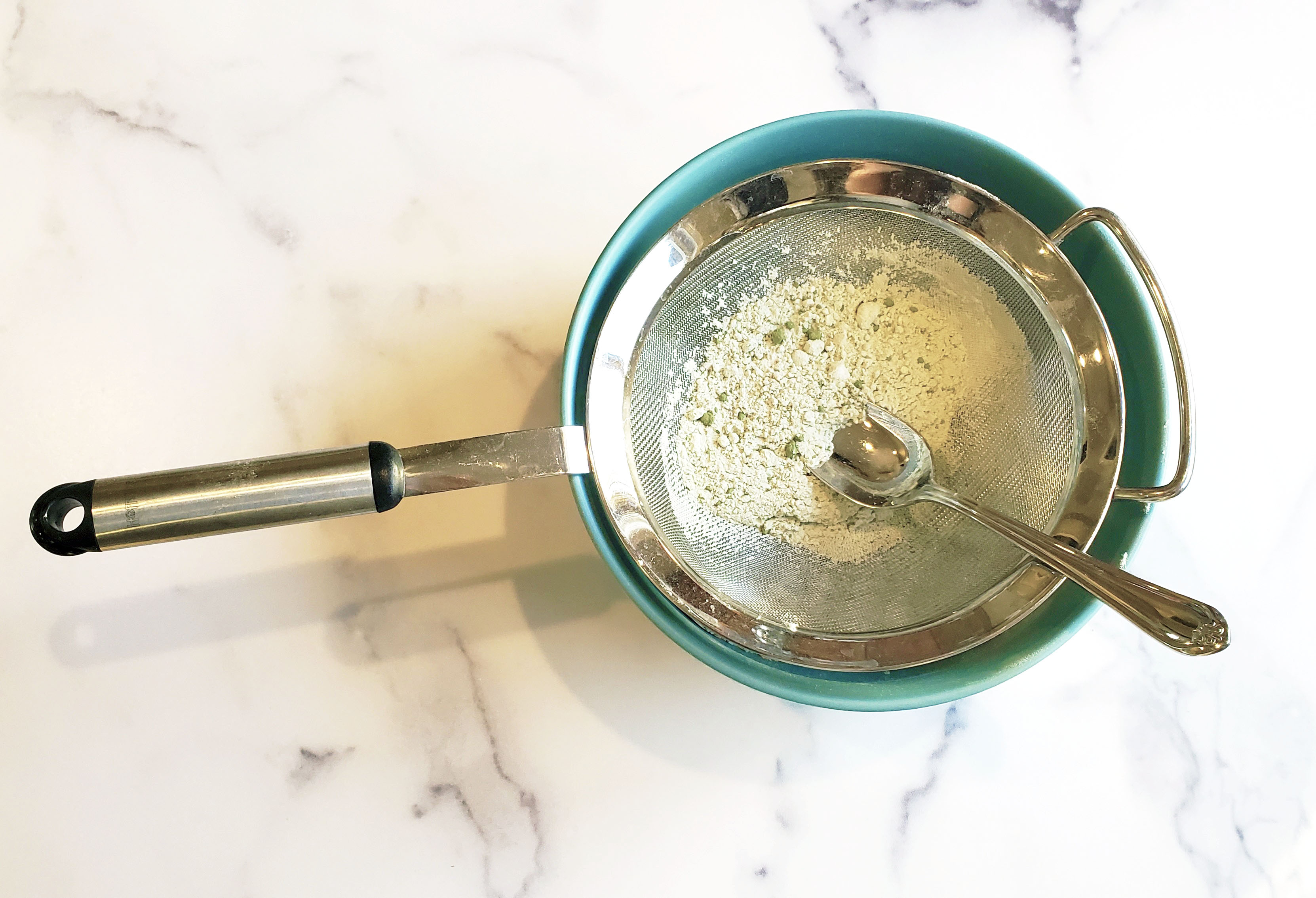 Once you have whisked together your dry ingredients, sift them. I recommend sifting because Matcha powder can often develop clumps. Also, I just wanted to mention that you can adjust how much matcha you put in depending on your liking. Matcha powder is expensive, so feel free to do less. Keep in mind, your cookies will come out a less vibrant green color, so if you lessen your matcha powder, you might want to consider a few drops of a green food coloring gel. I prefer food gels to food coloring, because they pack a bigger punch and deliver a much better color. I also find they don't contribute much of a food coloring aftertaste. 
In the bowl of your standing mixer, mix together your softened butter and sugar. For photo purposes, I put both ingredients in the bowl, but in reality I normally cream my butter first and then add my sugar. If your butter isn't soft you can always microwave it for about 8 seconds. But make sure to keep an eye on it! I have definitely hit "8" thinking 8 seconds and some microwaves have an automatic setting for 8 minutes! And then you end up with a buttery pool at the bottom of your microwave. Mix these ingredients until they are light and fluffy. Then add in your egg. Unlike my other sugar cookie recipes, I do not add any flavoring extracts to this recipe. I prefer not to have any other flavor mask the earthy unique matcha flavor. However, if you'd like to add a flavoring extract, this would be the time to do so!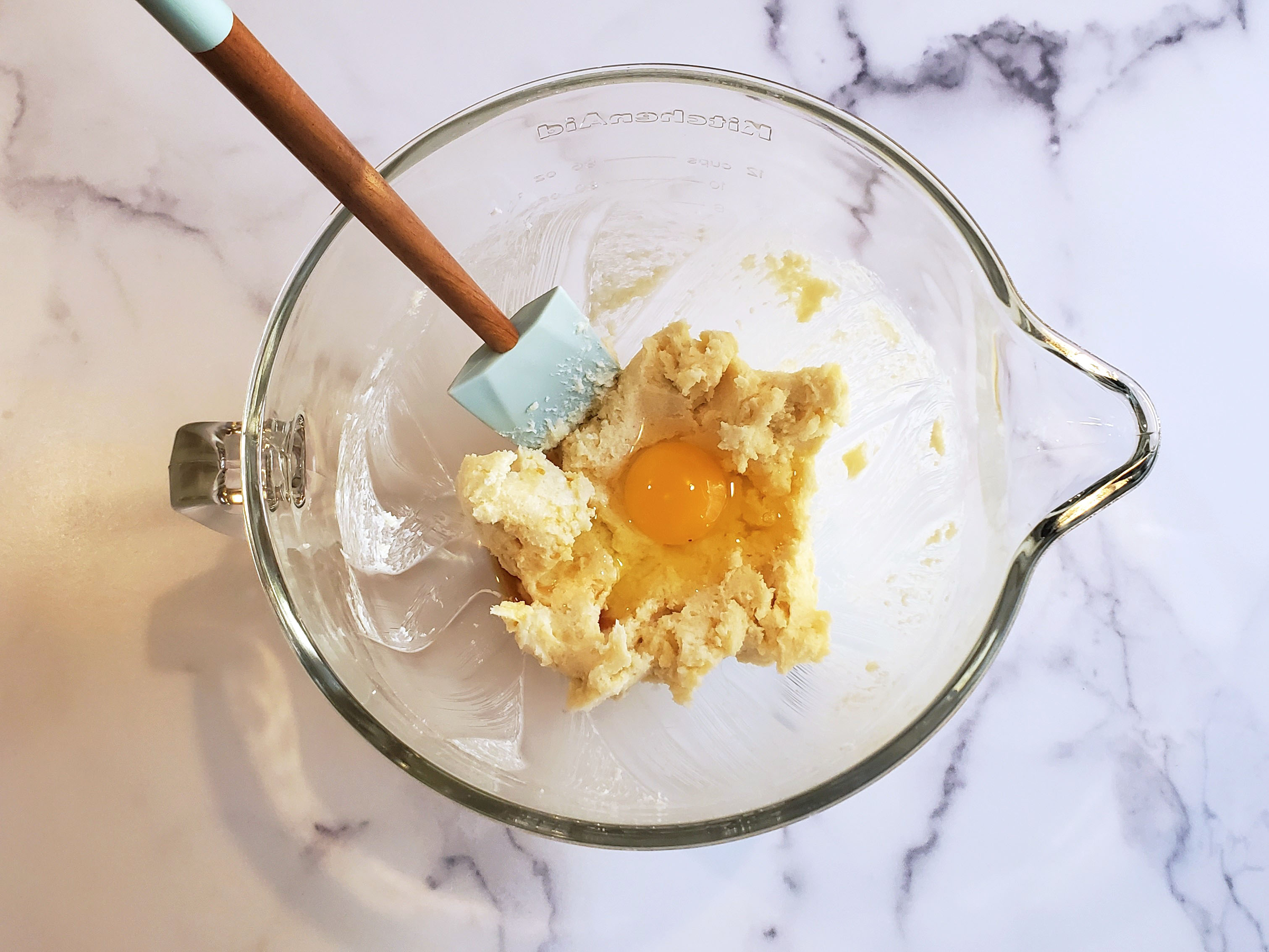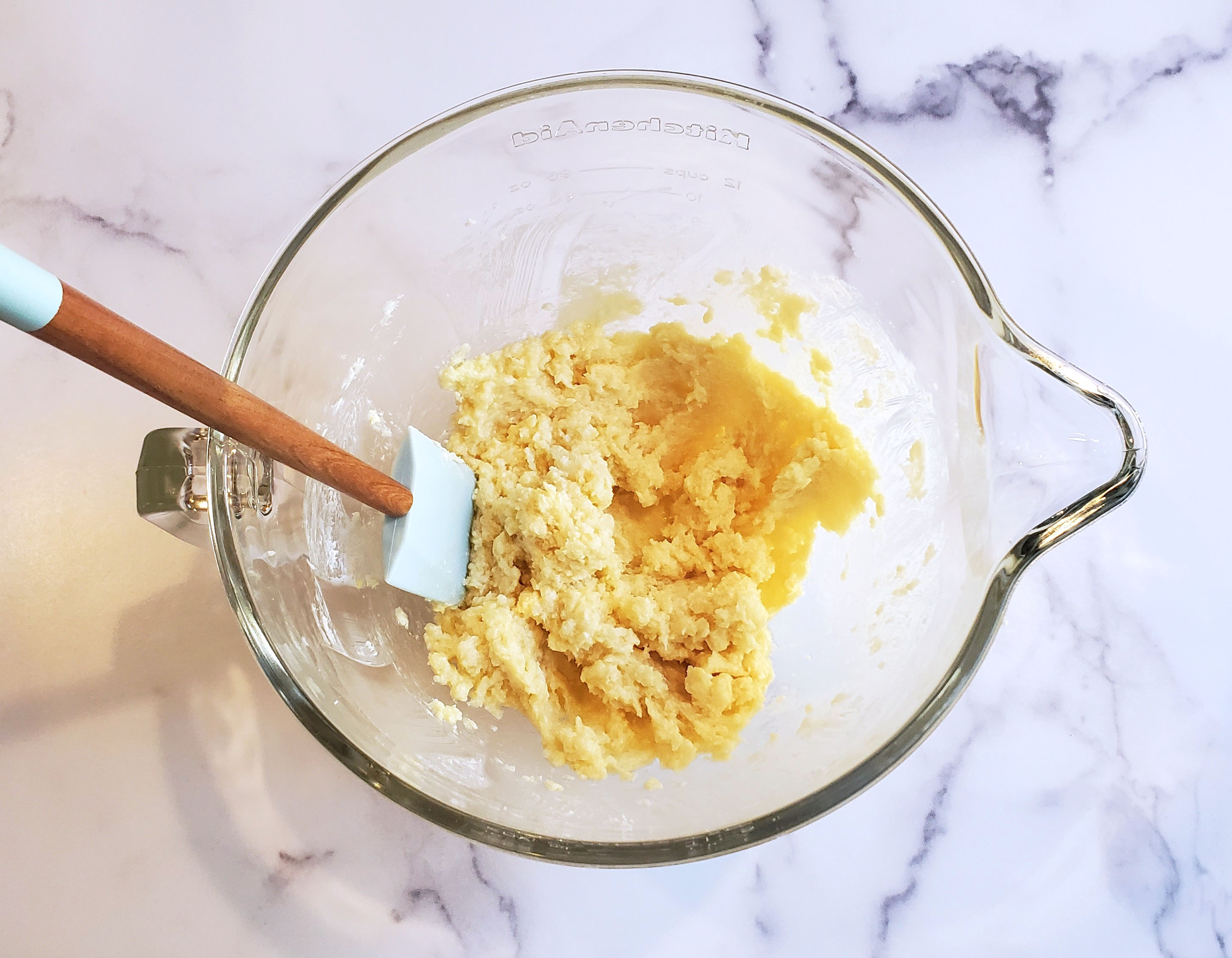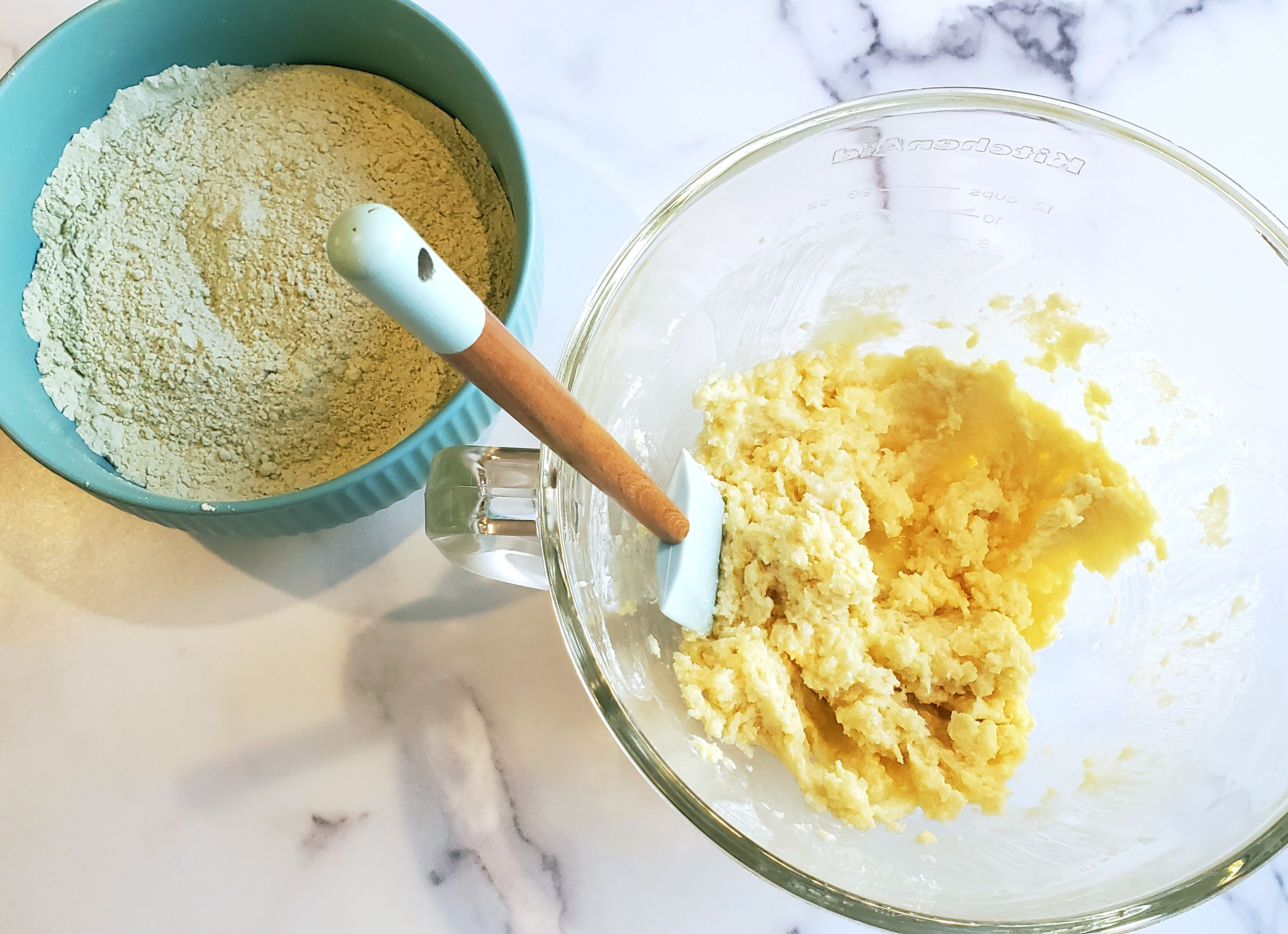 Now that our dry and "wet" ingredients are mixed separately, we are going to combine them together. At first the mixture will look dry. Continue to mix until it comes together as a thick dough.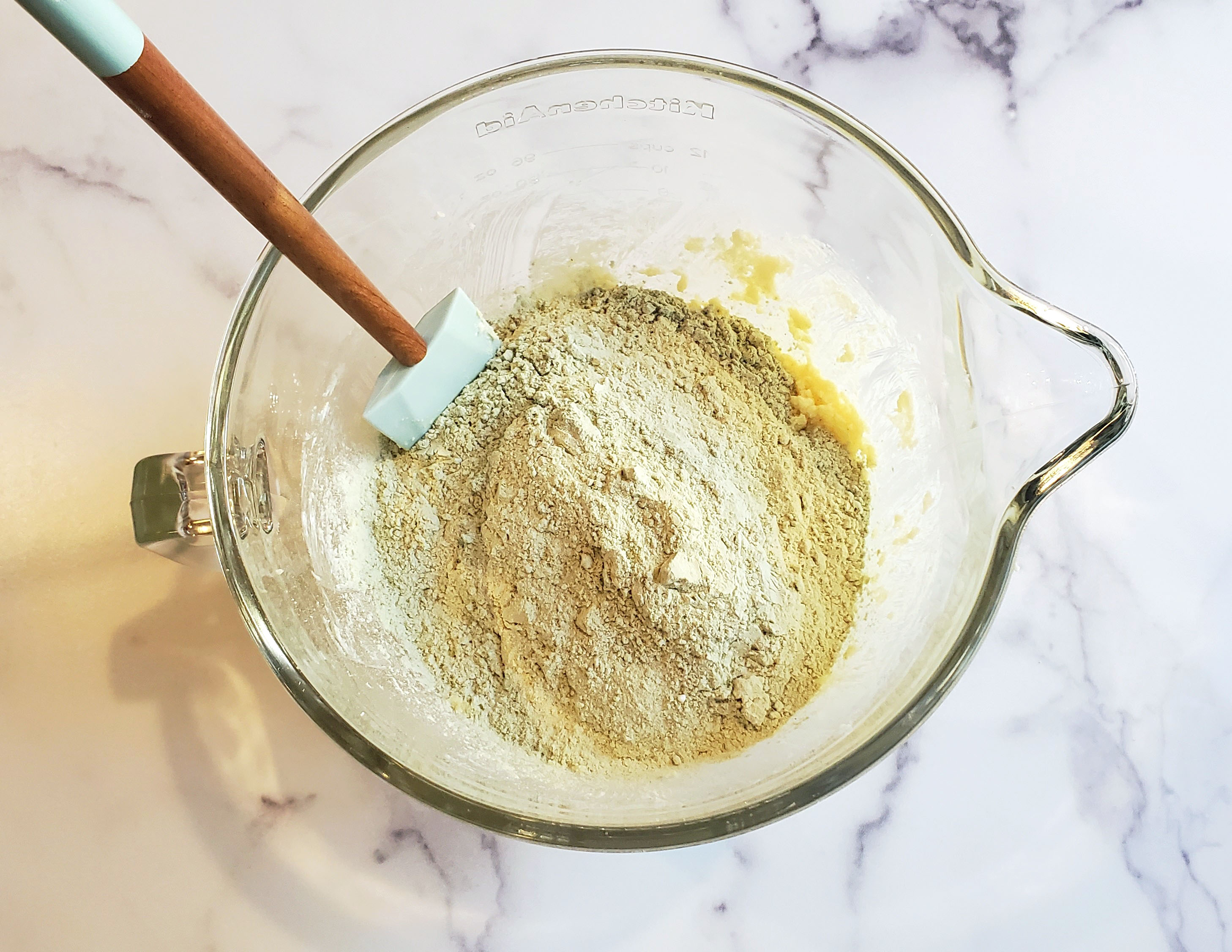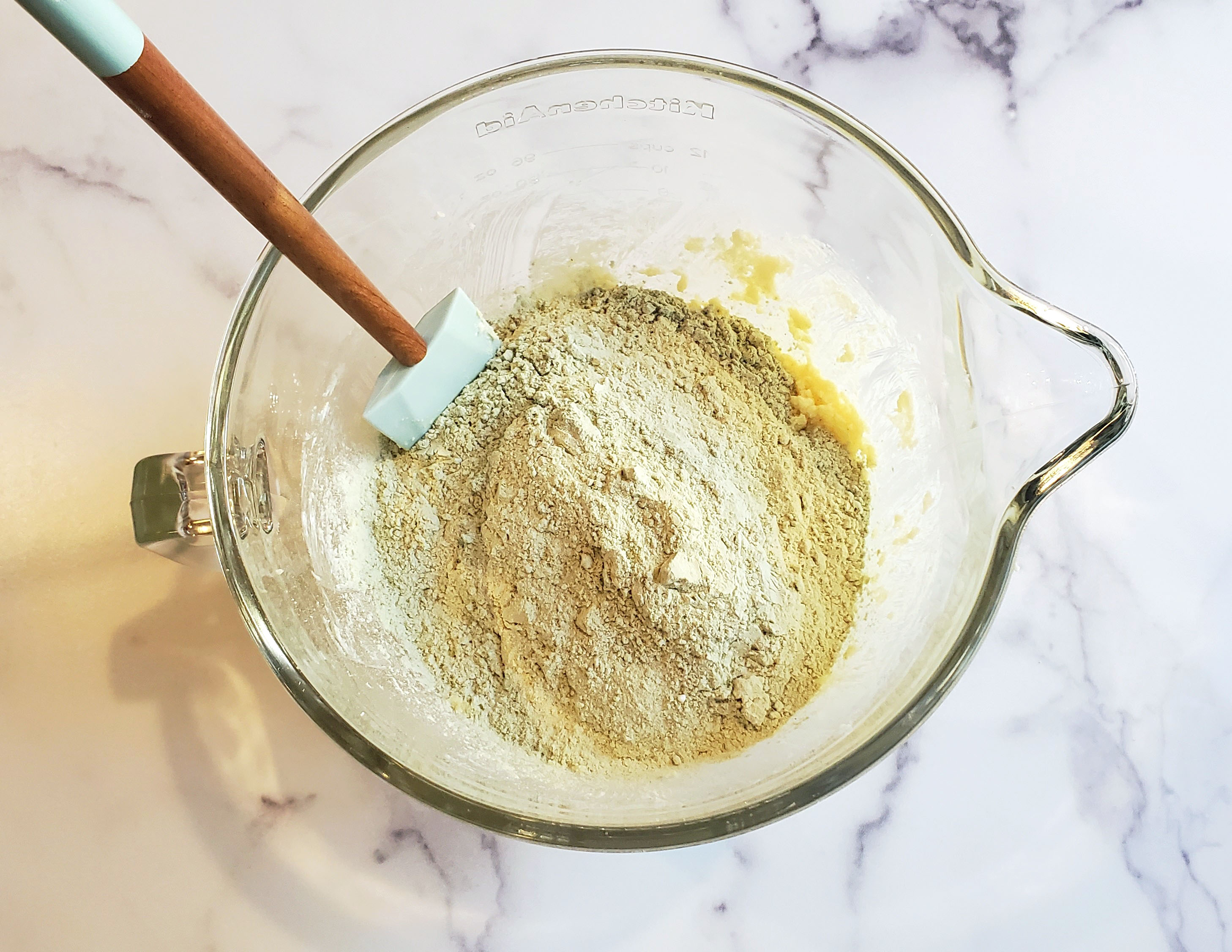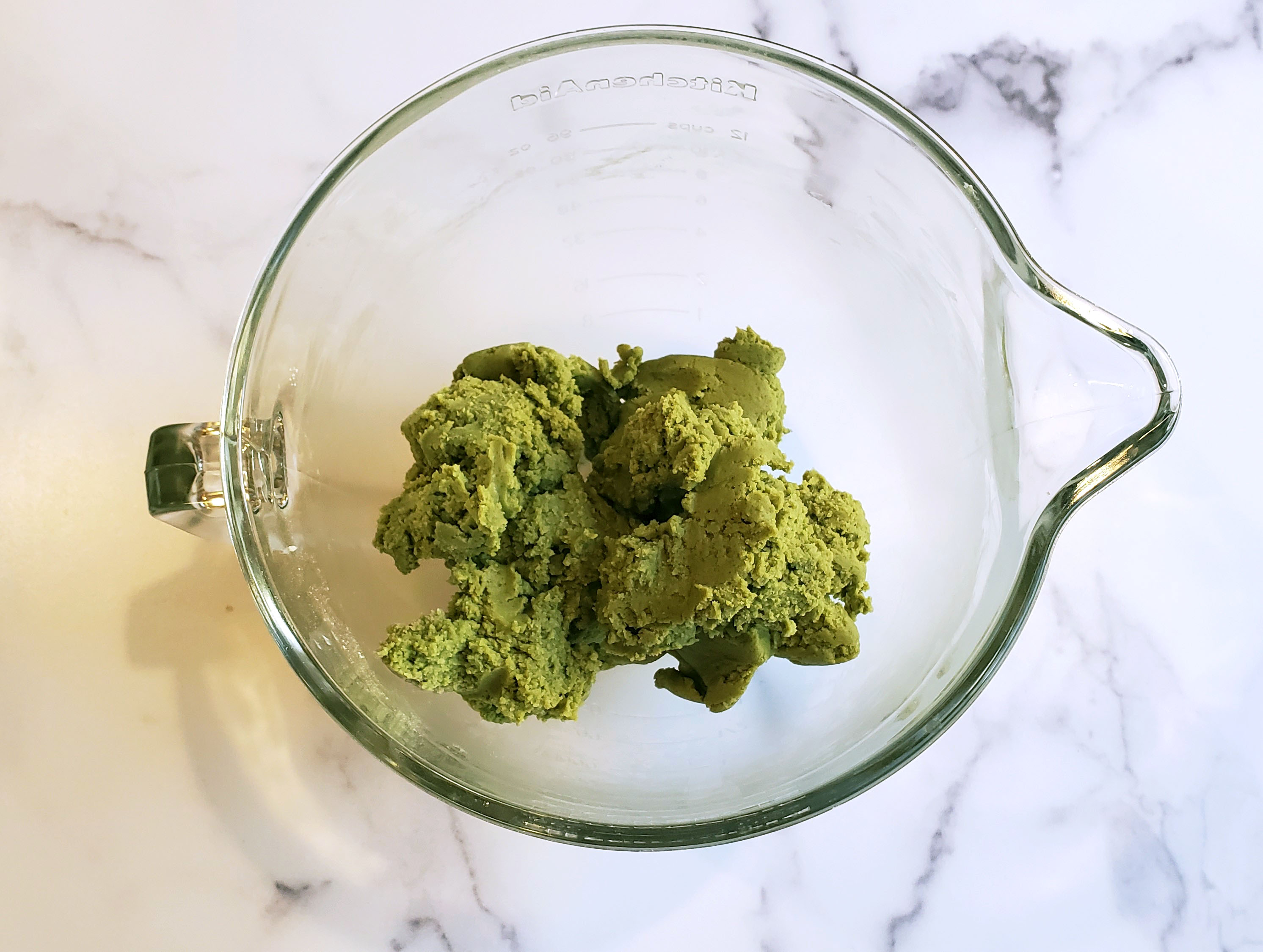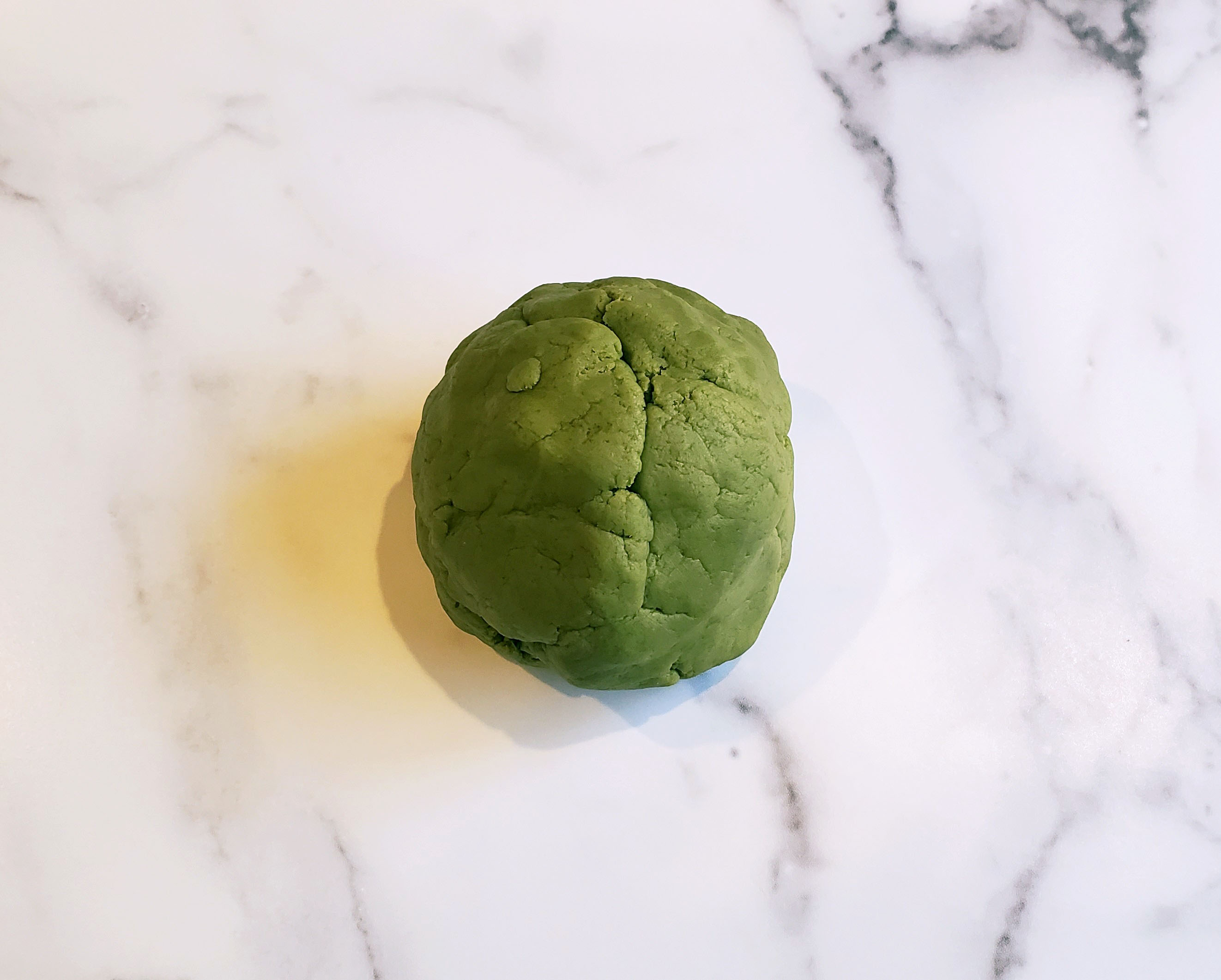 The consistency should be playdough-like just like this. Using your hands, firmly press the dough together to form a ball. Next we are going to roll out our dough. As you can see in the photo below, I do not flour my work surface. If I was using an uncolored dough I probably would. However, this dough will not stick to your rolling pin, and if you flour your surface, you could get flour swirls. Which potentially could be very cool, but that's not what we're going for today. 
You're going to roll out your dough evenly until it is about 1/8 of an inch in thickness. If you don't have a ruler, you basically want it as thick as a bottle cap. Then just pick the cookie cutter of your choosing. I was going for a high tea look, so I just stuck with a round cutter, but the possibilities are endless!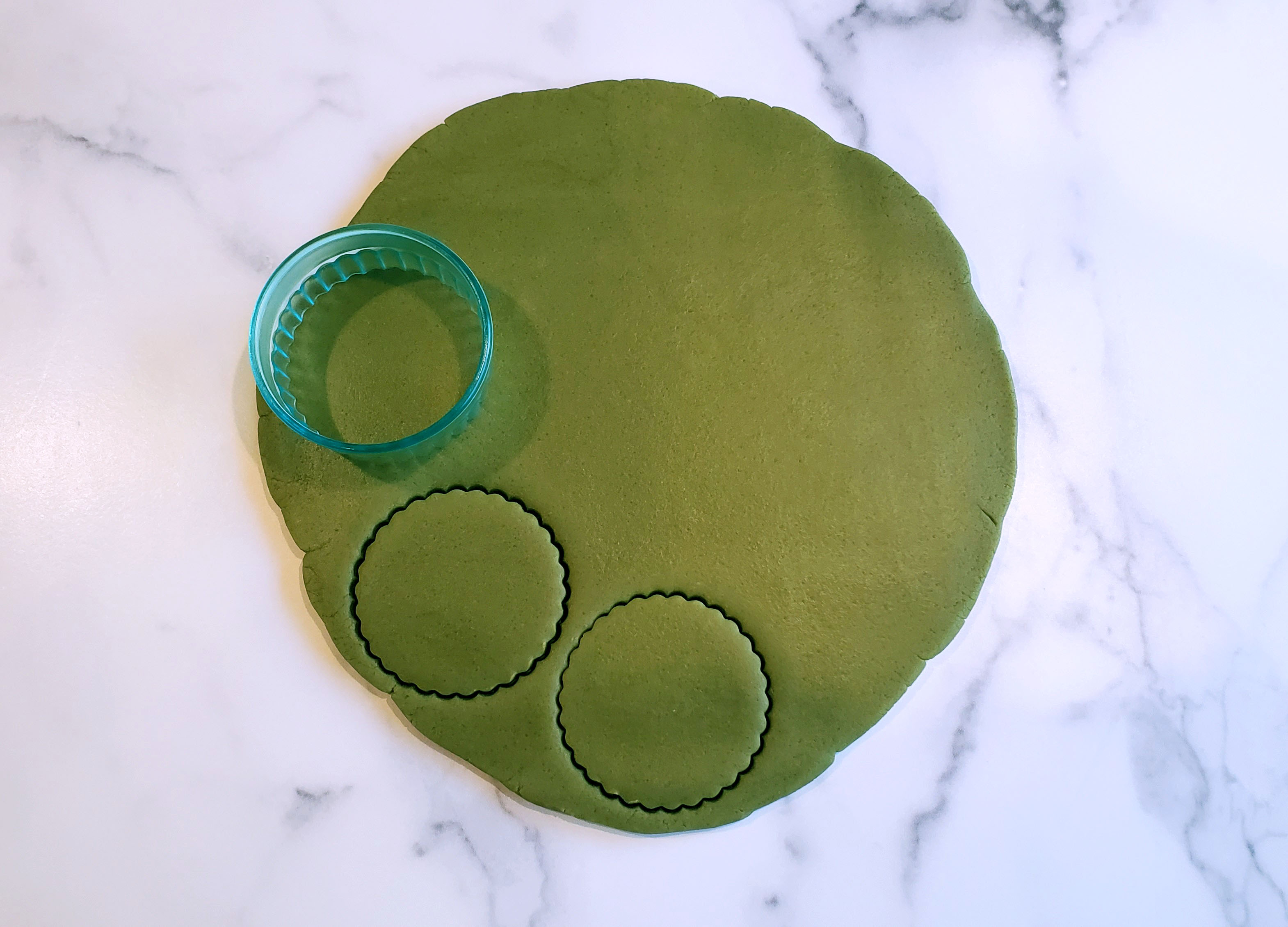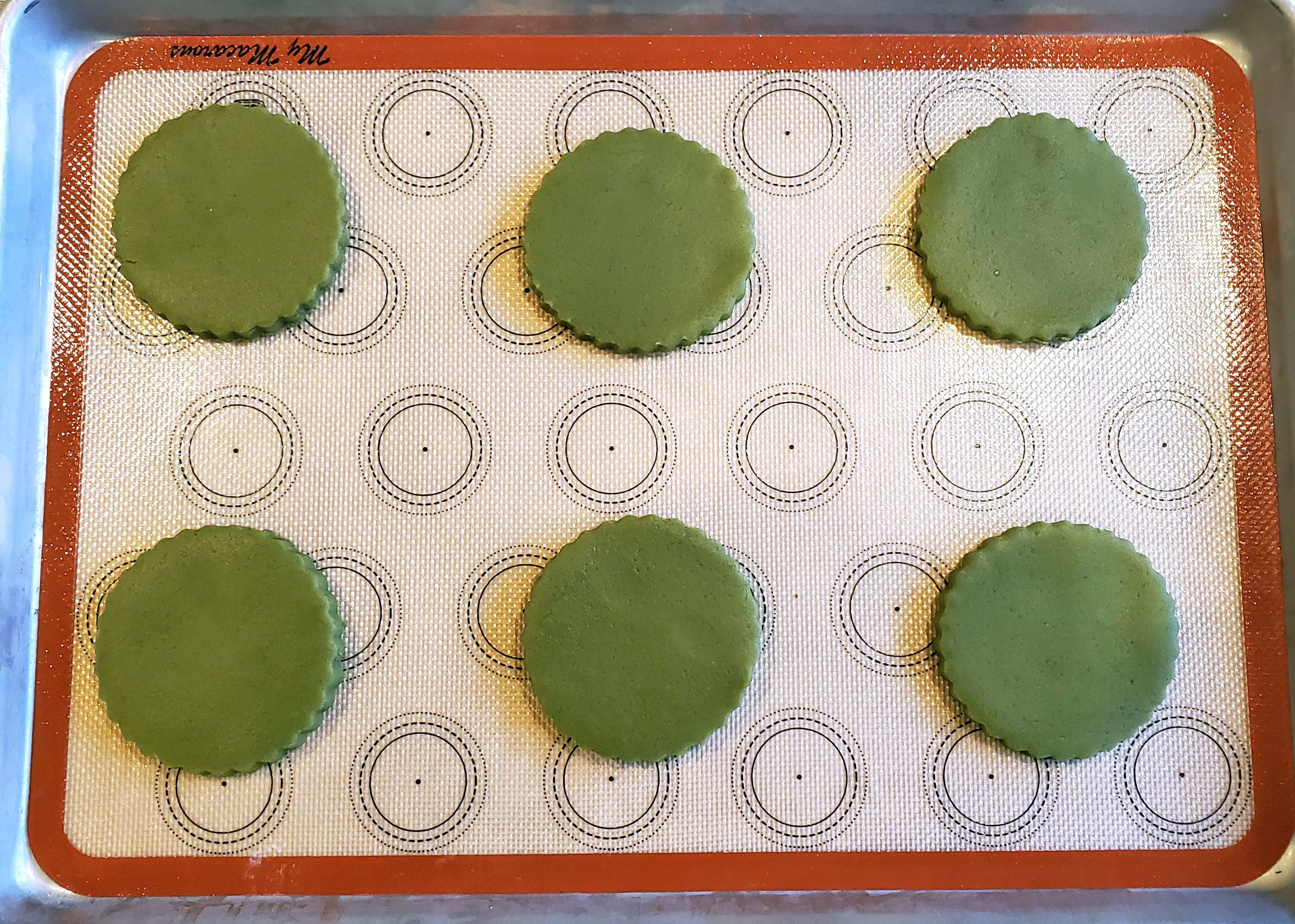 Then you are simply going to bake in your oven for 8-12 minutes at 350° F. I usually flip my pan halfway through just so they cook evenly. You'll know your cookies are done when you press on the side and they do not move. Just make sure to let your cookies cool on the pan on a wire rack. Once they cool, they make a great addition to any high tea! But remember, matcha does have caffeine, so be careful if you double up! 
happy eating!
Lauren
Matcha Green Tea Sugar Cookies
3 cups + 2 Tbsp. all-purpose flour (387 g)
3 Tbsp. matcha powder, unsweetened (15 g)
1 tsp. aluminum-free baking powder (4 g)
½ tsp. fine sea salt (4 g)
1 cup (2 sticks) softened butter (231 g)
1 cup granulated organic white sugar (213 g)
1 egg
*Gel food coloring optional (only needed if you use less matcha powder, I did not use food coloring in these pictured).
(as an Amazon associate, I earn a small percentage from qualifying purchases.)
Instructions:
Preheat your oven to 350° Fahrenheit.

In a separate medium bowl, mix together flour, matcha powder, baking powder and salt. Make sure to sift once through.

In your mixer, cream your butter with your sugar until light and fluffy. It should be a pale yellow color.

Then incorporate your egg.

Finally add in your dry ingredient mixture.

Using and un-floured rolling pin, roll your dough out until it is about the thickness of a bottle cap or your pinky finger (1/8 inch).

Cut out your cookies with cookie cutters of your choosing. Get as close to the edge as possible to get the most out of this roll.

Grab a baking sheet with parchment paper or a silicone mat and carefully transfer your cookies, while gently removing the dough from around each cookie.

Bake on the middle rack of your oven for about 8-12 minutes. I recommended keeping an eye on your cookies though, as ovens may vary. You can also turn your pan halfway for even cooking.

You'll know your cookies are done when you nudge them with your finger gently and they do not move.

Let your cookies cool on your pan on a wire rack.