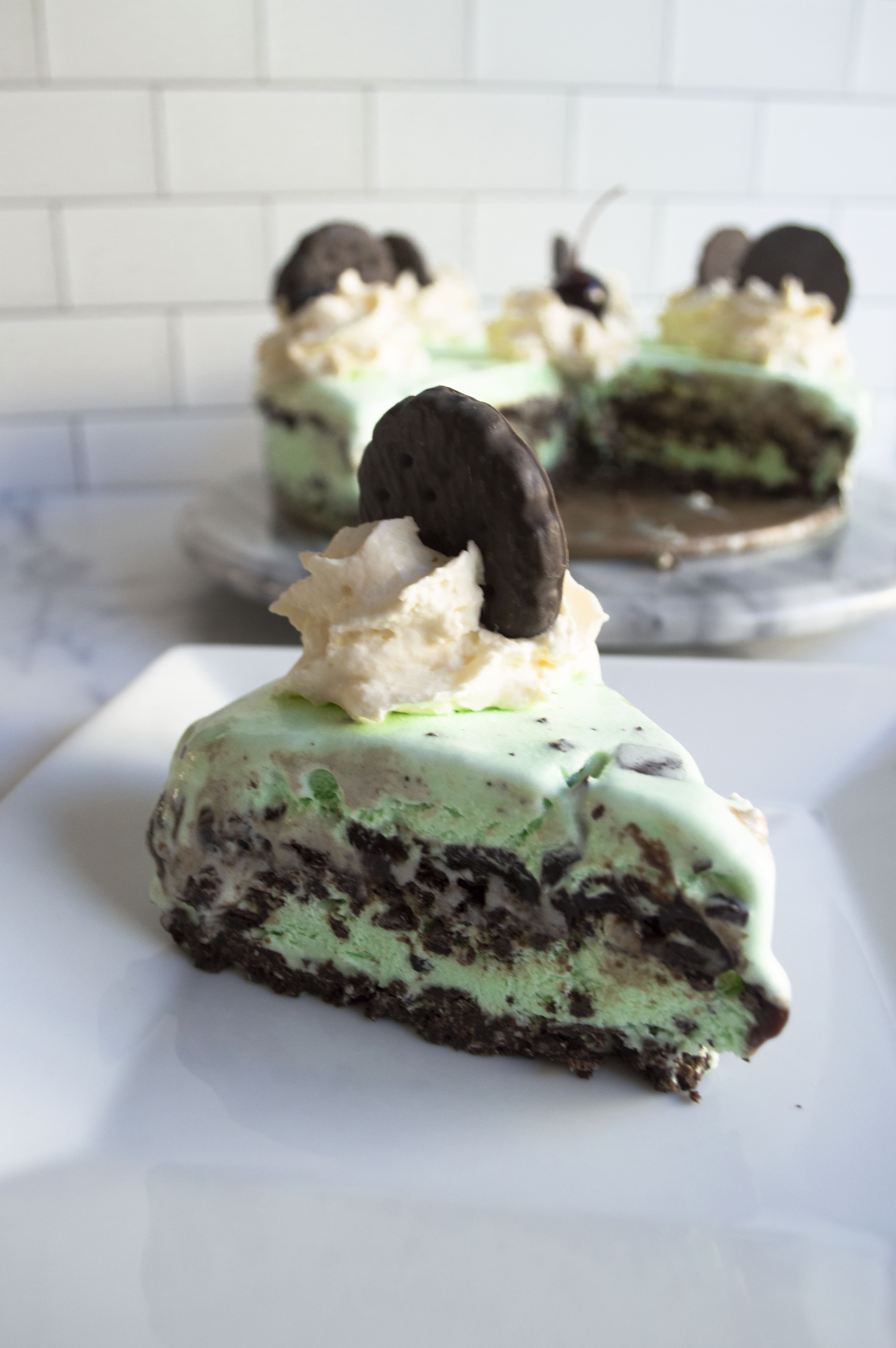 I have been a Girl Scout Cookie fan all my life. I also was a Girl Scout for several years as a kid. My mom was one of my troupe leaders and helped me earn enough badges to receive my Bronze award. If you're not familiar with Girl Scouts, it's basically an extracurricular activity in which kids can learn about all sorts of topics and activities as well as take part in various volunteer work in their community. Even though I can't remember everything I did in Girl Scouts, I remember I had a lot of fun!
A major calling card of the Girl Scouts Organization is their cookies. People flock to various cookie stands, or seek out their local troupe to get their hands on some during this time of the year. One of the most famous cookies is the Thin Mint. Since St. Patrick's Day is around the corner, along with some glorious (and much needed) Spring weather I decided to use the Girl Scout Thin Mints to create my Shamrock Shake Cake. If you haven't heard of the Shamrock Shake, it's McDonald's famous St. Patrick's Day shake that is only sold for a limited time around this season. So, I thought why not take two of the most popular mint desserts and make them into and even more minty-magnificent ice cream cake! And guess what… you're only going to need four ingredients. It's literally the easiest thing to make in the world and it's going to leave all of your friends asking for more!
Also, this post would not be possible without the generous gift of cookies from Phoebe (and her mom)!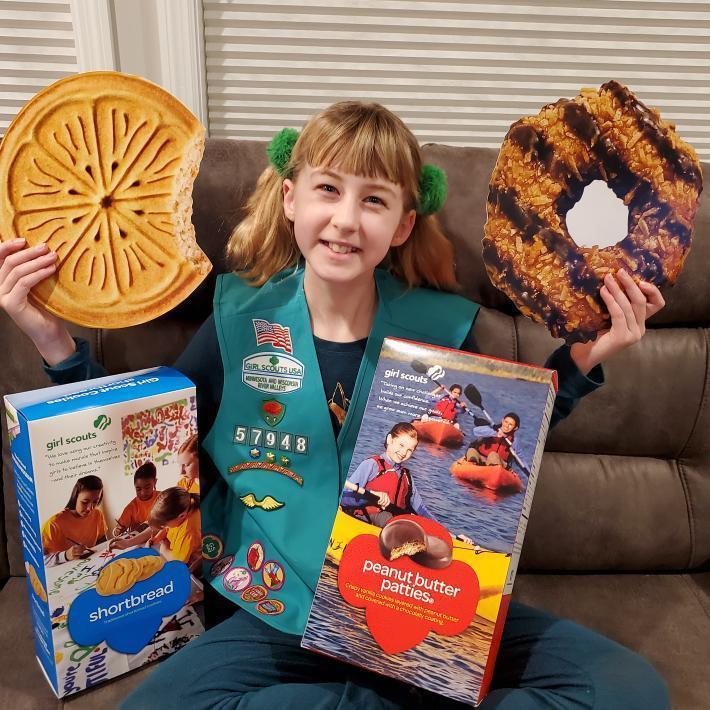 Phoebe is a 4th grade Junior Girl Scout in the Woodbury Service Unit. She loves selling cookies so that her troop can learn new skills and help the community. Minnesota metro customers can order for "girl delivery" and cookies will be dropped at your door through March 20, or select "direct ship" and Fed Ex will bring your cookies anywhere from coast to coast through April 2nd. Shipping is just $6 for 6-12 boxes. You can purchase cookies from Phoebe here!
What's your favorite Girl Scout Cookie? Make sure to let me know in the comments below!
happy eating!
Lauren
Thin Mint Shamrock Shake Ice Cream Cake
Ingredients:
3 sleeves of Girl Scout Thin Mints (about 400 g)

9 Tbsp. unsalted butter, melted

1 jar chocolate fudge

1 container of Mint Chip ice cream
Instructions:
Place all of your Thin Mint cookies into a gallon sized plastic bag and crush with a spoon. You can also do this in a food processor, but I like having some chunks.

Once your cookies are crushed into small pieces, pour your melted unsalted butter over the top and mix until combined.

Take your crumb mixture and press about half of it into the bottom of a 9-inch spring form pan. If you don't have a spring form pan and want to use a pie pan, I suggest cutting this recipe in half.

Place your crust in the freezer for 15-20 minutes to firm up. At this time, take your mint chip ice cream out of the freezer to soften.

Remove your pan from the freezer and top the crust with half of your container of mint chip ice cream, followed by your remaining Thin Mint crumbles. Freeze for another 15-30 minutes. At this point I also put tin foil around the base of my spring form pan to avoid any leakage.

Next add a thin layer of your chocolate fudge, about 1 cm thick. Freeze again for 15-20 minutes.

Finally, add your remaining ice cream on top and freeze for at least 2 hours or overnight.

Before serving, allow the cake to soften for about 15 minutes. Top with whipped cream and maraschino cherries!