Sometimes, I'm Cheesy                                                                                                              7/8/20
So, I'm sure most of you reading this blog post saw my Instagram/Facebook post of me with a charcuterie board the other day. And you probably thought I was joking about becoming Whisps Snacks Cheese Executive Officer (CEO). Well, it's a REAL thing! I had to apply with a written essay & photo/video material and everything! I didn't see it as "work" though, I actually had loads of fun doing it. Basically, if selected, I will get trained by a cheese monger, and receive Whisps snacks and other artisan cheeses to try while virtually working with their Cheese Board. It sounded super fun, so we'll just wait and see what happens!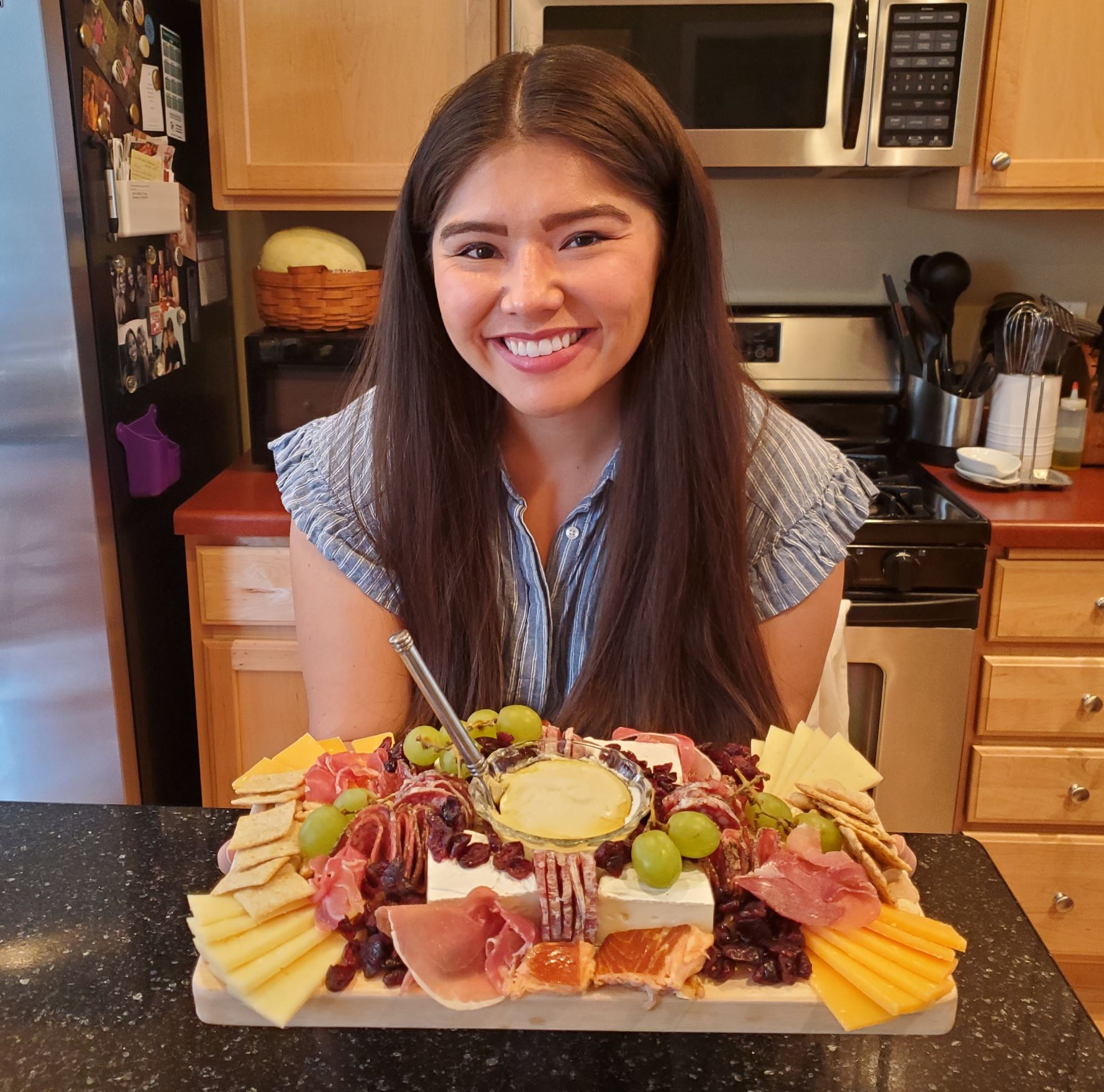 Click here to view the Instagram post!
Believe it or not, my dad came across the application to apply. My dad weirdly finds things that I'm very interested in and/or things that are trending on the internet. And sure, some of you are saying, "well dUh, Lauren. Your dad's like a super-techie-computer-wizard, of course he finds stuff on the internet". And you're right, BUT usually he's not looking for stuff for me on the internet, lol. However, since quarantine began, he became quite good at it (unintentionally). You know the Dalgona Coffee (fancy whipped coffee) trend on tiktok? Yeah, my dad found that before me. And while I'm mentioning tiktok, you might as well go follow me there too for video bursts of all your foodie desires (lauren_hugh).
ANYWAYS, back to cheese.
Before I entered college, I had no idea what a 'charcuterie board' even was. The closest thing I had to it was some Ritz, colby jack and summer sausage. Okay, I'm slightly exaggerating, but still. I think I was in college when my family went out to eat and my sister (who equally loves to eat out) was like, "yeah Lauren, a charcuterie board, my friends and I get these all the time. They're the best". After that, I was a convert. I had no idea people would gorge on a plate of meat and cheesy goodness. My aunt, Dianne, who learned French in college, later told us how to actually pronounce charcuterie ("shahr-kuh-tuh-ree") so we could stop sounding like fools.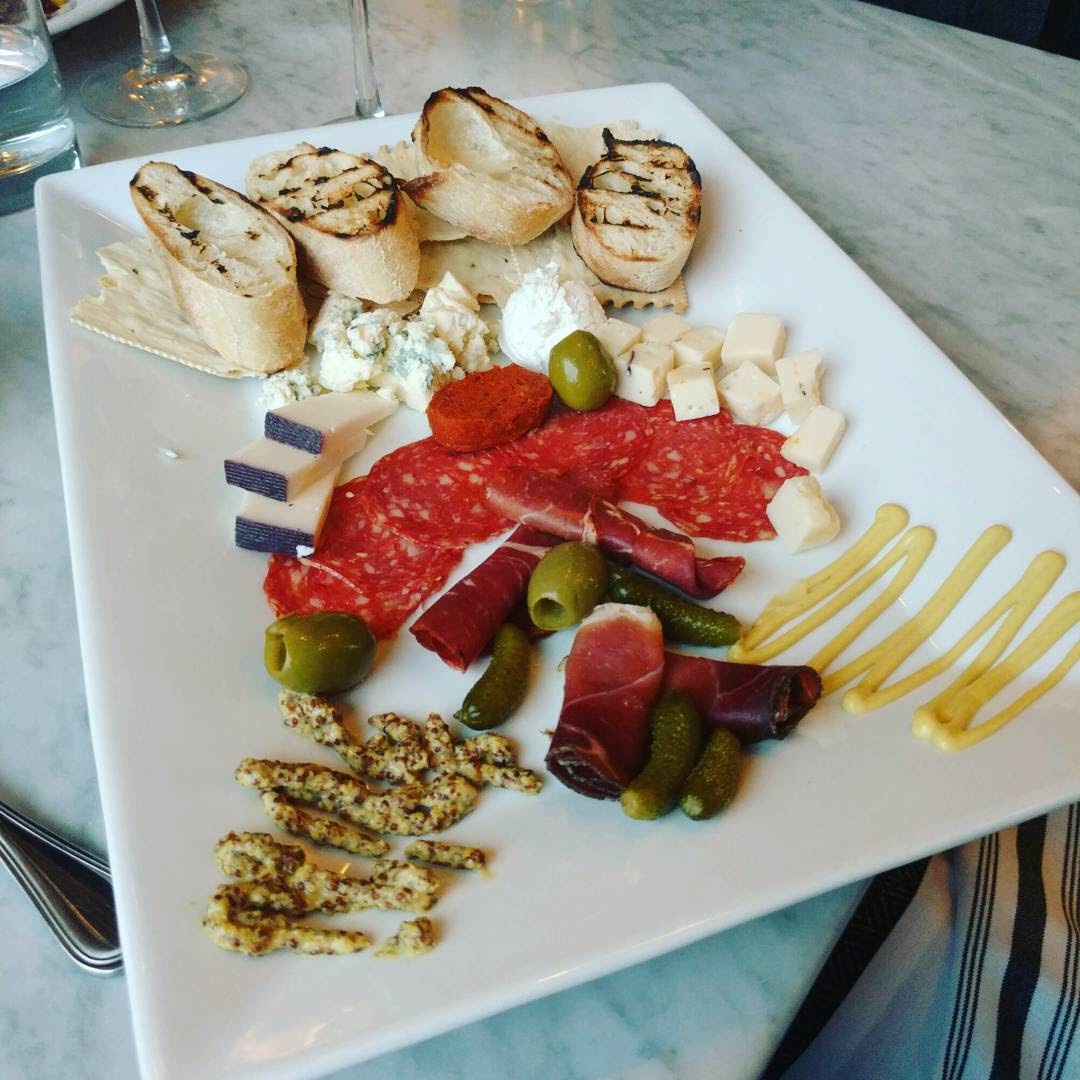 Noble Lion, Victoria, MN 
Oddly enough, the 15th century, French derived term, 'charcuterie' doesn't actually include the cheese part of your board. According to the Merriam Webster dictionary, charcuterie means: "a delicatessen specializing in dressed meats and meat dishes". The literal French translation is, "the pork-butcher shop". More traditional charcuterie boards include somewhat obscure items, like pâté and mortadella (Italian ground, heat-cured pork with incorporated cubes of pork fat, pistachios and black peppercorn – think bologna) which are an acquired taste for most these days. But you shouldn't be surprised, the concept of preserving the meats found on your favorite boards dates back to Ancient Rome, we're talking like 6,000 years ago! Like many ancient cultures, they believed that no part of the animal should be wasted which is probably why Head Cheese (Google it, I dare you) is a thing – thanks, Ancient Romans!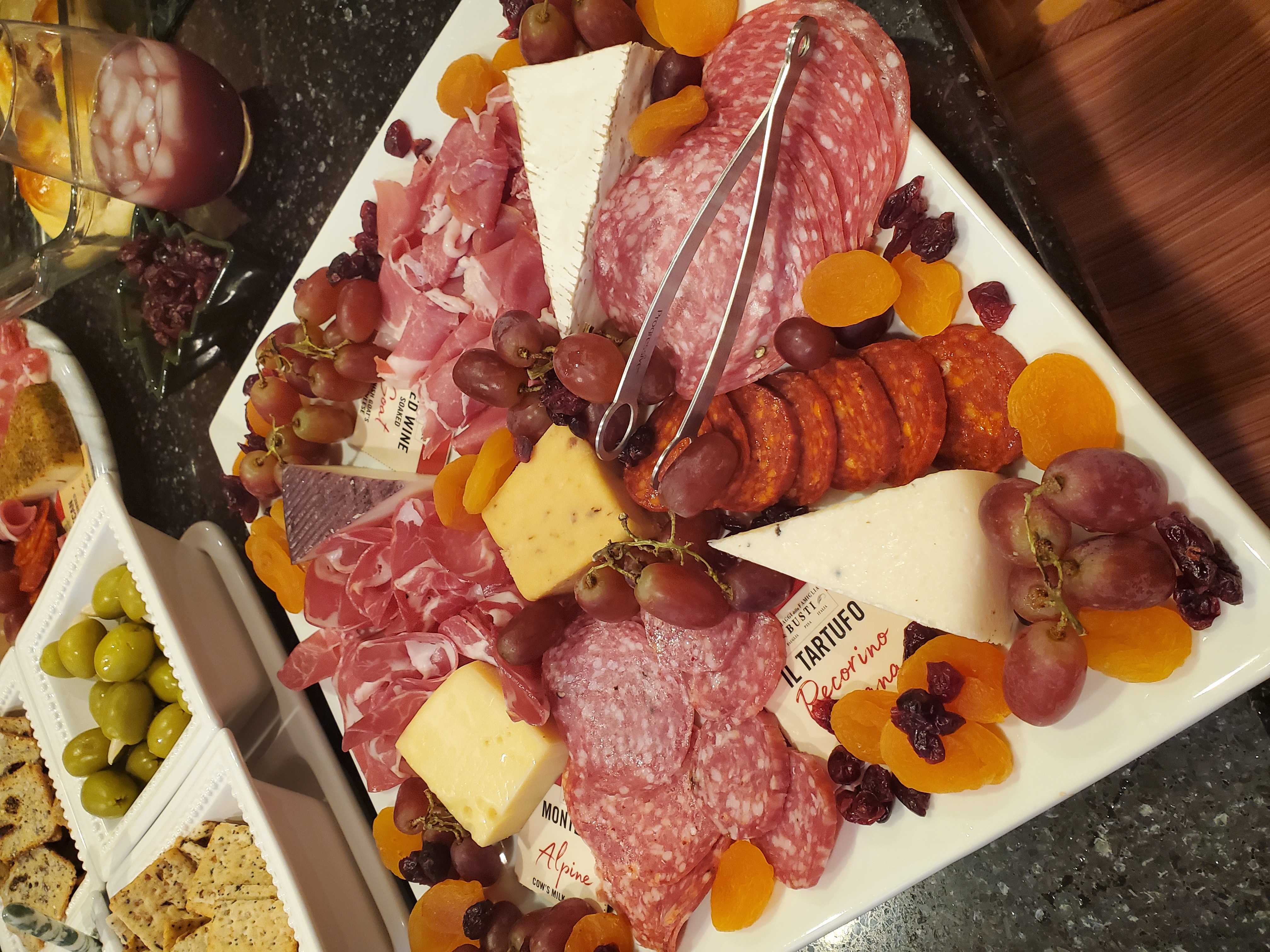 A board I made for Christmas last year.
It is only in recent years that Charcuterie has become trendy in America. Like, I said, I was in college when I discovered the actual term for what I was eating, and I consider myself pretty "on trend" when it comes to the world of food. So why has Charcuterie evolved to include pairings like, cheese, fruit, nuts and crackers? We can thank today's restaurant industry for that. Restaurants basically took the common appetizer concepts of a meat & cheese board and antipasto platters and created what we know today to be the modern-day Charcuterie Board.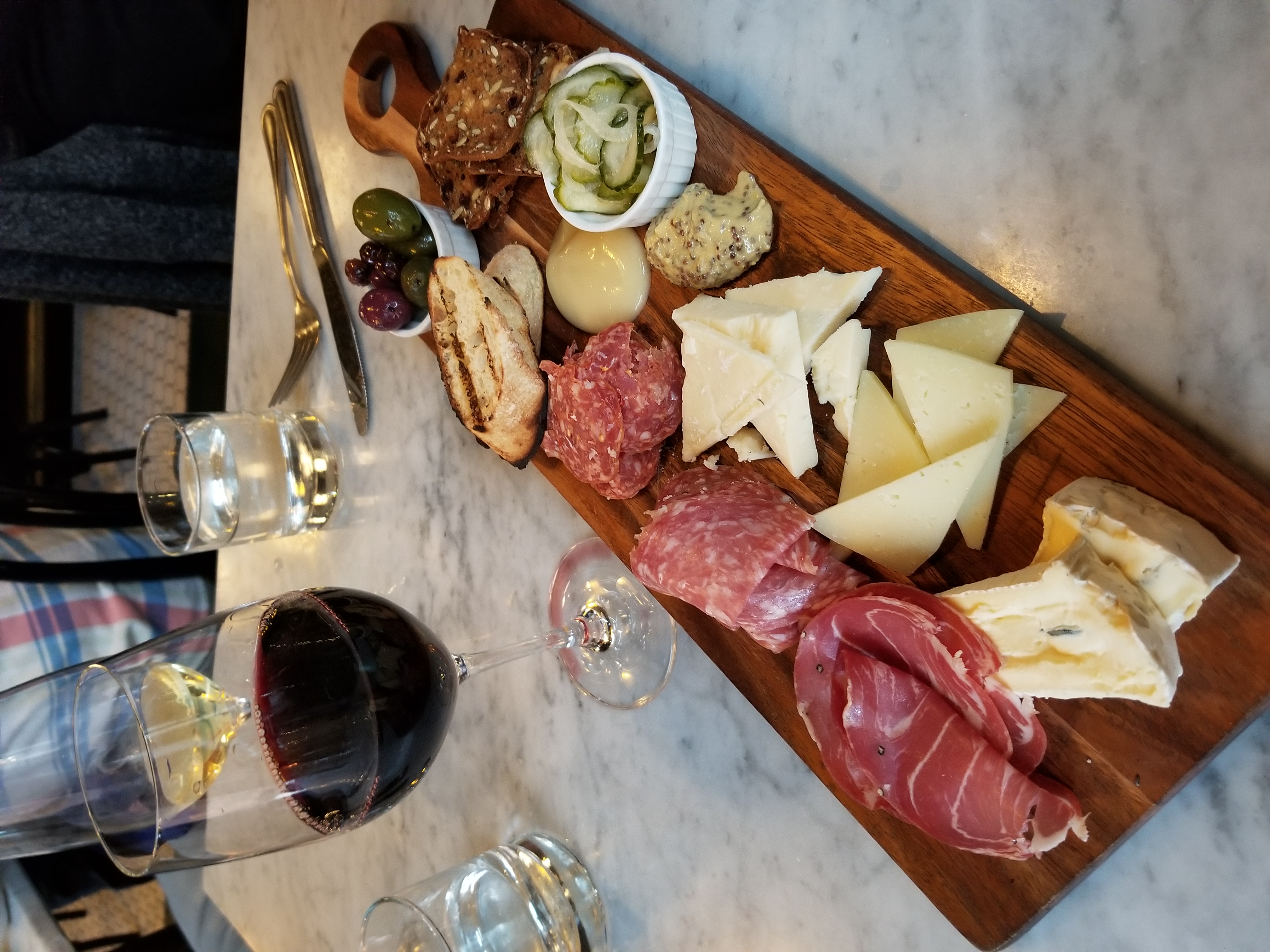 Another board from the Noble Lion, Victoria, MN
However, since it has become so mainstream, you will have to pay a pretty penny for a spread like this. That's why I love making Charcuterie boards at home. You can save a ton of money by buying your meat, cheeses and extras at places like Trader Joe's or Costco (get the Sartori Bellavitano Merlot cheese wedge!) and you can find some really great rustic, wooden boards on Amazon (disclosure: as an Amazon Associate I earn from qualifying purchases). You can watch my video below on the common items I like to include on my Charcuterie boards. These days, the term 'charcuterie' is ever evolving. To achieve the perfect board, you mainly want a variety of sweet and salty flavors to balance each other out. Some people even include olives, pickles and hummus on their boards! Why you may ask, well, there is such a thing these days as a vegan Charcuterie Board, in which there is absolutely no meat involved, how's that for a semantic progression?! And if you really want continuous inspiration, my grandma informed me that there is a Facebook group called "Show Me Your Charcuterie" that I have now joined.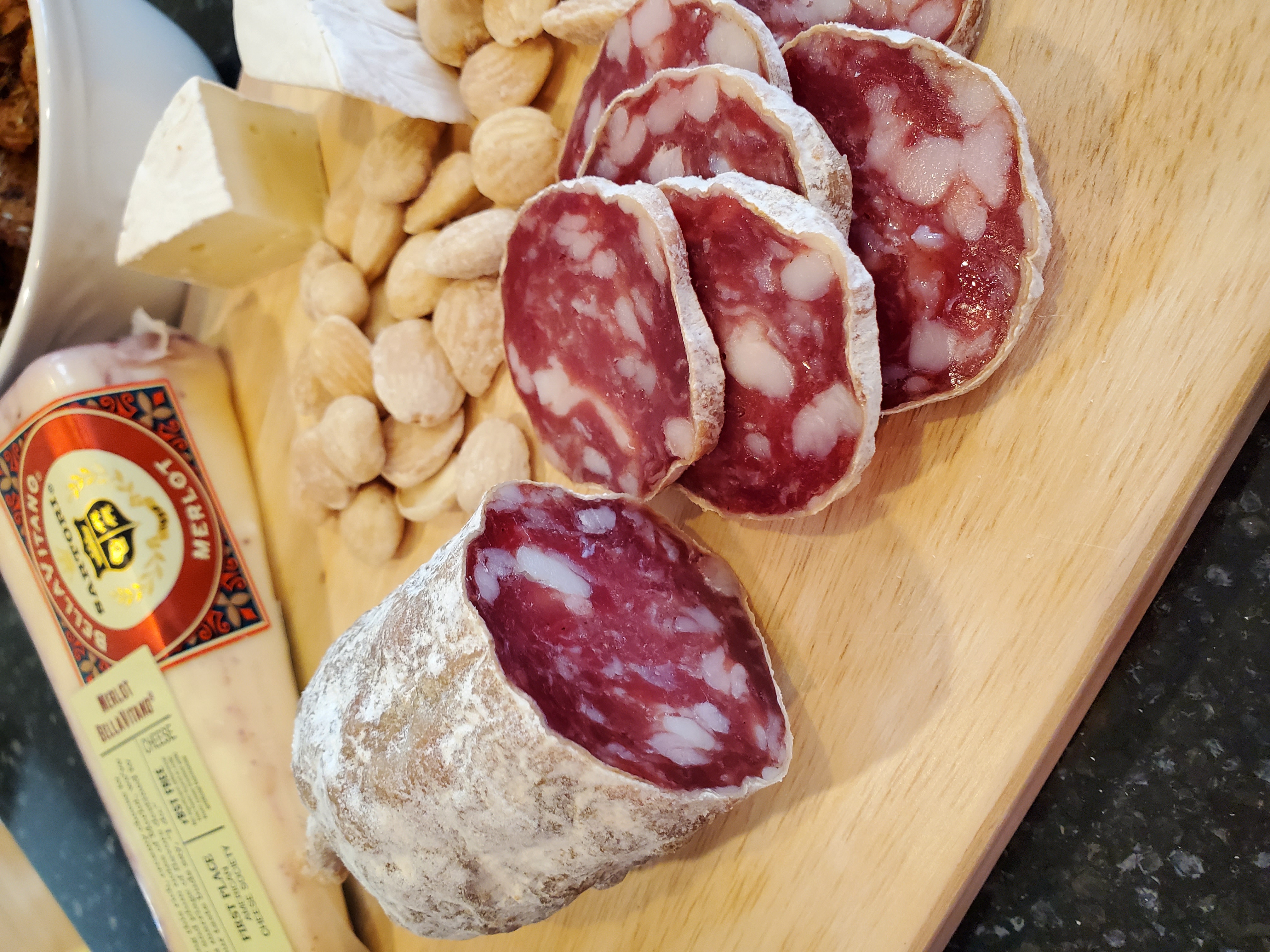 Snack board featuring one of my favorites, the Sartori Bellavitano Merlot cheese wedge!
But, like I mention, in the video, you can really make your board whatever you want it to be! Oh – and don't forget the WINE!!!
More items to spruce up your Charcuterie Board!
*as an Amazon Associate I earn from qualifying purchases
-Cheese Knife (this is one of the knives I use in the video and it is quite literally the BEST cheese knife ever! Also comes in black)
-Marcona Almonds (since you can't really get the Kirkland/Costco brand on Amazon, this is the next best thing!)
-Craisins (a dried raisin-like cranberry)
-Foustman's Cured Salami (Nitrate-free, naturally cured)
-Creminelli, Finocchio Salami (uncured)
-Simple Mills Gluten Free Crackers
-Jamie Oliver Acacia Wood Cutting Board
happy eating!
Lauren
---
What is #BlackOutDay2020?                                                                                                      7/7/20
It's hard to ignore what is happening in our world today. The Covid-19 pandemic and the Black Lives Matter movement have raised awareness to major problems in our society. In the past few months, I've found myself feeling somewhat helpless. My family has been quarantining somewhat strictly, and so, since I couldn't physically help in the immediate future (besides donating), I decided to compile a list of Black Owned Food Establishments to Support in Minnesota.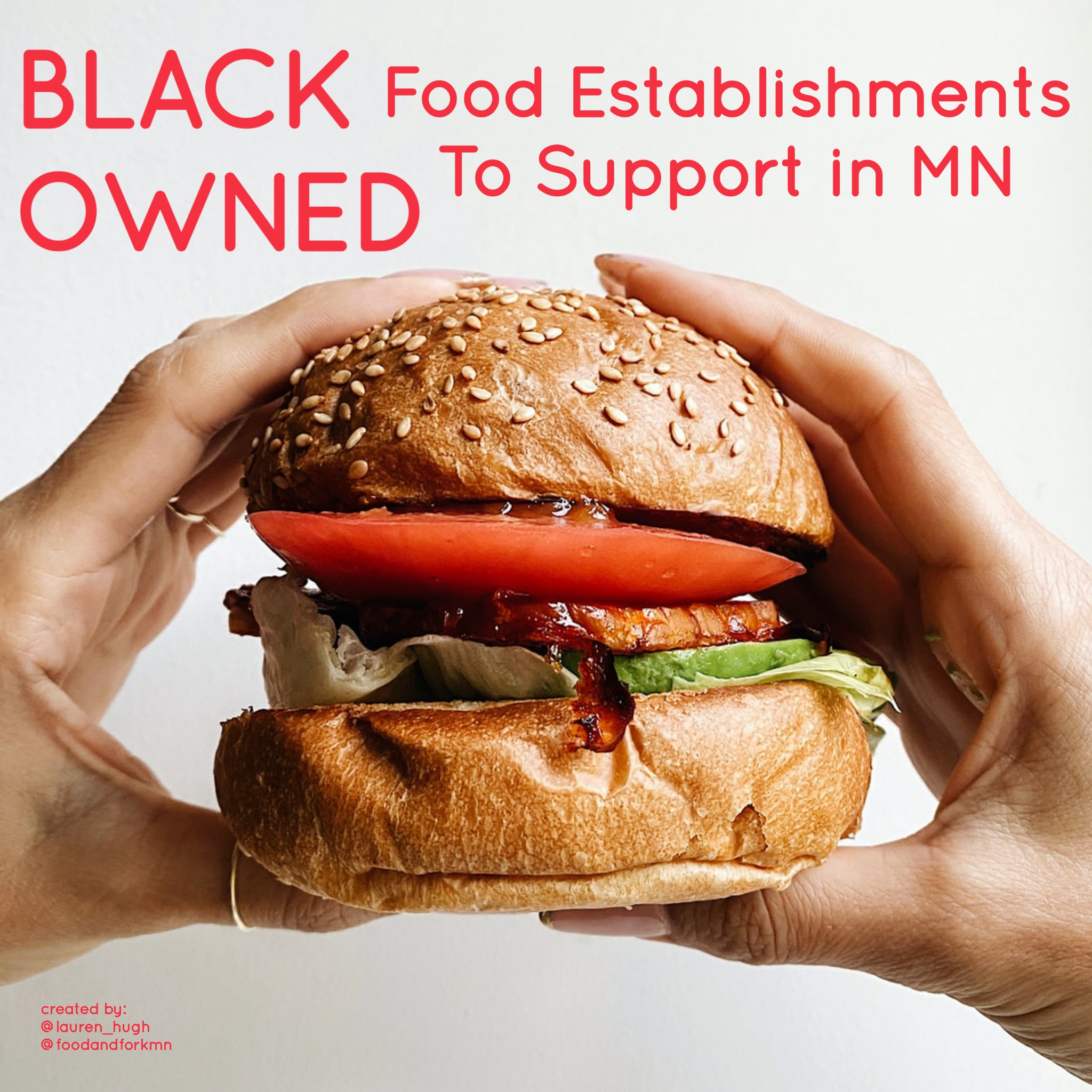 Little did I know, my post was about to blow up on Instagram. At least it blew up by my standards. I knew that there had already been lists that went out made by some much larger publications. However, what I found was lacking, was that the lists seemed to primarily focus on Minneapolis and St Paul.  I knew there were WAY more establishments out there, so I made it my mission to compile all of the Black Owned Food Establishments (BOFE) in Minnesota. I researched for several days, but with the damage the riots caused in Minneapolis, I wanted to get my list out to the world, so people could start supporting these businesses ASAP.
The post went Minnesota viral for about two weeks straight. I was getting great feedback from the BOFE owners and people who, like me, lived outside of the city and wanted a more comprehensive list. However, like any human would, I missed some restaurants. Even through my extensive research on the internet, there were small businesses that fell through the cracks. I discovered there were even a few folks that ran their businesses from their homes.
With #BlackOutDay2020 happening today, July 7th, I figured now was a good time to post my new, updated list.  With this post I am going to include all the restaurants in my original post PLUS all of the wonderful additions that I sifted through in the comments. For those of you that aren't familiar, #BlackOutDay2020 is a day to halt any and all of your regular purchases and to instead, if you choose to still spend money, put that money towards a Black Owned Business. However, you do not have to be Black to support! Many POC and white allies are standing in solidarity on this day.
I ask that, whatever your situation, give these businesses I have compiled some LOVE. Whether that means, going in person, ordering take-out/delivery or simply saving my post until you feel comfortable to do so!
Feel free to subscribe to my blog (in the left sidebar) to have this list emailed directly to you & to be updated when I find more BOFEs to support!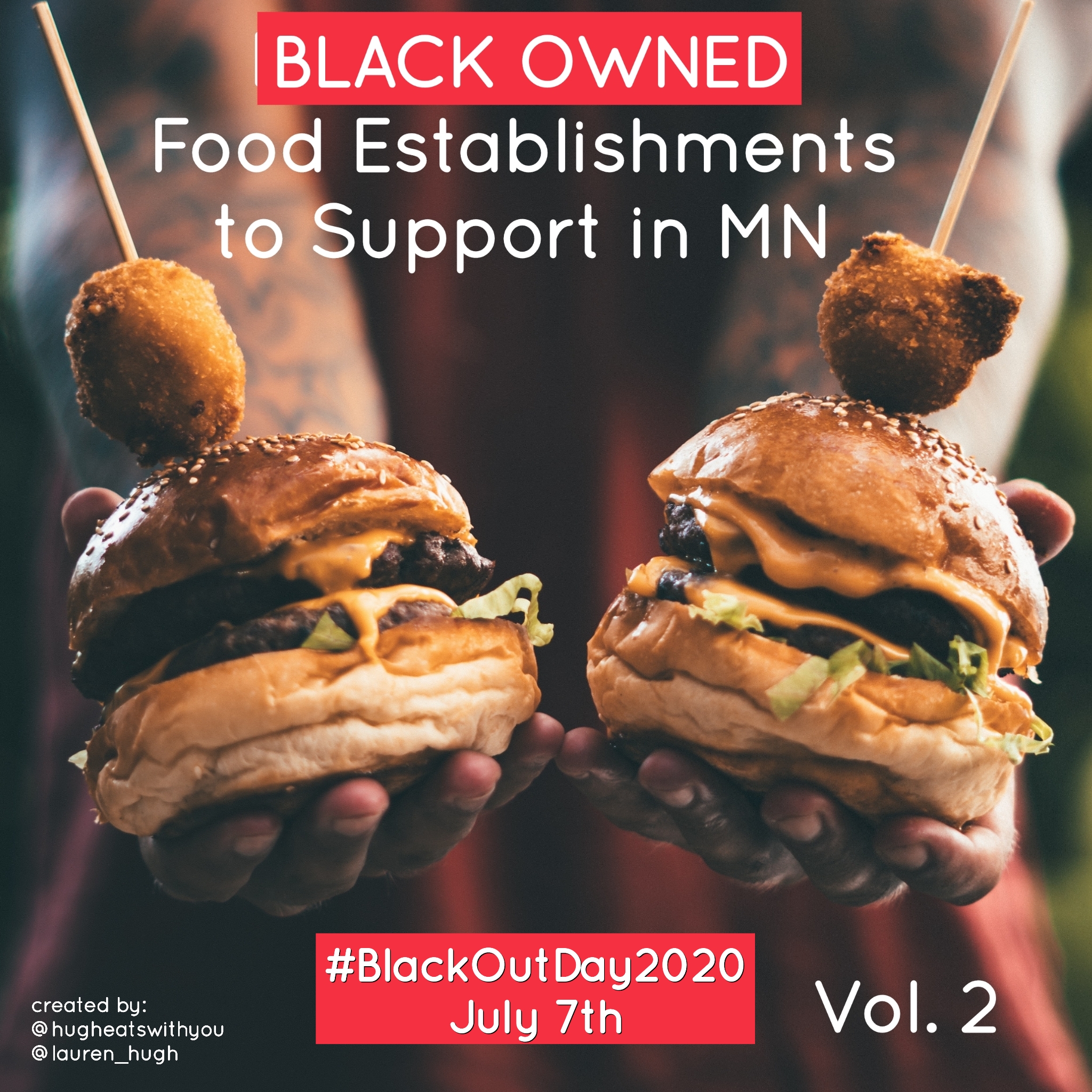 Black Owned Food Establishments to Support in Minnesota: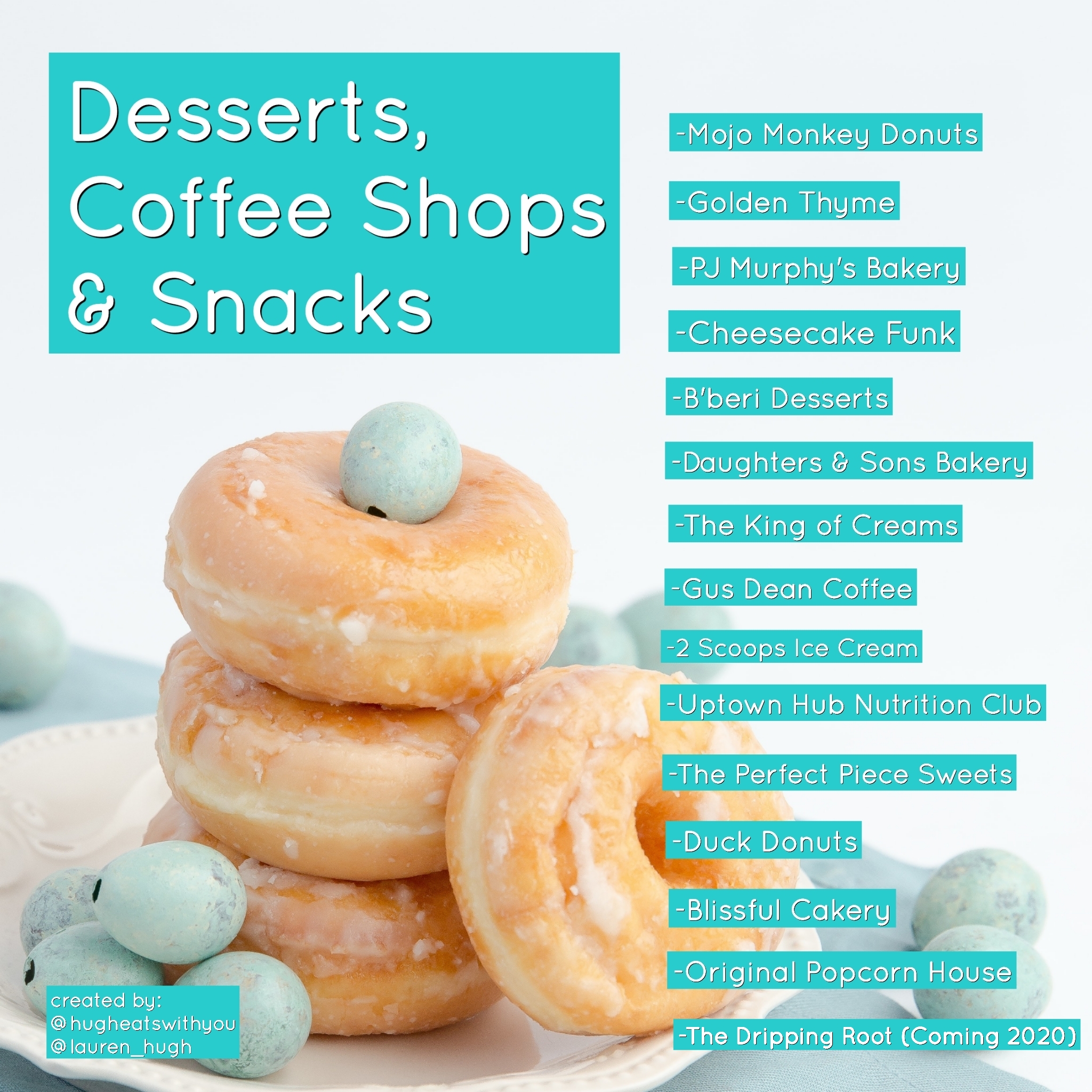 Desserts, Coffee Shops & Snacks
Mojo Monkey Donuts (St Paul) - @mojomonkeydonuts/ www.mojomonkey.biz
Golden Thyme (St Paul) - @goldenthymeonselby/ www.goldenthymeonselby.com
PJ Murphy's Bakery – (St Paul) @pjmurphysbakerymn/ www.pjmurphybakery.com
Cheesecake Funk (Mpls) - @cheesecakefunk / www.cheesecakefunk.com
B'beri Desserts – (Coon Rapids) @bberidesserts/ www.bberidesserts.com
Daughters and Sons Bakery (Prior Lake) - @dandsbakery/ www.daughtersandsonsbakery.com
The King of Creams (Duluth) - @thekingofcreams/ www.thekingofcreams.com
Gus Dean Coffee (Eagan) - @gusdeancoffee/ www.gusdeancoffee.com
2 Scoops Ice Cream Eatery (St Paul) - @2scoops.icecream/ www.2scoopseatery.com
Uptown Hub Nutrition Club (Uptown Mpls) -@uptownhubnutritionclub/ www.uptownhubnutritionclub.com
The Perfect Piece Sweets Co. (Mpls/St Paul)- @sweetstheperfectpiece / www.perfectpiecesweets.com
Duck Donuts (Woodbury) - @duckdonuts/ www.duckdonuts.com
Blissful Cakery (Mpls) - @blissfulcakery/ www.blisfulcakery.com
Original Popcorn House MOA (Bloomington) - @origonalpopcornhousemoa / https://originalpopcornhouse.com/moa/
The Dripping Root (Coming to Mpls 2020) - @thedrippingroot / https://www.gofundme.com/f/The-Dripping-Root-Help-Make-A-DREAM-A-REALITY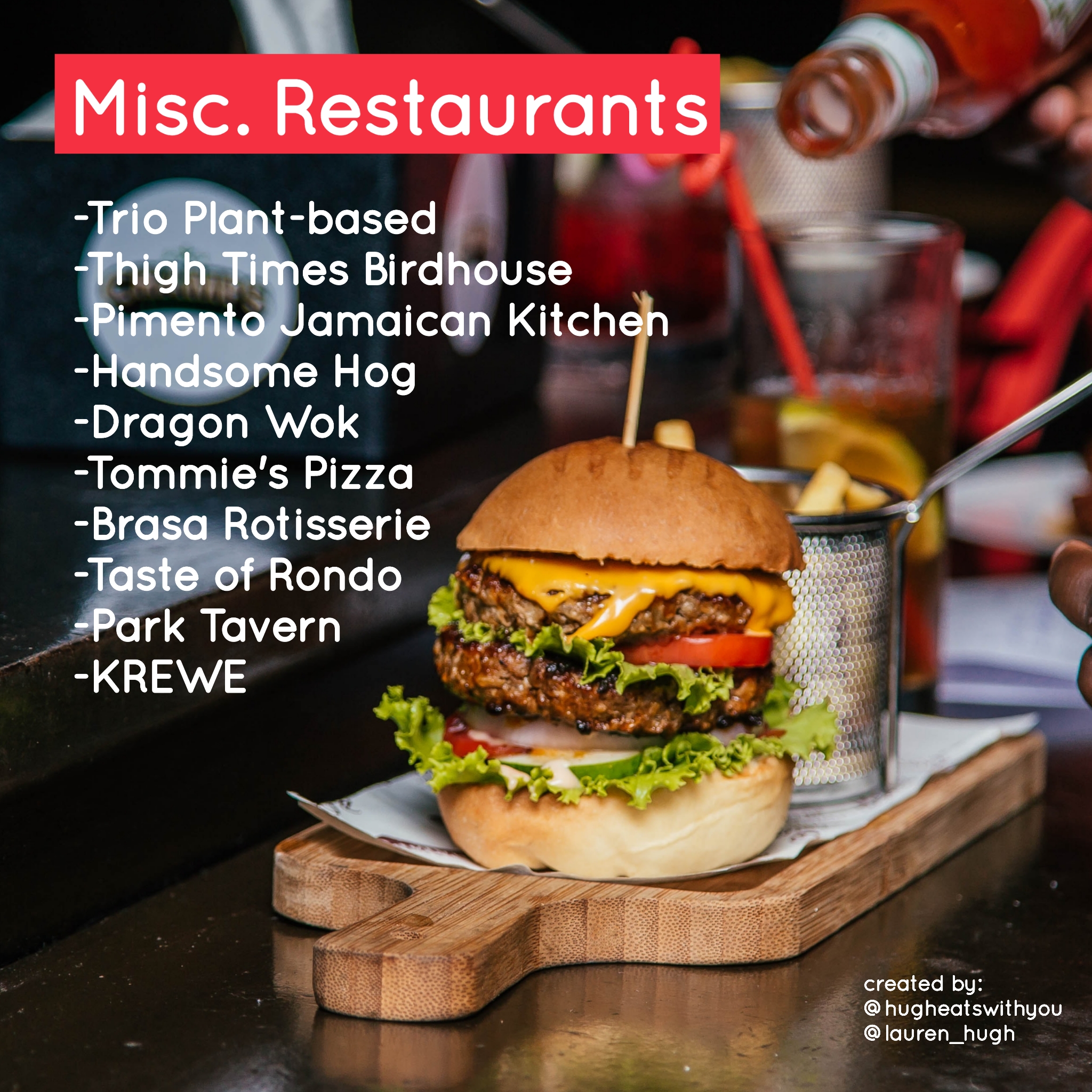 Misc. Restaurants
Trio Plant-based (Mpls, Vegan) - @trioplantbased/ www.trioplantbased.com
Thigh Times Birdhouse (N. Mpls) - @thightimesbirdhouse/ www.thightimesbirdhouse.com
Pimento Jamaican Kitchen (S. Mpls/St Paul) - @pimentokitchen/ www.pimentokitchen.com
Handsome Hog (St Paul) - @handsome_hog/ www.handsomehog.com
Dragon Wok (Mpls) - @dragonwokmpls / www.dragonwokdelivery.com
Tommie's Pizza (St Paul) - @tommiespizza / www.tommiespizza.com
Brasa Rotisserie (Mpls) - @brasa_rotisserie / www.brasa.us
Taste of Rondo (St Paul)- @tasteofrondo / www.tasteofrondostp.com 
Park Tavern (St Louis Park) - @parktavernslp / www.parktavern.net
KREWE (St Joseph) - @krewerestaurant / www.krewerestaurant.com
Cafes
Sammy's Avenue Eatery (Mpls) - @aveeatery/ www.sammysavenueeatery.com
Breaking Bread Café & Catering (Mpls) - @breakingbreadmn / https://breakingbreadfoods.com/
Capitol Café and Catering (Mpls) - @capitol_cafe / https://capitol-cafe.com/
Café Alma (SE Mpls) - @almampls_cafe / https://www.almampls.com/cafe/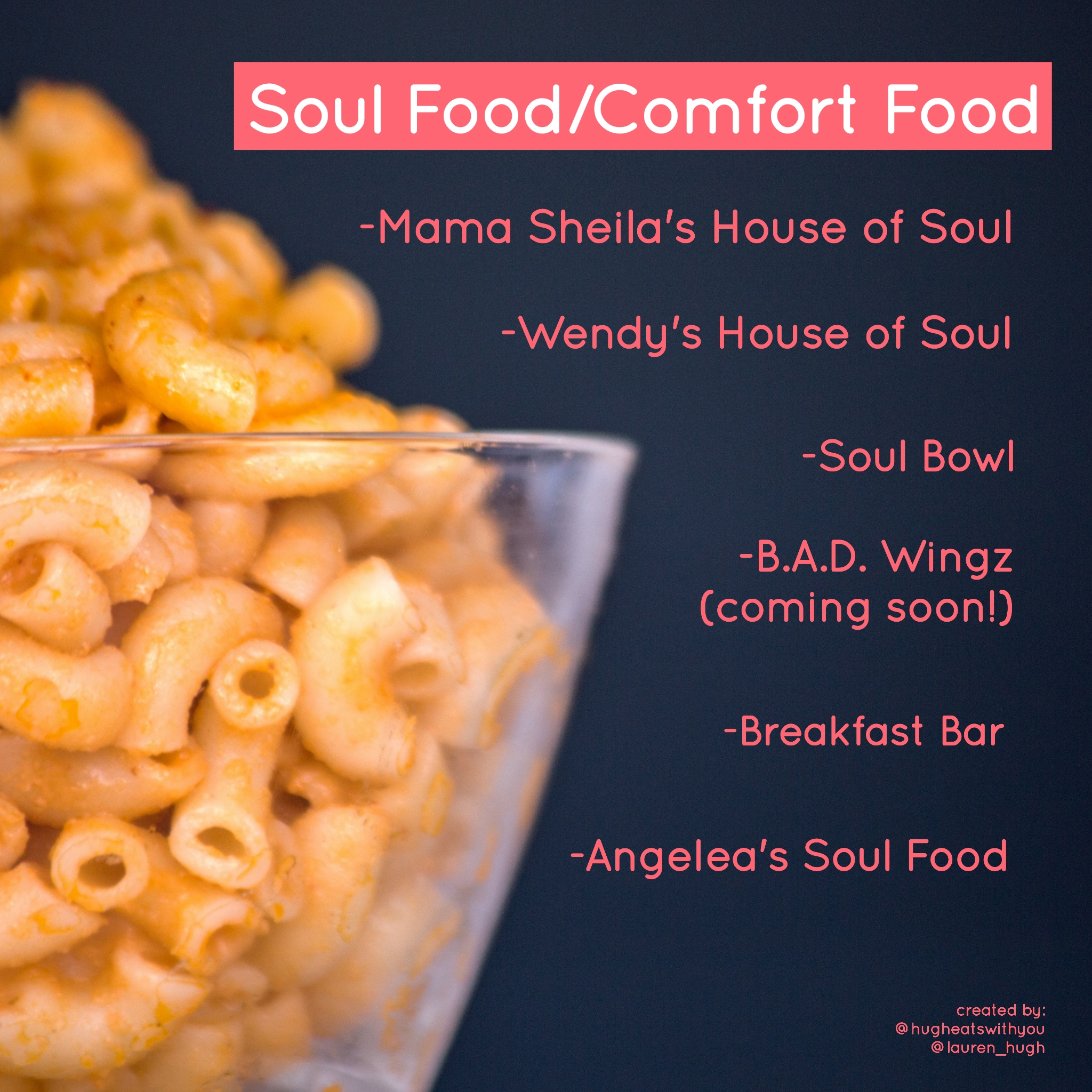 Soul Food/Comfort Food
Mama Sheila's House of Soul (Mpls) - @mamasheilassoulfood/ www.mamasheilashos.com
Wendy's House of Soul (Mpls) - @youvebeensouled
Soul Bowl (Mpls) - @soulbowlmn/ www.soulbowlmn.com
B.A.D. Wingz (from Soul Bowl) - @b.a.d.wingz (coming soon!)
Breakfast Bar (Mpls) - @breakfastbarofmn/ www.breakfastbarofmn.com
Angelea's Soul Food (Brooklyn Park) - @angeleassoulfood / https://www.angeleassoulfoodkitchen.com/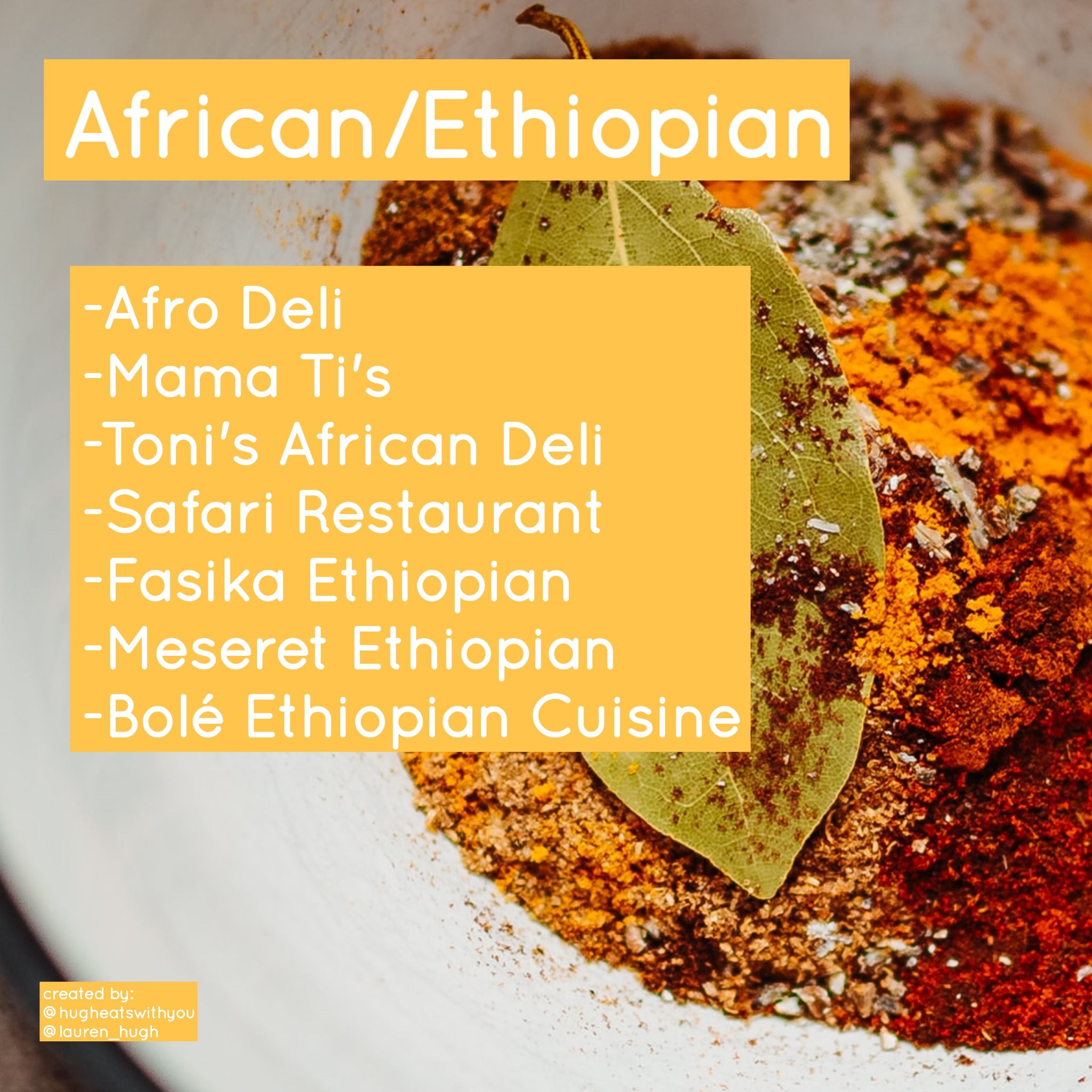 African/Ethiopian
Afro Deli (Mpls/St Paul) - @afrodeli/ www.afrodeli.com
Mama Ti's (Brooklyn Park) - http://www.mymamatis.com/
Toni's African Deli (Crystal) - @toniaafricandelimn
Safari Restaurant (S. Mpls) - @safarirestaurantminneapolis/ https://www.safarirestaurant.net/
Fasika Ethionpian (St Paul) - @fasikaethiopianrestaurant
Meseret Ethiopian (Mpls) - @meseret_ethiopian_resturant
Bole Ethiopian Cuisine (St Paul) - @bole_mn / https://www.boleethiopiancuisine.com/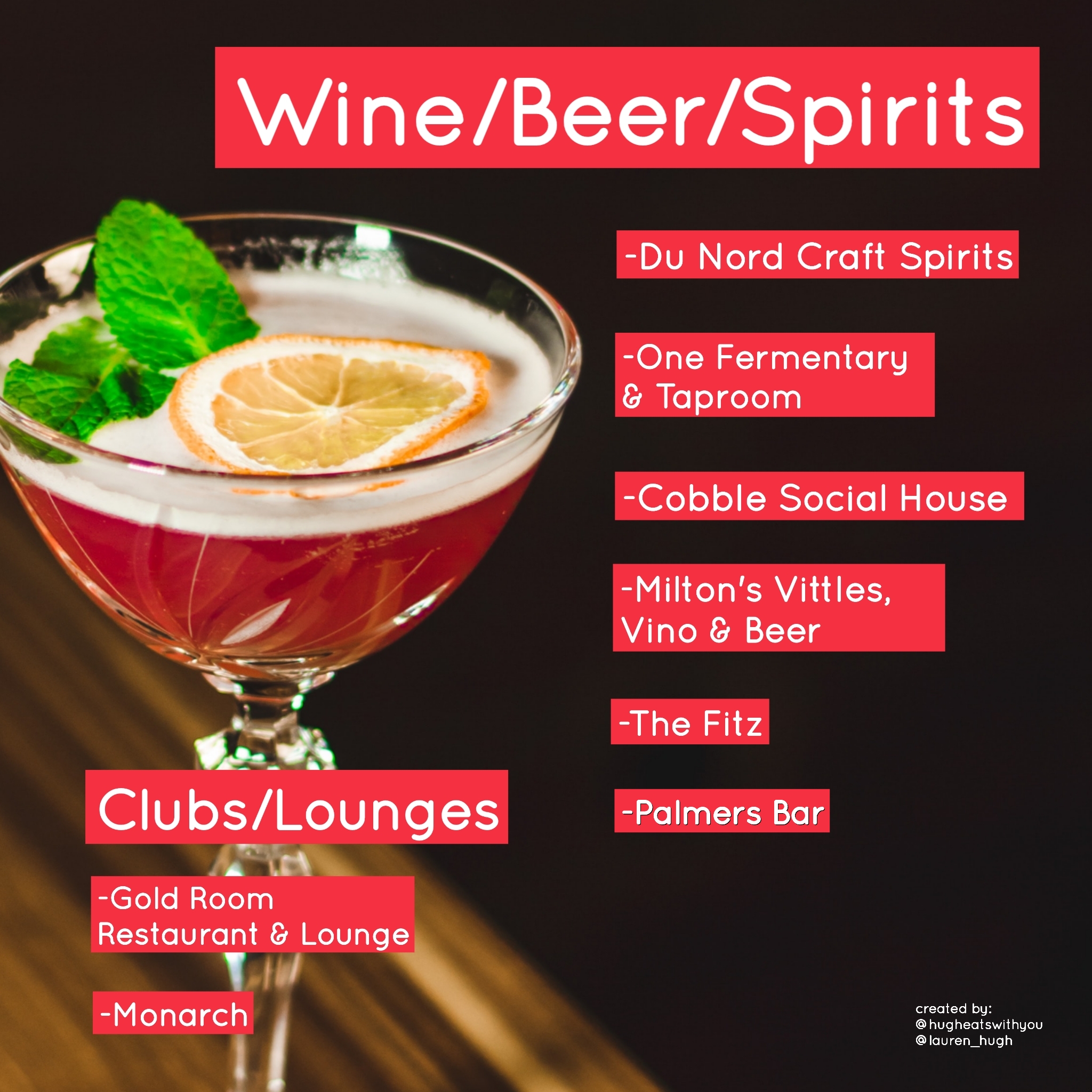 Wine/Beer/Spirits
Du Nord Craft Spirits (Mpls) - @dunordcs / http://www.dunordcraftspirits.com/
One Fermentary & Taproom (Mpls) - @one_mpls / https://fermentary.one/
Cobble Social House (Mpls) - @cobblempls / www.cobblempls.com
Milton's Vittles, Vino & Beer (Crystal) - @miltonsfamily / www.milton'svvb.com
The Fitz (St Paul) - @thefitzstpaul / www.thefitzstpaul.com
Palmers Bar (Mpls)  - @palmersbar / https://www.palmersbar.net/
Clubs/Lounges
Gold Room Restaurant & Lounge ( DT Mpls) - @goldroommn / https://goldroommn.com/
Monarch (N. Mpls) - @monarchmpls / https://www.monarchmpls.com/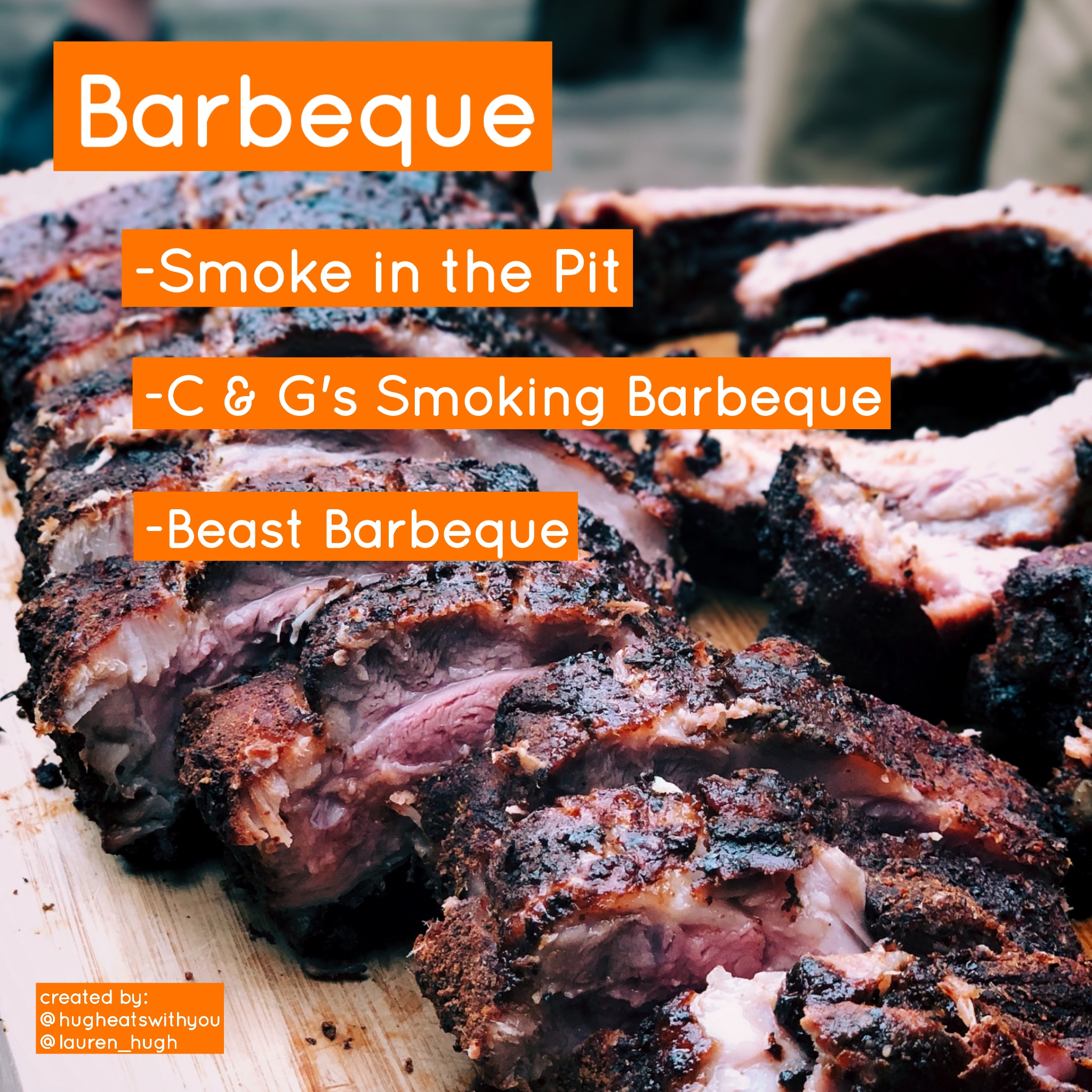 BBQ
Smoke in the Pit (Mpls) - @smokeinthe / www.smokeinthepit.com
C & G's Smoking Barbeque (Mpls) - https://www.cngbbq.com/
Beast Barbeque (Mpls) - @beastbarbecue / https://beastbarbecue.com/
Food Trucks/Farmer's Markets
Wholesoul (Food Truck) - @wholesoul_mn / www.wholesouleatery.com
Nashville Coop (Food Truck) - @nashvillecoop / www.nashvillecoop.com
The Donut Trap (Food Truck) - @thedonuttrap / www.thedonuttrap.com
Jersey Jo's (Rochester, Shop/Food Truck) - @jersey_joe_jo / www.jerseyjos.com
Quince Market (Annex-Mpls Mkt) - @quincemplsmkt (return date TBA)
Shega Foods (Mpls, Grocery Store) - @shegafoods / https://shegafoods.com/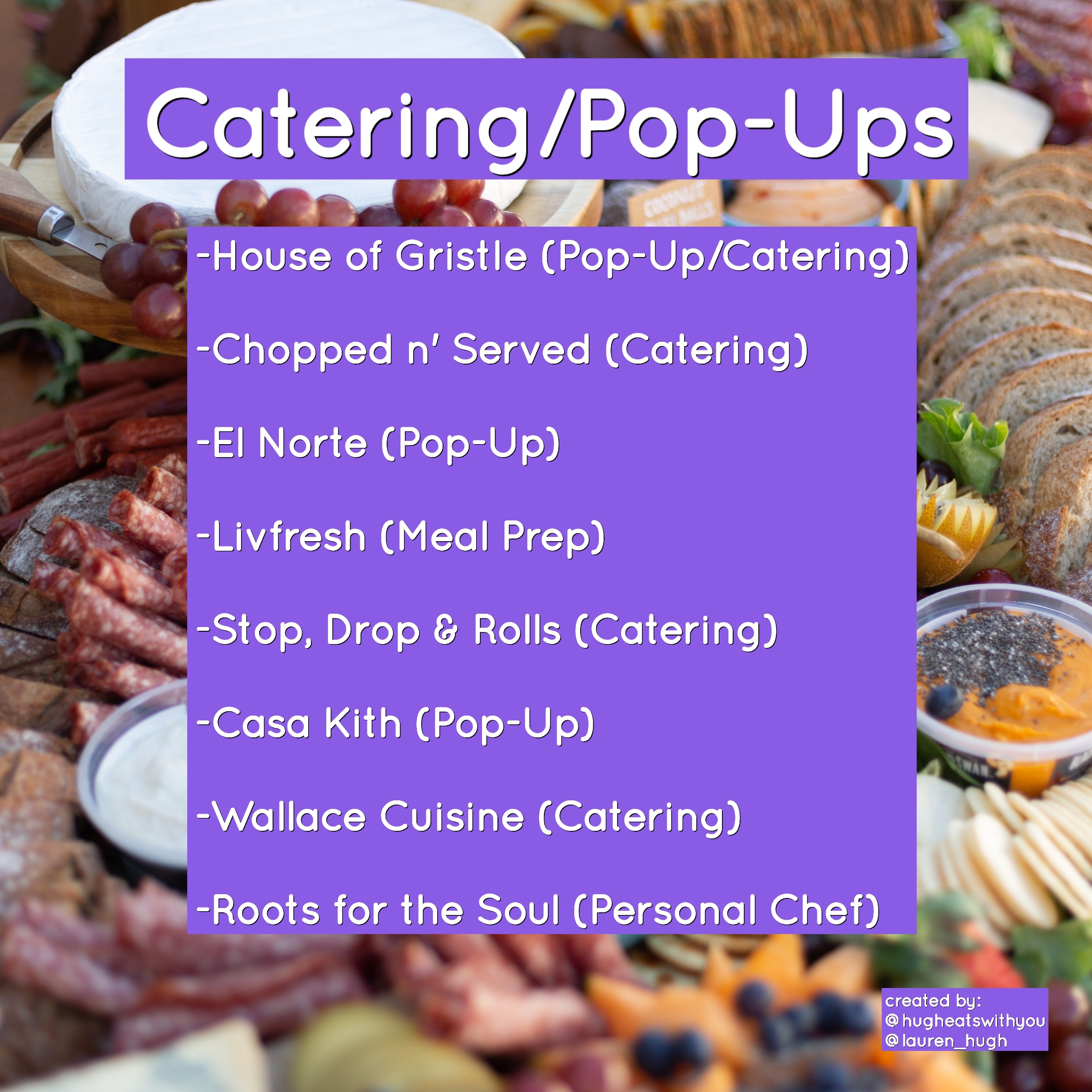 Catering/Pop-Ups
House of Gristle (St Paul, Pop-Up/Catering) - @houseofgristle / https://www.houseofgristle.com/
Chopped n' Served (Catering) - @choppednserved / www.choppedandserved.com
El Norte (Twin Cities Pop-Up Restaurant) - @elnortekitchen / www.elnortekitchen.com
Livfresh (Meal Prep) - @livfreshprep / www.livfreshprep.com
Stop, Drop & Rolls (Mpls, Catering) - @stopdropn_roll / www.stopdnr.com
Casa Kith (Mpls, Pop-Up) - @casa_kith
Wallace Cuisine (Catering) - @chefwallace.mw/ https://www.neon-mn.org/post/neon-business-spotlight-wallace-cuisine
Roots for the Soul (Personal Chef) - @rootsforthesoul / https://rootsforthesoul.com/
***if you are the owner of one of these establishments and you would like info updated, please reach out via the contact tab***
happy eating!
Lauren
---
Welcome!                                                                                                                                                                              7/6/20
Hey blog fam! And welcome. This blog is mostly going to be about food, but first, let me introduce myself! As some of you may know, I've been trying to get on this blog train for quite some time. Some of you may also know, that I am notorious for having multiple interests and being spread incredibly thin.
I always knew I loved, to bake (and EAT) from a very young age. My mom is mainly Irish and my Dad is Chinese, so there was a lot of great food on both sides of my family growing up. As you can probably guess, I was a chunky kid, but I liked it. We would cook a lot at home and eat at the best restaurants around.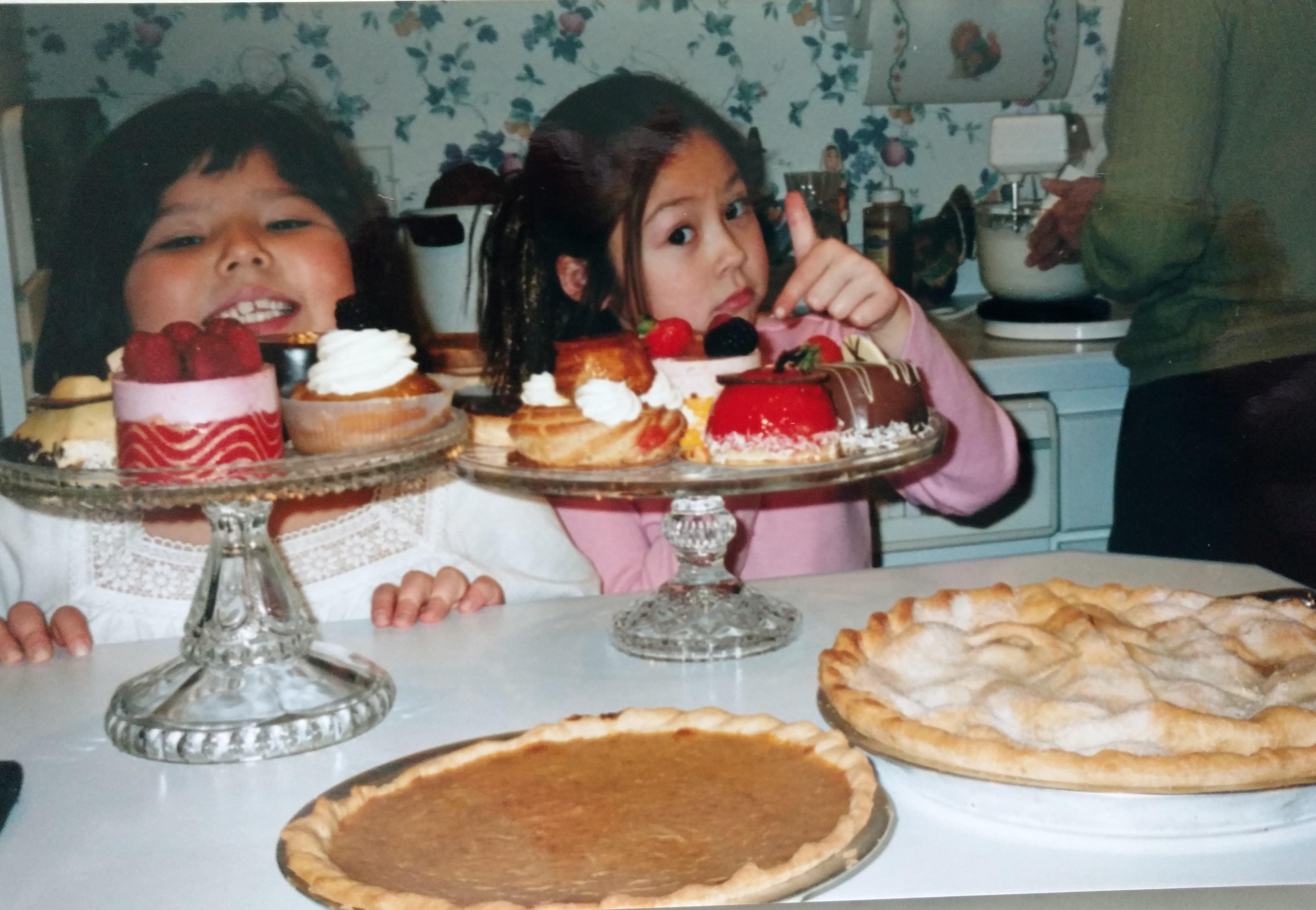 me on the left, my sister on the right - we both love to eat!
When I was in about 7th grade, I became OBSESSED with cake pops. I watched YouTube videos for hours to teach myself how to make them, eventually discovering that Bakerella was the best teacher and OG cake pop Queen. I decided to start a little at home business making gourmet cupcakes and cake pops called Peace of Cake Bakery and started to save up money for college. I wasn't even completely sure what I wanted to go to college for. I knew I loved to cook and sing and make art, but I didn't know exactly how to make that into a conventional career. So, I dabbled with the idea of going to graphic design or culinary school. At one point I even considered not going to college and just starting my own food truck (still a dream, honestly). Eventually I decided on musical theatre.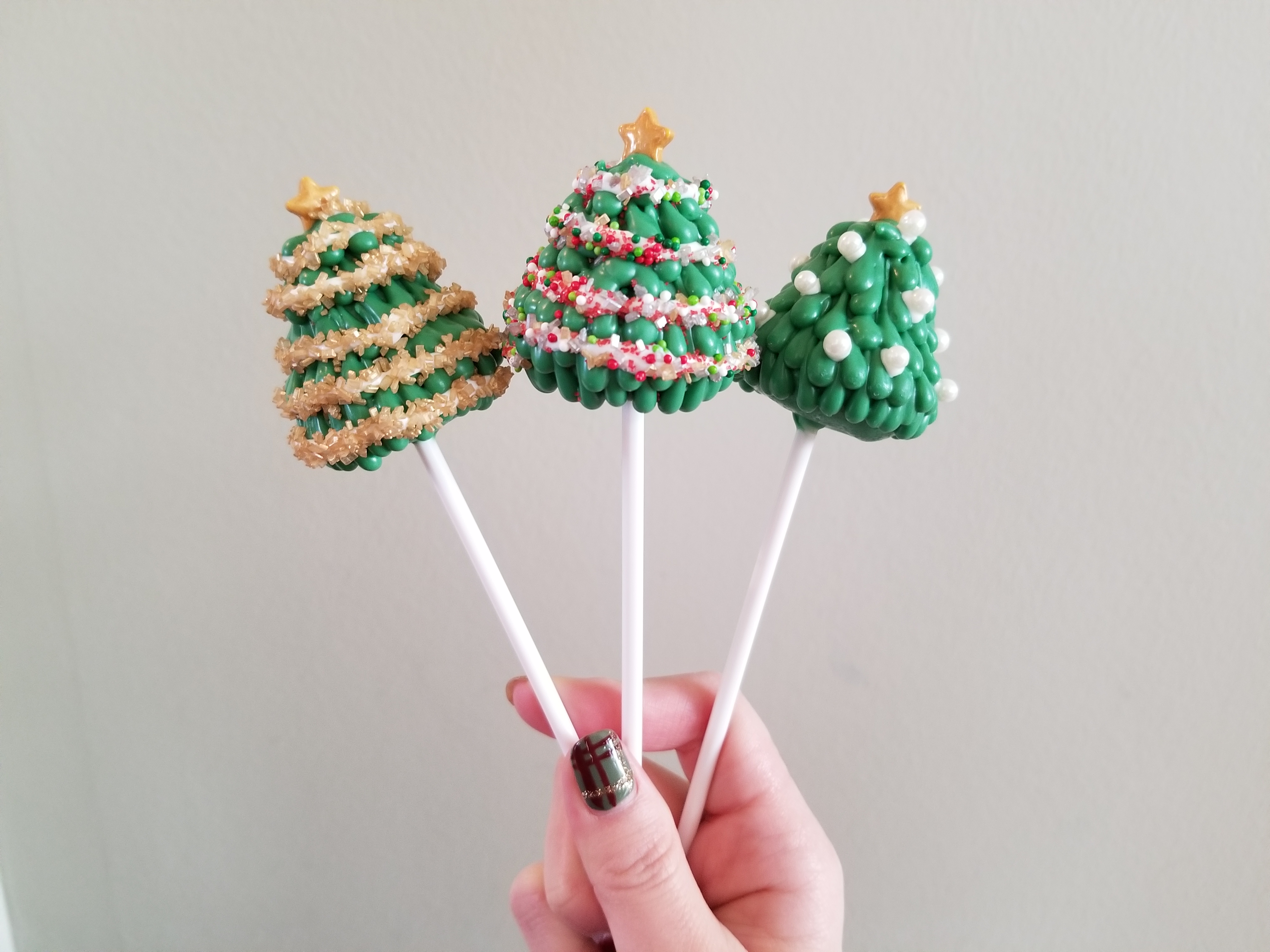 Christmas cake pops I made for @peace_of_cake_bakery    
I went to college at the University of Minnesota Duluth (UMD) for my Bachelor of Fine Arts in Musical Theatre. I actually tried to start this blog back in 2016 but I never had the time during school. My only two posts on my old blog, Food and Fork, were from my sophomore year and after graduating. My love of food and baking never diminished, but when you're always in a show at school it becomes almost near impossible to find free time to write and create new recipes.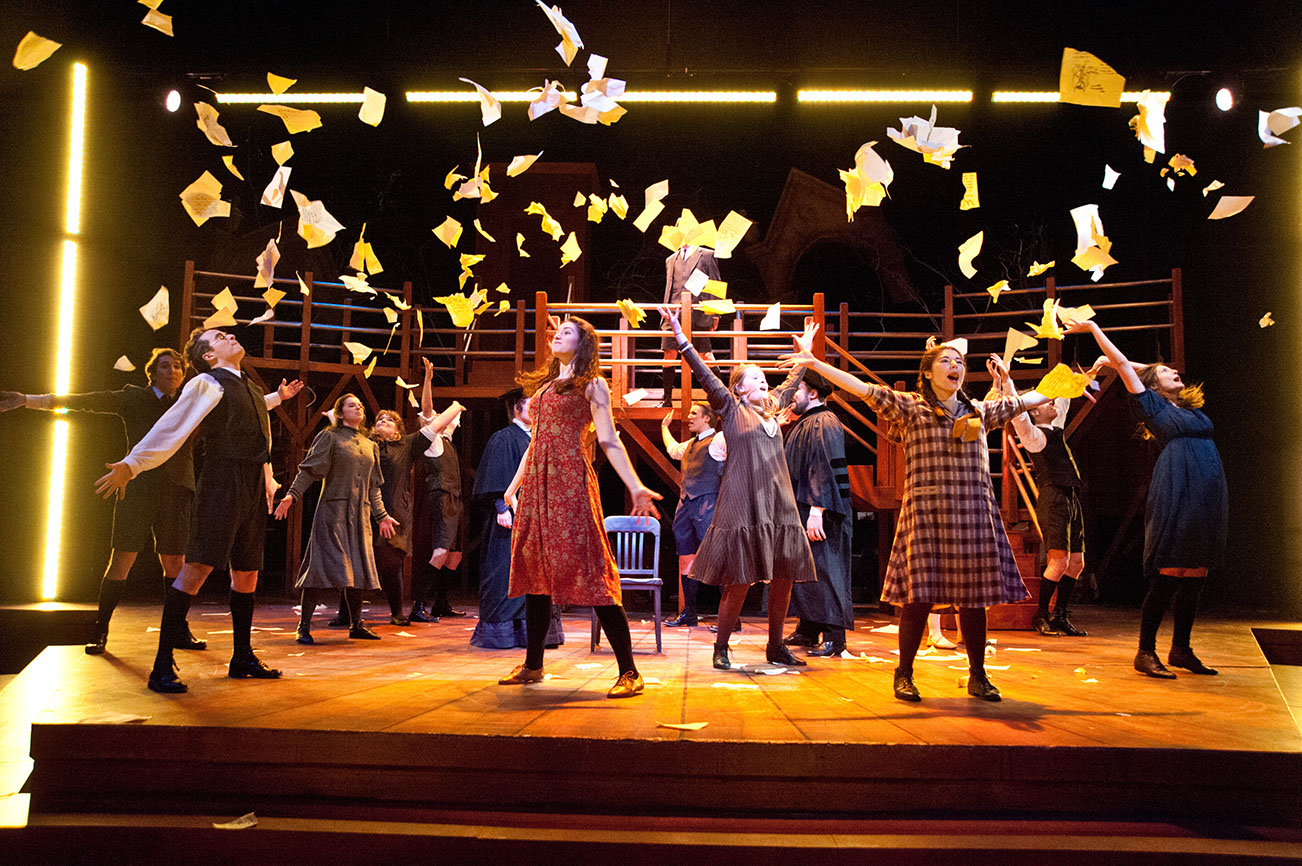 Spring Awakening UMD image courtesy of Mark Harvey
Following college graduation, I worked at two really great professional theatres in the Twin Cities, the Ordway Center for the Performing Arts and the Guthrie Theater. After that, I decided to move to the Big Apple on February 5th, 2019. Things were going really well, besides the whirlwind of what NYC can throw at you. I got cast in an Off-Broadway Musical, got to perform at Broadway in Bryant Park. And quite literally two weeks before the pandemic shut down the city, I had just started working as an assistant pastry chef at a luxury social club in TriBeca.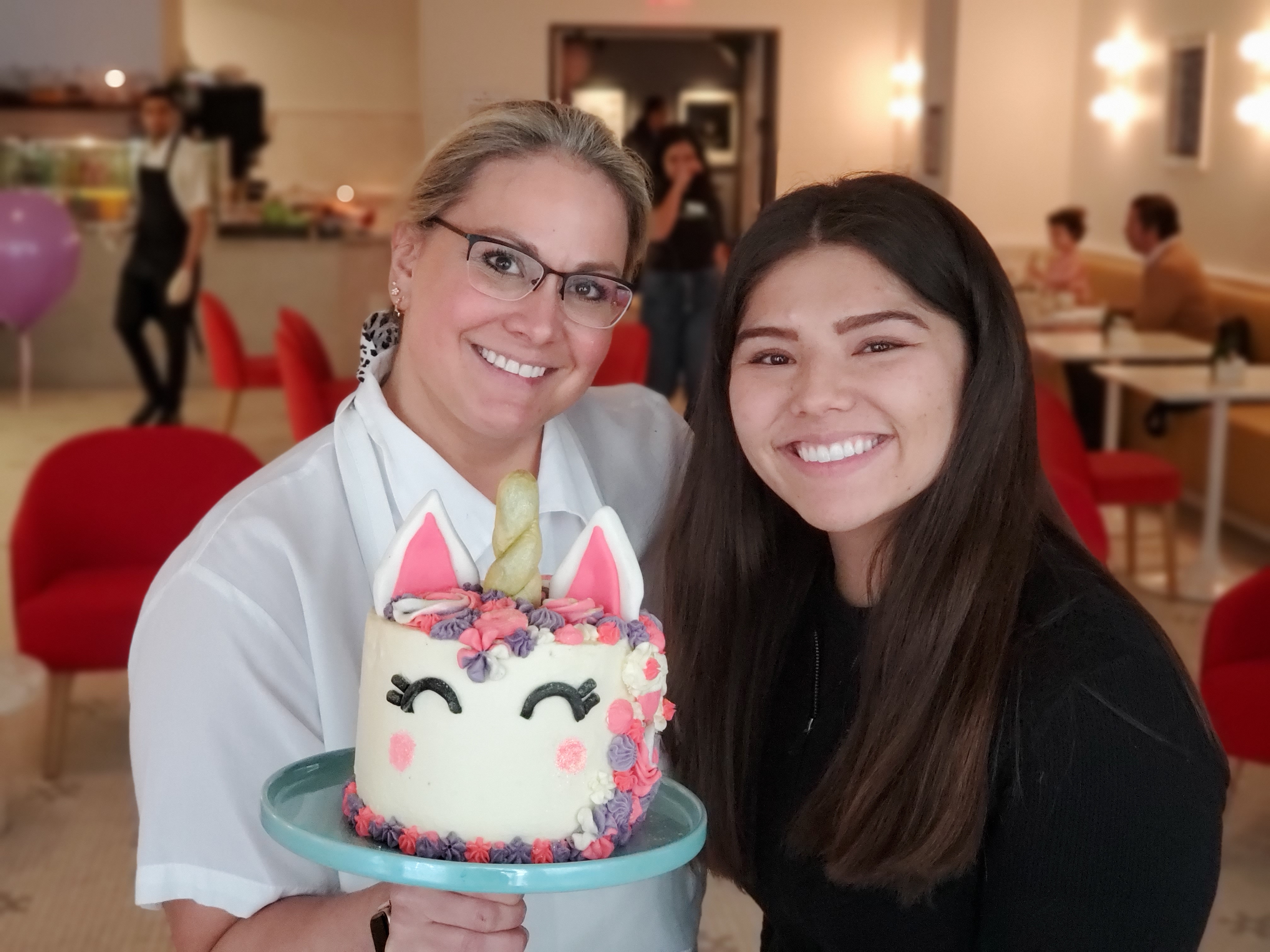 Chef Summer & I at NEXUS
Monday March 16th all of my jobs essentially froze and I was unemployed. After many long-distressed calls with my family, I decided to get out of the city two days later. And when I arrived home, was strictly quarantined for 14 days. In the beginning, when I started hearing about Covid-19, I honestly never thought it would hit the US. Thinking back on that, it was a completely naïve assumption. And even when it hit NYC, I thought it would maybe last a few months. However, after being at home for a few months with my parents, with no end in sight (especially for the entertainment industry), I decided I should probably move home. Which brings us here and now! It's a somewhat bittersweet return home to Minnesota. I must admit, the endless grind of NYC was burning me out a bit, but I never wanted to have to return to MN in this fashion.
Of course, quarantine started the banana bread and sourdough trends, which I gladly participated in. However, I was already the type of person who taught herself to brew her own kombucha. But since I have found myself with much more time on my hands, I figure now is the time to commit to a full fledged, real deal blog!
Thanks for coming on this journey with me.
happy eating!
Lauren